Dave Kogan - Newsroom Author Details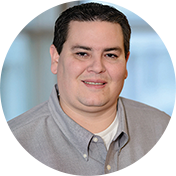 Dave Kogan is ASHI's Director of Marketing and Business Development, and he has been an integral part of the ASHI staff since in 2013. Dave has more than 20 years experience in the marketing field, focusing on emerging trends, strategic planning and writing engaging content across all channels. Dave enjoys building client relationships and developing programs for ASHI members. Always thinking ahead, Dave plans programs that promote ASHI and generate more return on investment for ASHI members. Dave's best days are when he gets to meet ASHI members and discuss marketing tactics to improve their businesses.
Articles authored
Plan Creative and Thoughtful Holiday Marketing Campaigns
, October 2020
Pre- and Post-Show Marketing
, February 2020
Best Practices for Attending InspectionWorld® (or Any Conference)
, January 2020
InspectPAC: What It Is & What We Have Accomplished So Far
, April 2019
Getting the Most Out of Your InspectionWorld® Experience
, January 2019
Pre- and Post-Show Marketing
, January 2017
The Benefits of Sponsorship
, January 2017
Why Join ASHI?
, September 2016