Are you ready to market your business during the upcoming holiday season? Do you have a plan and timeline in place? If not, now is the time to develop your plan and start browsing holiday marketing ideas. With a proactive approach to marketing for the holidays, you and your team can drive more sales and revenue this season.
For your business, you want to focus on providing options or producing content that relates to your products or services, as well as consumer needs. Before you develop ideas for the holiday season, ask yourself how it will benefit and help your customers.
From a business perspective, it's also worth mentioning how your products and services could help consumers. You should only encourage users to consider your business if it makes sense, though. If you force your products or services on consumers, they won't become lifelong customers.
Need some inspiration to get started? Try these smart holiday marketing strategies for 2020!
Offer the Best Customer Experience
The holidays are often a joyful time of year, but they're also notorious for creating stress, especially when it comes to gift shopping. Your business can alleviate this consumer stress by providing useful tips and tricks to make their holiday experience even better.
Let's use your business as an example. Your job is to inspect homes, but why limit yourself to only inspecting homes? You can provide or produce consumer guidance or information (in the form of fliers, blog posts or social media content) that offer simple ways to help ease the stress of your customers as they head into the holidays. Not only will you be providing helpful information to customers, you also might motivate them to purchase more ancillary services from your business.
A Few Ideas:
Offer to inspect home holiday decorations. Are the lights outside attached to the home properly? Are circuit breakers facing potential overloads or could they be fire hazards?
Are the smoke alarms in working order? Is the menorah too close to anything flammable? Is the tree getting enough water?
Are stockings hung on the chimney mantle without ruining it?
You could create a holiday inspection package that can be a one-off for the winter holidays or throughout the year.
Show Gratitude to Your Customers
It's easy for past clients to forget your business once they have bought or sold their home. If you want to continue doing business with potential and previous customers, you need to stay top of mind. An excellent holiday marketing strategy for keeping consumers dedicated and loyal to your brand focuses on gratitude.
Show your customers how valuable they are to your business. While there are many different ways you can thank clients, emailing an end-of-year thank-you or sending a card in the mail are simple acts that can motivate consumers to do their holiday shopping with your business. A holiday greeting card sent to all your customers and referral business partners (for example, real estate agents, friends, family, networking group members) can go a long way to keeping your business top of mind.
A Few Ideas:
Send a holiday greeting card to all your clients from the past year.
Send your referrals a small gift or a gift card for a coffee shop.
Send a branded item such as a calendar magnet to your networking group. Be sure to include your website and contact information on the item.
Start Your Marketing Campaign Early
Too many businesses procrastinate when it comes to developing their holiday marketing strategy and then they run out of time to take advantage of the season.
Many consumers start thinking about holiday shopping before December rolls around, so that's why your team should work on a seasonal marketing campaign a few months ahead. Some ideas are easy to implement; however, creating a more elaborate strategy may take more time. It's helpful to realize that you can launch a holiday marketing campaign well before November or December.
Many consumers buy gifts early. Capture this audience by sending out holiday advertisements and seasonal offers very early in the season. With this approach, you can motivate these early shoppers to purchase your products and services.
A Few Ideas:
Capitalize on other special days leading up to traditional holidays. You'll be remembered during the holiday madness because you recognized customers and referrals on other days of the year.
Here are some examples for 2020, but be sure to check your calendar or do an internet search for even more ideas like these:
October: World Smile Day (10/2), National Taco Day (10/4), National Dessert Day (10/14), Get to Know Your Customers Day (10/15), Halloween (10/31).
November: Daylight-Savings Time Ends (11/1), Veterans Day (11/11), National Entrepreneurs Day (11/19), Thanksgiving (11/26), Black Friday (11/27), Small Business Saturday (11/28), Cyber Monday (11/30)
December: Giving Tuesday (12/1), National Cookie Day (12/4), Hanukkah Begins (12/10), Super Saturday (12/19), First Day of Winter (12/21), Christmas Eve/Day (12/24 and 12/25), New Year's Eve (12/31).
Offer Free Rewards
While many consumers focus on purchasing gifts for others, many are also attracted to the idea of buying something for themselves. That's why providing a free product or service is such a compelling holiday marketing strategy.
By using this strategy, you can motivate customers to not only buy your product or service but also spend more money with your company. For example, if you offer a free item along with a $50 service (perhaps a holiday inspection package, as described above), it encourages users to spend more. Rather than just getting a service a la carte, your customers might splurge and spend $50 or more.
The holidays are a time of giving, but people want to be on the receiving end of the gift giving from time to time, too.
A Few Ideas:
The gifts you offer don't need to be expensive. Use logo merchandise so you're top of mind.
Create winter comfort packs that include hot chocolate mix and marshmallows.
Give away ice scrapers if you live in a cold climate.
Give away beanie hats in areas where the weather is milder but it still gets chilly at night.
Use Social Media and Explore Hashtags
With 81% of people logging in to at least one social media profile, you don't want to miss the opportunity to reach new prospects and influence current customers on these platforms. If you already use social media to enhance your business marketing, make sure to optimize it during the holiday season.
How Can You Turn Your social Media Into a Holiday Marketing Strategy?
Take advantage of hashtags on platforms like Facebook, Instagram and Twitter. With hashtags, you can spread the word about your sales and promotions. You can also encourage user-generated content by creating a hashtag for customers to use when they post a photo or status that features your service.
Hashtags are also easy to remember and make it easier for prospective clients to remember your company's name. Having the right hashtag can help you reach new shoppers who are looking for the perfect gift this holiday season.
A Few Ideas:
Try marketing your holiday home inspection package with the hashtag #yourcompany2020holidays or #holidayhomeinspection.
The options are endless; however, to gain traction on social media, you must use your hashtags repeatedly, so be sure that you include the hashtag at the end of your social media posts.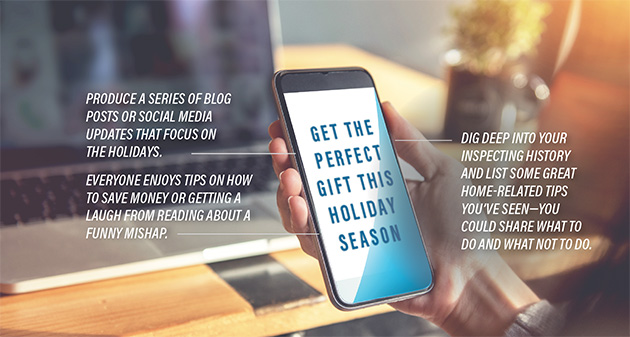 Produce Festive Ads
If you're investing in pay-per-click (PPC) advertising, you can focus on creating ads that feature a holiday touch in the ad copy or ad itself. For example, your ad copy may say, "Get the perfect gift this holiday season," to emphasize the holidays. Or you could use a graphic that brings to mind the holiday season.
You can extend this strategy to your marketing content, too.
A Few Ideas:
Produce a series of blog posts or social media updates that focus on the holidays.
Everyone enjoys tips on how to save money or getting a laugh from reading about a funny mishap.
Dig deep into your inspecting history and list some great home-related tips you've seen—you could share what to do and what not to do.
Appeal to Your Customers' Emotions
The holidays ignite a mixture of emotions, from excitement to nostalgia. A smart holiday marketing strategy appeals to these emotions, which can encourage users to make your company a part of their holiday shopping.
A Few Ideas:
When building your holiday marketing campaign, pay extra attention to the emotional appeal of your content.
Share inspirational messages on social media or provide a behind-the-scenes look at how your company celebrates the holidays to evoke powerful feelings.
Create a pay-it-forward campaign to help a local charitable organization.
Show how you're helping others during this time of year.
Launch a Video Marketing Campaign
A minute of video is equivalent to 8 million words, making video marketing a revolutionary holiday marketing strategy. According to 90 percent of users, video also helps them make a purchase decision, so you can imagine how having a good video or two could tremendously benefit your company.
Adding a video link to your website, email or social media channels can help you share your company's message in a way that invites users to learn more about your brand. Videos are user-friendly, too, and they make it easy for viewers to learn more about your products and their uses.
If you haven't already done so, create a YouTube page to market your business and share your videos.
A Few Ideas:
Take a page from today's youth and create your own TikTok-style video. To do this, create a short video message (15-30 seconds at most) and be as serious or as goofy and clever as you like. (Hint: Goofy and clever will probably get you more hits.) Above all else, have fun with it.
Be sure to add your hashtag and a description of your promotion to the video. You want it to be memorable.
Consider making a series of videos throughout the holiday season. For content, share tips and tricks and promote your holiday inspection package.
Single out the special days listed above and repeat the message in multiple ways to your customers throughout the season.
Market Your Brand
When you focus on sharing not only your products and services, but also your business' brand, it can leave a lasting impression on customers. If your company focuses on inspecting green or smart homes, for example, it can encourage users to choose your business instead of a competitor.
To highlight your company's exceptional customer service, you can make it a unique selling point (USP) for your brand. This kind of USP not only demonstrates what your company values, but also what users can expect as a customer.
Before the holiday shopping season, pay extra attention to how your business presents its brand. Put some added effort into your branding so that your customers have more of a reason to invest in your business, especially when the holidays roll around.
A Few Ideas:
Think of branding as a way to make sure your customers know what your business values are. Use words that you believe in and use them often.
People will notice the words and phrases that you use to market your business and the repetition of these words and phrases reinforces your brand.
Ready to make the holidays delightful?
With some planning, your team can develop a one-of-a-kind holiday marketing strategy that drives your seasonal sales upward. From offering personalized experiences to sharing gratitude, your company has a variety of options when it comes to promoting your business this season.
The holidays are one of the best times to make an investment in creating an emotional bond with your target audience. The positive feelings of family, giving and gratitude are already top of mind of for your target audience and your marketing campaigns can easily reflect and reinforce those emotions.
By segmenting your customers for a truly personalized experience, by making your campaigns easily shareable, and by delivering content and promotions that are consistent across all of your channels, you're positioning yourself for maximum success durring the upcoming holiday season.
Plan ahead and track the results!
More Holiday Marketing Ideas for Home Inspectors
Submitted by Inspect.com
Shift your marketing focus from selling inspections to appreciating clients.
Create a pop-up on your website with a New Year's greeting. Don't forget to stop running it January 2.
Use Google Ads or Facebook ads? Send visitors to a holiday greeting from your business.
Send a holiday greeting to past clients who haven't left a review. Ask them to give you a review in the spirit of holiday giving.
Offer a free gift card for anyone who refers a friend throughout the holiday season. Use a small gift like a prepaid card.
Send a free gift to anyone scheduling an inspection for a limited time, like during the month of December.
Run a festive giveaway "raffle" for the holiday season, like a tool bag with hand tools inside or a breakfast gift basket. Encourage entrants to share the post to get more chances to win. Publicize the date that you will select a random winner. Search "sweepstakes software providers" for more ideas.
Go live on Facebook or YouTube with holiday safety tips. If you are shy about going live, create a holiday-themed video and then upload it on YouTube and your website.
Celebrate the home in your marketing. It's the place where your clients spend holiday time. A safe, secure home is your bread and butter. Emphasize how home inspections create a healthy home environment.
Plan for Marketing Sensitivity
While you plan your good will holiday campaigns, be sure to stay aware of and show concern for your community. You can respect your own traditions while also respecting the diverse traditions throughout your community.
Respecting the diversity of community is high on everyone's mind this year. You know your clients best. Tailor your holiday greetings to them. Saying "Happy Holidays" isn't new. The greeting appeared in advertisements as far back as the 1950s. At that time, the greeting didn't create controversy. You'll reach your client base and spread good cheer. Whether you or your customers celebrate the same holidays or not, sending out a heartfelt wish for them to have the best holiday possible can go a long way and can even result in an equally positive response.
Holiday marketing builds brand awareness. When people start thinking about buying and selling property, your business will come to mind first. If you take care to plan thoughtful messaging, people will associate your home inspection business with kind and warm feelings. Positivity makes for strong marketing. People remember good feelings. Plan your marketing now. Set up your thoughtful holiday-themed advertising campaigns now and schedule them for future dates. Then, sit back and enjoy the holidays.
Inspect.com is an online marketplace for the public to connect with qualified inspectors across the country. Get discovered and share your expertise. Add your listing to Inspect.com.