ASHI Mentorship Program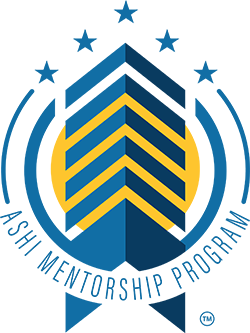 The ASHI Mentorship Program helps newer or less experienced home inspectors get the guidance they need to be exceptional home inspectors by pairing them with experienced home inspectors, who volunteer to serve as their mentors. Many ASHI Members have worked in the profession for years and maintain a broad knowledge that can help those starting out their careers as home inspectors.
This program will help build relationships between members across the nation and will demonstrate the comradery that ASHI is built upon.
For more than 40 years, ASHI has focused on setting the standard and educating its members to elevate the home inspection profession. Members join ASHI to broaden their knowledge and skill sets to become the best home inspectors available. The ASHI Mentorship Programs gives Mentors the opportunity to give back to the home inspection community and help new inspectors as they grow in their profession.
Become a Mentor
ASHI Mentors are ASHI Certified Inspectors or ASHI Retired members looking to share their knowledge and expertise with new members. This is a voluntary program to ensure that ASHI Members will continue to elevate the profession for future generations.
ASHI members who become Mentors will earn 5 CEs for their time each year. In addition, they will have access to a digital badge that can be used to promote their involvement in the ASHI Mentorship Program.
Requirements:
Must be an ASHI Certified Inspector or an ASHI Retired Member.
Must be part of the Background Verified Inspector (BVI) program. Those who are not part of the BVI program will be eligible to undergo a background check free of charge.
Must be available and willing to assist members needing assistance or looking for guidance on a particular issue.
Sign up to Work with a Mentor
Newer inspectors can work with experienced ASHI Members for guidance and advice as they start their careers in home inspection. This program is available for all those that want to be involved in the Mentorship Program. ASHI membership is encouraged, but not required, to participate.
Questions
For more information about the ASHI Mentorship Program, email mentor@ashi.org.