As company leaders and entrepreneurs, we know the importance of exhibiting at trade conferences. To ensure success, exhibitors must have a well-planned strategy. Knowing how you should market before the conference is a lot different from how you market during the conference. And certainly, your follow-up strategy is key to your overall success. Let's look at some essentials for creating a successful conference experience to increase your return on investment (ROI) and maximize your success.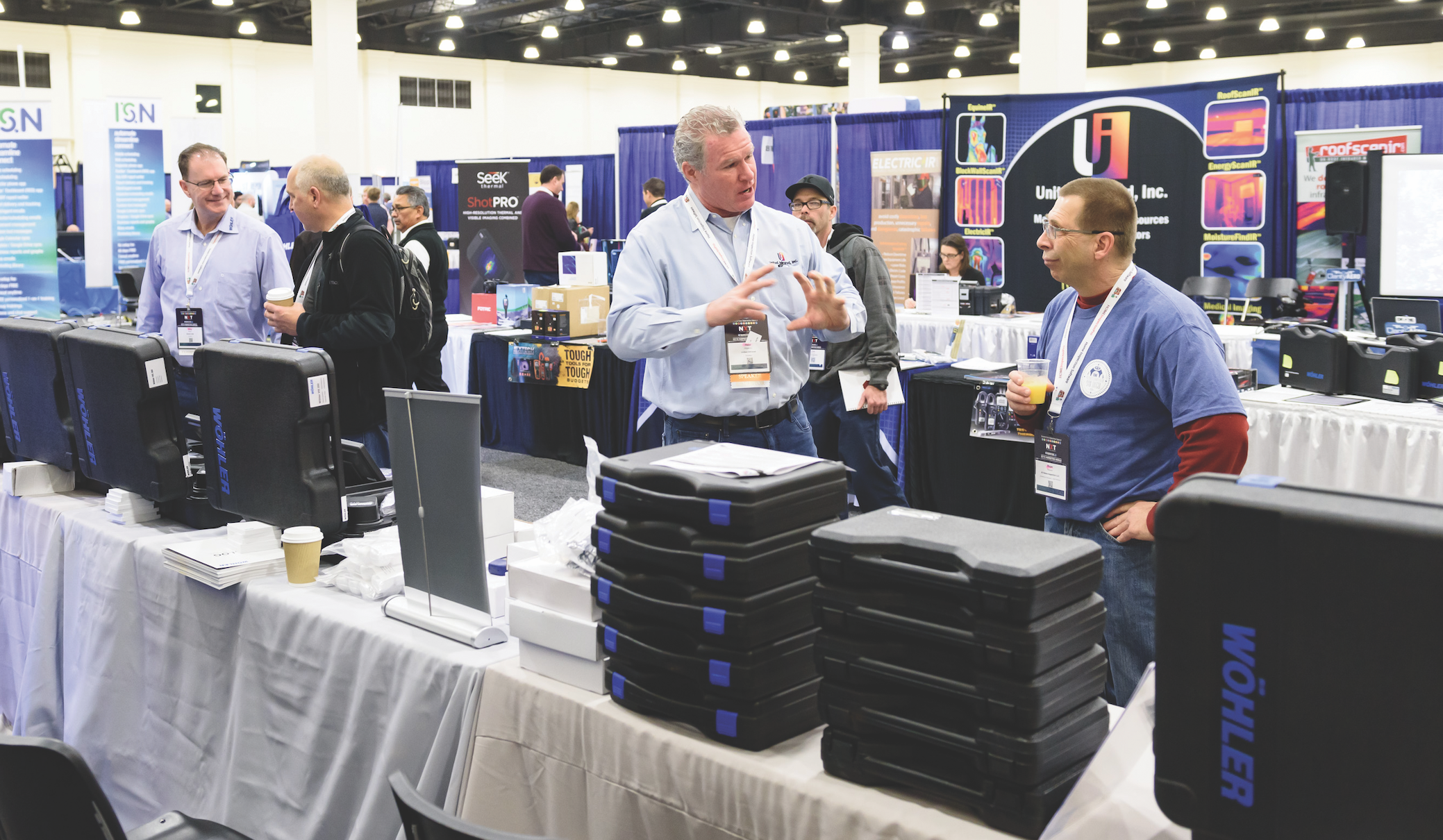 Set Goals
First, you need to set goals. Attending and exhibiting at a conference is a key marketing strategy that requires a financial commitment. To maximize the ROI, it's important to identify your goals and objectives for the following areas:
Brand exposure
Number of new leads
Number of new accounts
Sales volume
Setting goals may seem like a simple point, but often it's taken for granted and goes without being well defined. All too frequently, we want sales but we do not give enough attention to planning out how we will try to generate sales. According to Napoleon Hill, authorof " Think and Grow Rich," "A person without a goal is like a ship without a rudder." Setting detailed goals is essential to having a successful conference.
Strategize
Next, you need to plan your marketing strategy. Successful exhibitors plan and develop a conference marketing campaign. Your campaign should include these three strategies:
• Pre-Conference Marketing: There are plenty of opportunities to market to the contacts in your database before you go to a show. Don't just rely on the show organizer's attendee list. Marketing to your database lets your customers know where you will be so they can meet you face to face and potentially pick up a "show special" if they attend, which helps grow the size of the conference, thus making it more successful for you. Let's assume you are launching a new product or service. It would be wise to create a marketing campaign to begin generating interest and teasing your target market on what's to come. For example, Apple is great at doing this. Before the introduction of each new version of the iPhone, Apple launches several campaigns with bits of information about the new product, enough to make thousands of people wait outside Apple stores for hours to purchase the product. You can prepare an email campaign and send it out so you can generate a lot of interest and make more sales.
• Conference Marketing: Your marketing strategy should set you apart from other exhibitors. How will you grab the attention of conference attendees? Did you participate in a sponsorship that puts your company name out and around the conference and expo hall instead of just as a note in the conference tote or the program guidebook? What is your unique positioning? How clear is your message and what do you offer? Create marketing materials that are clear as to what you offer and compel attendees to stop by and learn more about your company.
• Post-Conference Strategy: Follow-up is one of the pitfalls of many companies. Don't wait until you come back from the conference to begin your post-show communication with all your new leads. If you made connections on the first day, don't wait until you are back in the office to contact those leads. Although the information you may want to provide may be back home in your office, you can send a short note to the people you met to recap your discussion with them while you are still at the conference. Thiis strategy will keep you on their mind after the conference ends. Plus, the message reminds them that they will receive more information soon. A smart company will have their post-conference strategy outlined and ready to be launched immediately upon returning from the show. Create a few email sequence messages that you would like to send immediately upon returning from the conference.
Plan Your Process, People and Place
Now that you have your marketing strategy in place, it is essential to craft your sales process. What are you planning to sell at the conference? Create your sales materials and be sure to make your special conference pricing or offers and added value very clear. Create urgency for people to buy now and place their order. Make the process easy and seamless. Be sure that your sales iers are flashy and attention grabbing. Hand out as many as possible!
To maximize your investment, select the right people to help you during the conference. You want high-energy sales experts. Happy, friendly people who don't whine and complain about every little thing and people who can stand all day and work are ideal for working your exhibitor booth, making contacts and generating leads. Create a position description for the conference to clarify any misconceptions about working a conference. is is not a vacation: it's not about going out and being tired the next day. Make sure your team knows your goals and objectives for the conference.
Reserving your exhibit space early gives you the opportunity to select the ideal booth space and maximize traffic flow. This will increase your potential number of leads and revenue. Working a conference is hard. Where you stay can make a big difference. That's why it is wise to reserve your hotel space early. Hotels get booked up fast. The last thing you want to have is a long walk after standing all day. Reserving early will save you money, too. Just make sure to select the right place for you and your team. Staying in the host hotel is often the best course of action. At the end of the day, you can meet attendees in a casual setting such as a bar, restaurant or lounge to discuss their needs more and find out how you can help them. If you're staying in another hotel, you might have to leave the conference space and come back later. By the time you've refreshed and returned, most attendees may have left the conference area's lounges and restaurants for the day.
Retrieve Your Leads
I can't tell you how often I see companies exhibit without a lead retrieval device. What is the point of going to a show if you are not capturing as many leads as possible? Having a lead retrieval device will allow you to scan your visitors' information and then access it quickly. is practice will help with your post-conference marketing strategy because you can simply download the information into your database. Again, be sure to begin your automated post-conference communication the minute you get back to work. It's definitely worth the investment of time! If there are no lead retrieval machines (for example, at InspectionWorldTM, most exhibitors don't want them), then you must have another way to collect information about a new lead. How about setting out a bucket or bowl to collect business cards or put out a sign-in sheet on the table for those without business cards? Whatever your system may be, you must find a way to gather information for each lead. If you leave a conference empty-handed, all you've accomplished is paying for booth space.
Present Yourself Wisely
Attendees, especially home inspectors, form their opinion of you and your company within seconds (they are very visual people, you know). What they see as they approach your booth may make the difference of whether they stop to talk to you or if they simply walk by and go to your competition. Creating a great image does not have to cost a lot. With some planning, you can create a great professional image. Set up your display before the conference and look for ways to improve your image. What marketing tools can you produce to help you deliver your message and attract attention? Seek professional help in designing your image to make a great impression.
Your team's apparel and conduct can either make or break you. Make sure to inform your team of your policy for attire and conduct to ensure that everyone presents a good reflection of your company.
Be Prepared
Always arrive early to set up your booth and be prepared. Once setup is complete, meet with your team and reiterate your conference goals and everyone's role. Remind everyone of the importance of professional conduct and the overall objective of the conference. Most importantly, do not take apart your booth before the stated breakdown time. By leaving early, you convey to the attendee that they are not worth your time, that you are too busy to meet with them and that you have better things to do. You are also contributing to that disheveled, "near-the-end-of-the-expo" look and you may not be asked to exhibit at the conference the following year.
Measure Your Results
When measuring your conference results, be sure to address these two essential elements:
On-site conference performance: Did you hit your target goal for lead
generation and on-site sales?
Post-conference performance (one month after the conference): How many more sales did you generate after the conference by following up on leads?
As you can see, several proven effective methods ensure conference success. If you are already practicing these methods, awesome job! If not, I encourage you to implement these ideas for your next conference experience to maximize your success! If you need some advice for planning your strategies for your next conference or show, feel free to reach out to me at davek@ashi.org or 847-954-3187.