I'm a conference enthusiast. Most people, including my wife, think I'm nuts. In fact, when I return home from a conference, my wife tells me to unpack everything I received when I'm at work, not at home. I love keeping what exhibitors hand out—not the swag, mind you, but the marketing fliers. I want to see the messaging and learn from the marketing tactics. Also, I do love the swag! I ponder over each item. Did it turn heads? Were people talking about it? Will people use it when they're back home? I also like to keep expo hall floor plan layouts and overall conference schedules and figure out what worked—or didn't—and why.
But this article is not about what I love about conferences—it's about how you can get the most out of attending ASHI's
InspectionWorld®. A key piece of advice? You, too, should act as if you love attending conferences.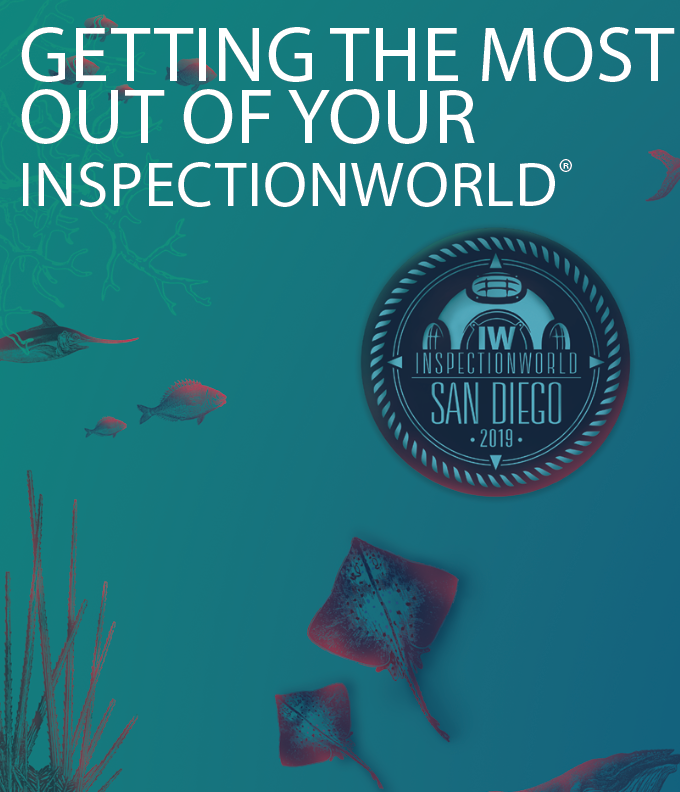 Plan Your Educational Sessions
Some view the IW education schedule as if they are selecting classes for high school or college, telling others, "Take the class that so-and-so is teaching," or "Don't take that class, it's really boring." My advice: Don't listen to anyone but yourself about which classes to take. Immerse yourself in the experience of IW, and make decisions based on your own experiences and interests.
With 45 courses organized into five tracks, you'll have many choices. Some of your choices may be based on what you need to maintain your licenses or memberships in other organizations. Keep in mind that you'll earn 20 ASHI continuing education units by attending classes, visiting the expo hall and taking part in events.

The Five Tracks
Inspecting Essentials courses
Designed for new home inspectors and as refreshers for experienced inspectors. If you take one of these courses and think, "that was too easy," you should modify the rest of your schedule to include sessions from other tracks.
Advanced Learning classes
Provide in-depth information covering home inspection techniques and home components.
West Coast sessions
Focus on home inspection topics specific to states along the West Coast, including low–slope roofing, issues pertaining to earthquakes, solar panels, specialty roofing and more.
Specialty Diversification courses
Focus on building your business repertoire and your income. Cool, right?
Business Management courses
Focus on the business aspects involved in running a home inspection company.
Pre-Conference Courses
Don't forget to consider attending Pre-Conference Courses. The knowledge you'll gain is well worth any additional fee, as these courses are designed to help you develop your business and generate more income.
Two-Day Radon Measurement course,presented by Terry Howell, President, Radalink
FEMA P-50 and P-51 course on seismic vulnerabilities in homes
Two-Day Residential Thermographer course
Part 107 Test Preparation for flying drones
Plus many others—check the IW 2019 website at www.inspectionworld.com for a complete list.

Get Ready to Be an IW Attendee
Survival items and app: When you arrive at the conference, ASHI will give you an IW survival pack, including a totebag, notebook, pen and water bottle. You'll also have access to a conference app that contains all the information you'll need. Remember to bring your conference registration information, as well as your phone and computer charger.
Pre-conference social media tips: If you want extra points for pre-conference awesomeness, start following the #IW2019 (conference hashtag) on Twitter and Facebook right now. You'll see who will be attending and by interacting online, you could start making plans to meet up with people in San Diego. You can also use the social wall in the conference app to chat with attendees and vendors.
Check–in: Conference check-in can be hectic. Some registrations are somewhat disorganized, with a general feeling of chaos in the front of house. But that is not the case at InspectionWorld®! Registration areas are set up specifically for attendees and for exhibitors. When it's your turn, you'll type your name on a tablet, confirm the spelling and receive your badge in seconds. Once your badge is put together, you'll grab a lanyard, collect your tote bag, water bottle and t-shirt, and go enjoy the conference.
Dave's Pro Tip 1: You never know who will be working the registration table. It's very possible that you might meet the organizers of IW or other influential ASHI leaders who are running the welcome area!
Dave's Pro Tip 2: Soon after you check in, take some time to read through everything in your IW totebag. You'll find great information from vendors about what you can learn at their booths, details about educational sessions, topics for the Grab & Go sessions and a lot more. It's all there for you.

Get Ready to Be an IW Attendee
Choosing sessions: I recommend attending sessions on topics that interest you but you don't know much about. Many people attend sessions with familiar speakers or content, but you've invested time and money to be at IW, so expand your horizons. And if you really can't choose between two sessions being held at the same time, find out if one of the sessions will be recorded and attend the one that will not be recorded. Then, be sure to watch the other session later.
Talking to speakers and panelists: Approaching presenters at IW (or at any conference) can be intimidating—especially when they're surrounded by a gaggle of fans. But making those connections is crucial. Not only is "I talked to you at IW" a great opening line for an email, but the fact that speakers are also interested in the same things that you are can make them valuable allies. Plus, in my experience, I've noticed that some speakers attend several different conferences, so it's great to build those relationships over time.
Of course, striking up a conversation with a speaker can be easier said than done, so here are some tips:
Position yourself so that you are near the speaker. If he or she is on the right side of the stage, station yourself toward the front right part of the seating area. Look engaged during the presentation. During the session, write down some interesting points you'd like to ask about.
In terms of your approach, be aggressive but not rude. I've seen conference attendees literally push people out of the way to talk to a particular speaker—I don't recommend that, but you should get yourself in there! Then, introduce yourself, ask your question, make whatever connections you want to make and walk away within a couple of minutes, especially if there's a long line of people waiting behind you.
Be open to talking to any of the speakers. If you heard an eloquent message from someone who is not very well known, that person might have more time to talk to you and can be a fountain of knowledge.

More on Networking
In person: When you see "Break" or "In the Expo Hall" on the agenda, it's time for you to put those business cards to use! Remember, the majority of people are there to mingle with like-minded individuals and vendors whose products and services will help their inspection business thrive, so don't be afraid to make connections. Obviously, don't be overly eager ("Here's my card! We're best friends now! Give me a discount!"), but don't be afraid to ask for business cards and hand out yours, too.
Starting a conversation with strangers can be scary and awkward. However, unlike a networking event where you're thrown together in a room with little or no context, a conference gives you one topic you all have in common: the conference itself!
If you want to start chatting with someone, ask a question about what sessions they attended or what speakers they liked the most. From there, it's natural to ask what that person does for a living and why IW appeals to them.
In the Expo Hall: Whether it's your first or fiftieth time entering an expo hall, you may get overwhelmed by the sheer madness of all the lights, sounds, gadgets, tools and discussions. This is not the time to freeze up. Your time in the hall is finite, so make the most of it.
Try to check out all of the more than 100 exhibitors in the hall. You may have heard of some of them from discussion forums and social media group pages, but you'll also see many new companies with products and services to improve your business' expediency, management or income rate. Don't just walk by a booth, drop your business card in a bowl and hope to win some item. Take a moment and find out about what that exhibitor is presenting. You'll leave the expo hall with new ideas to implement in your business.

Attend the Big Events
At the end of the day after attending classes, working an expo booth or walking an expo hall, you're wiped out. Probably the last thing you want to do is go to another event. But hey, you've spent your hard-earned money to attend this conference—so missing out on an event is a missed opportunity. Consider how often have you been out with friends only to meet someone, mention what you do for a living and later hear from that person looking for your services or advice? This can happen at IW as well!
Sunday, January 20, 4PM
Opening Expo Hall Reception
Kick off the conference by meeting the vendors. A special ribbon– cutting ceremony starts the event and everyone floods into the hall to meet terrific vendors, have some hors d'oeuvres and enjoy a cash bar. See the box bellow for a list of some of the new IW exhibitors.
Sunday, January 20, 7:30-9:00pm —InspectPAC Event
No Pool. Some Party. All Fundraiser
At $50 per ticket, this is your chance to give back to your profession. This event raises funds for InspectPAC, which helps elect and re-elect candidates to Congress who understand the home inspection profession and support the industry. Your ticket includes drinks, appetizers, raffles, a photo booth, a souvenir glass and more!
Tuesday, January 22, 7-10 pm
Rock the Yacht: IW Gala Dinner/Dance Cruise
For $100 per person, you get a party plus shuttle service from the conference venue! The Adventure Hornblower, a 150-foot yacht, will set sail at 7 pm and return to port at 10 pm. You'll dine and dance under the stars with a backdrop of the San Diego skyline, Coronado Bay Bridge and the USS Midway.

Do the Social Media Thing
Be cool: Never underestimate the power of using social media (live tweeting, following the conference hashtag, liking and favoriting posts) during a conference. I can't tell you how many times I've networked on Twitter and Facebook with awesome conference-goers and highly sought-after speakers. If anything, being present on social media gives you the ability to be an influencer for an event.
Be even cooler: Meet up with people you've met on social media to make some new friends and contacts. To this day, some of my closest friends and professional contacts are people I met through live tweeting at events.
Be the coolest: Your customers are on social media. Oops, I meant to say that they live and breathe social media. So, the more you're out there, the more they see you and the more likely they will be to hire you in the future. The more posts (positive posts, people!) that you place, the more searchable you will be by potential customers.



First-Time Exhibitors at IW 2019
ALS Global
AnswerConnect
Ford Motor Vehicles
Fotric
Damage Recon
Eneris Technologies
Home Manager Systems
InspectedHouses.com
Inspection Surveillance Supplies
Ispecx
Instaspections
Japanese Society of Home Inspectors
LeakTronics
MB&A
Perma-Liner Industries
Principal Financial Services
Red Moon Grafix & Print
Sedgwick
Shower Pan Tester
Smoke Detector Pole
Spectora
SPER Scientific
Taxbot
Trusted Water
Vent Cap Systems
Ward Manufacturing

Make a Post-Conference To Do List
Follow up
Try to contact all the contacts you made at the conference within 24 hours of the last conference day. Why so soon? If you wait longer to make contacts, the people you met might have already forgotten your face. Don't let them!
Talk about IW
Whether you're on Twitter, Facebook or Instagram or if you have a blog, show your love for IW online! Personally, I love writing blog posts about conferences I go to and sharing what I learned. Another fun thing to do is to apply the lessons you learned at the conference through social media. For example, if I hear a speaker at a conference give a great talk and then a couple of weeks later I read an article about that topic, I'll tweet a link to that article and tag the speaker or conference organizer using the conference hashtag. It's a great way to make connections and establish yourself as an influencer.
Love the Location
Another thing I love about conferences is visiting great places. In 2014, IW was in Nashville. I'd never been there, so I made a point to walk around and visit restaurants and locales not specifically for tourists. In 2015, IW was in Philadelphia—I'd been there before, but I took time to explore more of the city. In 2019, IW returns to San Diego—a place I love and so does my family!
Oh, right, Family!
San Diego is a great place to visit with your family. There's so much for them to see and do while you're busy at the conference. The Old Town Trolley takes you to many of the sites and you can visit the San Diego Zoo, the USS Midway, Seaport Village, the Gaslamp District, Old Town and Little Italy. Spouses who are along for the trip can register for some fantastic organized tours.
Make it an extended stay
The education doesn't end with the last session of the conference. You can take a post-conference training class on the topics of Sewer Scans, Commercial Inspections and Advanced Radon. Or just relax.
Whatever your plans, you'll have the world of home inspection at your fingertips and plenty to do around town. See you there!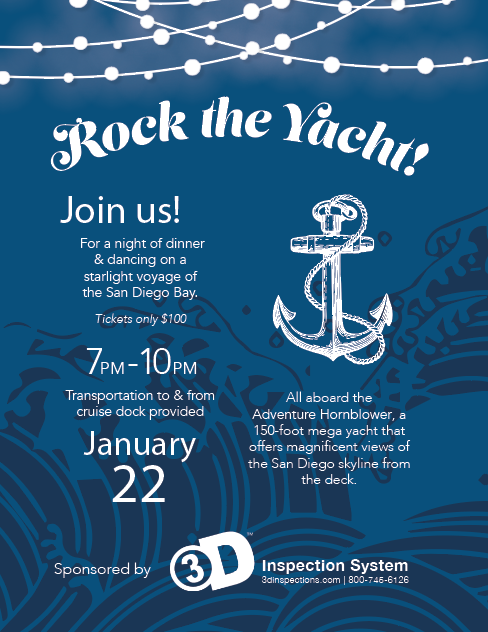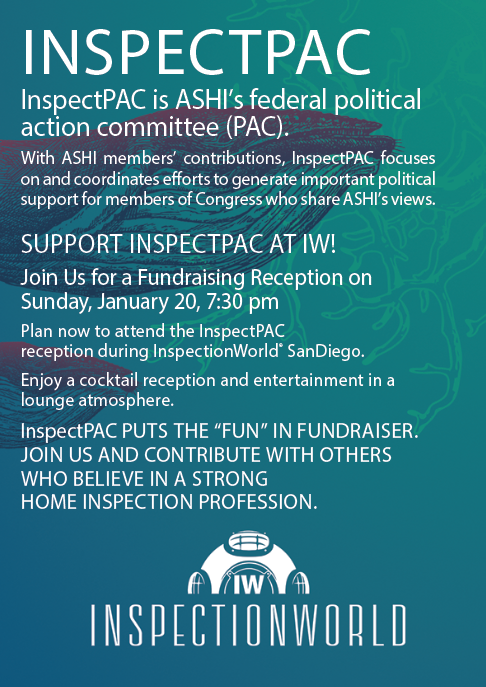 Visit the IW 2019 website at www.inspectionworld.com or contact Michele George, Education and Events Director (847-954-3188, email micheleg@ashi.org) with any questions.