InspectPAC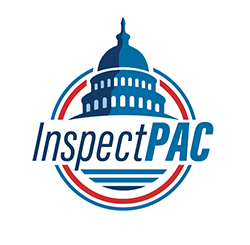 Federal policy is determined by people, many of whom hold elective office. A key force within the AGA is InspectPAC, a Political Action Committee whose purpose is to help support the candidacies of members of Congress who understand and appreciate the home inspection profession. By law, only members of ASHI may participate in InspectPAC. If you are a member of ASHI, you have a PAC helping you express your political views on home inspection.
A PAC is a Political Action Committee designed to allow U.S. citizens to exercise their constitutional right and need to participate in the political process, but in a way that is controlled and allows for full disclosure and openness in the campaign finance process. A PAC is an efficient and cost-effective way for the membership to combine their forces and help support candidates who reflect their business views. InspectPAC is the voluntary, non-partisan PAC of ASHI. It is the only federal PAC that directly represents the interest of the home inspection profession in our nation's political system. InspectPAC was established in December 2002 by a vote of the ASHI Board of Directors.
InspectPAC raises money to help elect and re-elect candidates to Congress who have an understanding of the home inspection profession, and who are supportive of our profession. InspectPAC encourages participation in the political process by pooling financial resources to help elect qualified federal candidates whose views and voting records reflect the interests of ASHI and its members. InspectPAC membership promotes responsibility in government and encourages participation of the ASHI membership in the political and elective process.
Regardless of political views, some may have mixed feelings about campaign finance matters. The reality is the system works better when more responsible people get involved. And home inspector's needs are no less important than any other group of business leaders. ASHI must be a part of that system in order to have a better shot at making an impact. InspectPAC does not buy votes with its contributions. There is no quid pro quo for contributions. It simply supports candidates whom it hopes will be sympathetic to its issues. The only expectations from elected officials is an opportunity to be heard, to inform them, and to make the home inspection profession's point of view known.
Lobbying Initiatives
Through the continued efforts of the AGA and actions of InspectPAC, many accomplishments have been achieved. The following is an overview of ASHI's lobbying initiatives that affect member's revenue, business and bottom line:
ASHI persuaded Congress to pass comprehensive legislation (drafted by ASHI) that requires the U.S. Department of Housing and Urban Development (HUD) to broadly incorporate home inspection into HUD's housing counseling programs.
In response to ongoing encouragement from ASHI's allies on Capitol Hill, HUD has proposed that all HUD housing counseling programs—including individual counselors—be certified to provide counseling to homebuyers on the availability and importance of obtaining an independent home inspection.
HUD is now proposing to amend its Federal Housing Administration (FHA) Single-Family Housing Policy Handbook to require that all FHA mortgage lenders prompt mortgage applicants at the first contact to consider obtaining a home inspection. All FHA lenders would need to provide "For Your Protection: Get a Home Inspection" to their potential clients at the first mortgage meeting.
ASHI is making plans to take these precedents to the Consumer Financial Protection Bureau (CFPB) to further brand home inspection as a form of consumer protection. ASHI's allies on Capitol Hill are helping move these efforts forward. ASHI has already convinced the CFPB that homebuyers must be told that the appraisal is not a home inspection.
In response to a company that has threatened litigation against ASHI Members who use infrared devices for inspections, ASHI has joined the leading anti-patent troll coalition in Washington, D.C. ASHI is doing its part to help pass legislation that will inhibit patent trolls from successfully threatening ASHI Members.
Some in Washington, D.C., want to cut or eliminate the home mortgage interest deduction as part of a larger federal budget package. ASHI has asked its allies on Capitol Hill to protect the home mortgage interest deduction, as it is a crucial driver of revenue for ASHI Members.
A tax deal that is being considered could raise taxes on smaller S corporations (like ASHI Members) in exchange for reducing tax rates on large C corporations and multinational corporations. ASHI is strongly opposed to higher tax rates for S corporations and is telling its allies on Capitol Hill to oppose this concept.
Though the strides ASHI has made have greatly impacted the real estate market, ASHI still needs support from its members. To continue the campaign for the profession, InspectPAC requires donations from ASHI Members. Participation in InspectPAC is completely voluntary and any amount you can offer is appreciated. The Federal Election Commission allows administrative and operating expenses of InspectPAC to be paid by ASHI. This allows 100 percent of all dollars for a federal PAC to go co candidates and to be used for campaign purposes.