Some Points About Knob-and-Tube Wiring
Regarding the article "Knob-and-Tube Wiring: A Revisit," by Alan Carson, Carson Dunlop, which appeared in the February 2017 issue of the Reporter, I'd like to note these points:
First, I have been told by clients and contractors that when they have tried to change overhead lights, they have found that the knob-and-tube (K&T) conductors have been "baked" by the light fixtures and that the black covering falls off as they try to make connections. Typically, a light fixture box with an attic above has insulation over it, which captures the heat of incandescent light bulbs. The typical repair is similar to the diagram (shown on this page as it appeared in the article) for extending a circuit: A person can mount boxes to each side, where the K&T conductor is intact, and then run nonmetallic (NM) cable to the light fixture box.
Second, the article failed to address the following common conditions found in buildings with K&T wiring:
• undersized fuse panels with double taps and over-fusing (that is, those telltale green 30-amp fuses)
• insufficient outlets
• insufficient lighting circuits
• original light fixtures with exposed, energized terminals
• K&T conductors exposed to traffic and mechanical damage in stairways, attics, basements and garages
• K&T wiring that has been modified or damaged, and which is now behind new drywall, ceiling tiles or paneling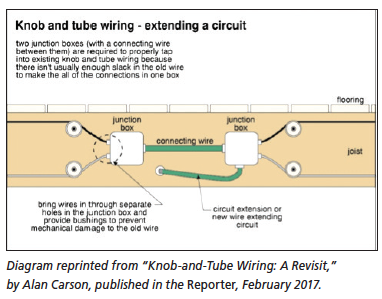 One of the principles that guides my inspections is protecting my clients. Another is protecting their bank accounts. I know that a remodeling contractor, an electrician or both someday will offer to eliminate all of the home's K&T circuits at a substantial charge. I always prepare my clients for that inevitable encounter, when they move from being a buyer to an owner. Also, insurance companies have stepped up efforts to determine the condition of the homes they are insuring, with questionnaires and inspections, which may lead my clients to spend money on K&T wiring, either by paying a higher premium or by replacing the K&T.
In my area, the oldest homes are in highly desirable, "walkable" neighborhoods near the city, town or village centers. My clients often are paying top dollar for old homes that were built before current safety standards. Thank you for the opportunity to comment on this article.

Sincerely,
Patrick M. Lyons
Buyer's Inspector, LLC
Ann Arbor, MI
734-645-8041 or 734-428-3808
patricklyons2@me.com
annarborhomeinspector.com
buyersinspector.com


A Focus on Work Lights
I'd like to thank to Rick Bunzel for sharing his latest flashlight survey, "Flashlight Shootout 2016" (published in February 2016), with readers of the Reporter. One topic that Rick did not cover, however, is the development of very useful, battery-powered LED work lights. I've been using an LED work light instead of a flashlight for several years. The work light has the advantage of casting a smooth, even beam instead of a bright, narrow spot. This makes it particularly useful for taking photos without the use of a flash; a camera's flash often puts a bright white spot in the center of the photo of any nearby smooth surface. The wide beam of the work light also gives me a better view of the overall condition of the component being inspected.
My light is a Milwaukee M12TM LED Stick Light (2351-20), with three LED lights and a lithium ion M12 rechargeable battery
(https://www.milwaukeetool.com/power-tools/cordless/2351-20). It has 220 lumens, weighs about 1 pound (with battery) and has an impact-resistant, replaceable lens. I've dropped this light on hard surfaces several times, and it has sustained no damage. This light easily stands on its end, hangs from its hook or sticks to ferrous metal surfaces with the optional powerful magnet accessory.
These features enable me to leave my hands free to use a digital camera or other tools. The light has four indicator lights to show the battery's charge level. The battery provides this light with more than four hours of run time and it serves me for at least two full ASHI Standard inspections. The M12 battery is interchangeable with the Milwaukee drill driver that I use on panel cover screws, among other items.
The light easily fits in the pocket of my pants or I can hang it from my belt loop. This feature of the light is particularly useful in attics, where I often do not have a hand free to hold a light. I've also marked the back of the light to serve as a 6-inch ruler so I don't have to pull out another tool for short measurements (see photo).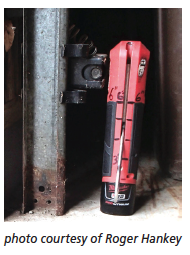 Milwaukee Electric Tool and other manufacturers make LED stick lights with 18-volt batteries, but I've noticed that lights with 18-volt batteries are heavier and do not readily fit in pant pockets. Depending on which style you choose and from which vendor you buy, the Milwaukee 2351-20 M12 LED Stick Light Bare Tool will cost approximately $72-$80; the corresponding Milwaukee M12 12-volt lithium-ion battery pack will cost approximately $35-$50. The light uses the same charger as the other 12-volt tools in this series. Discounted combination packages on tools, battery and chargers are offered by several online vendors.
I have spotlight-style flashlights in my toolbox, but I use them only when a bright light is needed to show a distant component. The advantages of using a hands-free light with a wide uniform beam have definitely improved my inspections.
Sincerely,
Roger Hankey, ACI
952-829-0044
rhankey@hankeyandbrown.com
www.hankeyandbrown.com