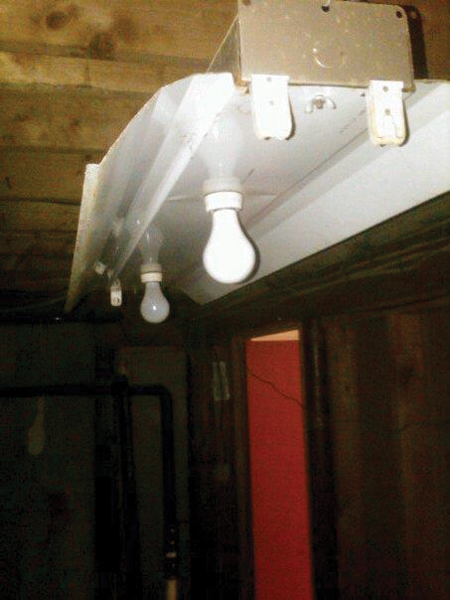 Got bulbs.
David Grudzinski
Advantage Home Inspections
Cranston, R.I.
Oh, the logic
If the shelf used to store paints and other combustibles is too close to the water heater flue vent pipe, no problem — just move the flue pipe!
Doug Ramsthaler
Precision Inspection Services, Inc.
Brick, N.J.
Trick photography?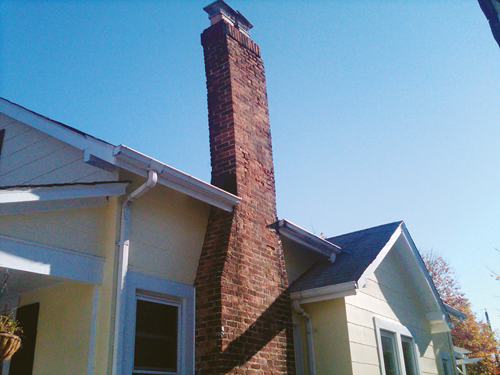 No fisheye or wide-angle lens was used on this photo. This chimney was curved!
Mitchell Nobile
Empire Home Inspection and Consulting
Peekskill, N.Y.
Ironic asbestos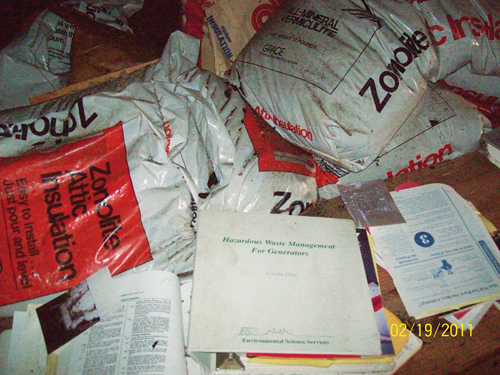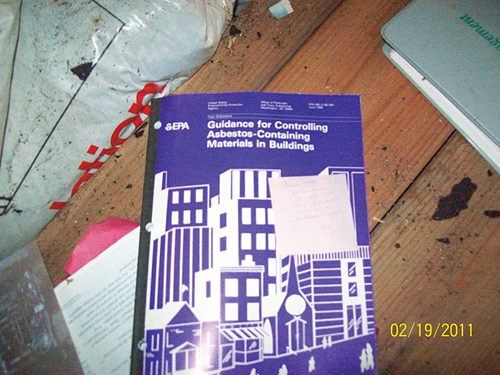 At a recent inspection, I found some traces of vermiculite in the basement in what looked like an area that one would use as a potting shed. So I was alert, but not alarmed. The attic revealed what I was afraid of. Bags and bags of the stuff. I calmly explained the history and concerns to the buyer, then began to look around. There were actually books about asbestos containment and control sitting right on the bags of Zonolite (vermiculite). Oh, the irony.
David Grudzinski
Advantage Home Inspections
Cranston, R.I.
Just a little leak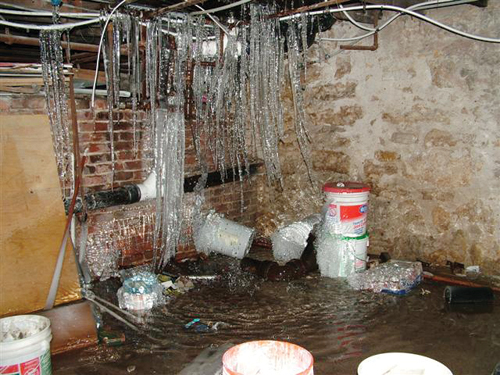 If the buckets aren't sign enough.
Randy Sipe
Family Home Inspection Services, Inc.
Spring Hill, Kan.

Inappropriate use of wood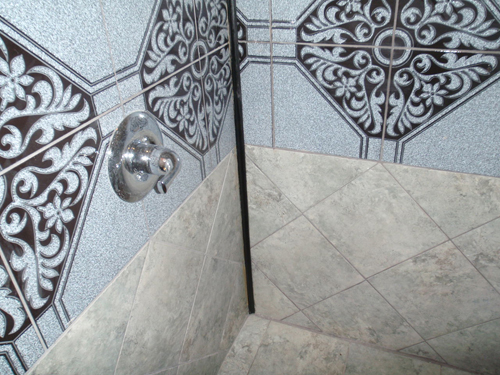 This shower features black WOOD TRIM in the corners of the shower. Good job Mr. Contractor. Will you build my house?
Brandon Dyles
Picture Perfect Inspections
Bartlett, Tenn.
Inappropriate use of wood, the sequel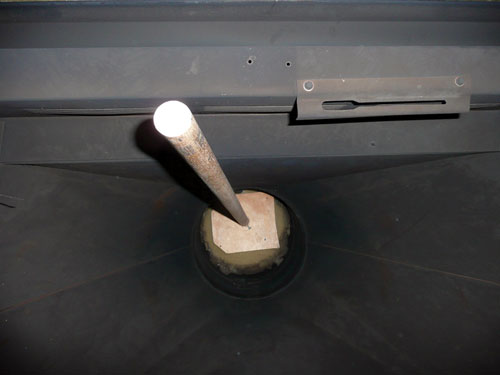 As I was looking up into a fireplace, I found this homemade WOOD flue damper.
Ed Massart
Speaker of the House
Glen Ellyn, Ill.
But it's a very clean bat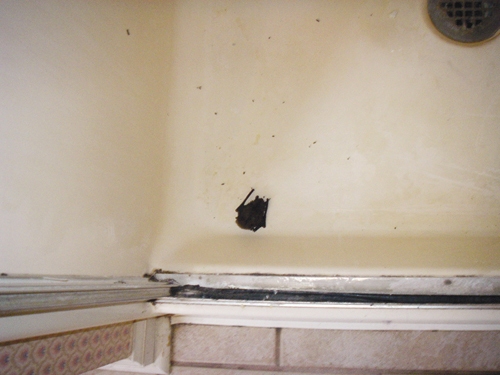 Hey, honey, if you go to take a shower, watch out for the bat. Gotta love what we do sometimes.
Paul King
Inspector Paul, Inc.
Fort Mill, S.C.
Flue faux pas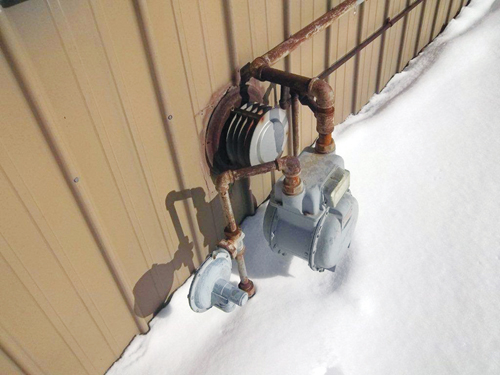 The gas wall-mounted space heater flue terminated under the gas meter on the exterior. It must be okay; it ain't blown up yet.
Guy Manwaring
Certified Home Inspection & Appraisal Service
Tecumseh, Mich.
Aaargh!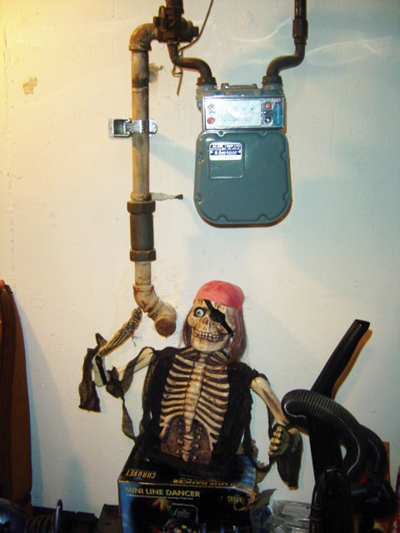 Don't mess with my meter!

Michael Chambers
The BrickKicker of St. Louis
St. Louis, Mo.
Sometimes you don't want the answer
I found a most unusual water heater installation today. It was half in the kitchen sink cabinet and half in the crawl space. Why they did this, I haven't a clue.
David G. Jones
Expert Inspection Service, Inc.
Chapel Hill, N.C.

MacGyver strikes again and again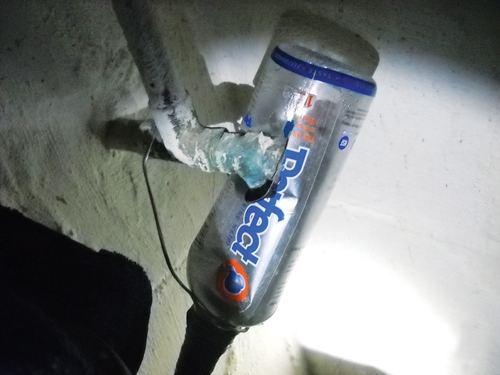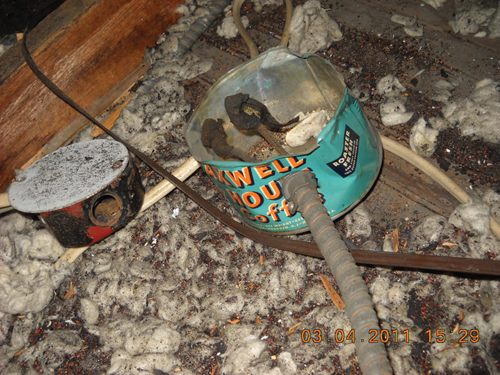 The first photo shows a leaking drain line from a boiler pipe. Someone cut out a plastic bottle, attached an old garden hose to the bottle and had it drain to the laundry tub. In the other photo, someone used an old coffee can for a junction box in an attic. Good to the last drop, so to speak.
Charlie Rice
Awareness Home Inspection Services, LLC
Sykesville, Md.
High water mark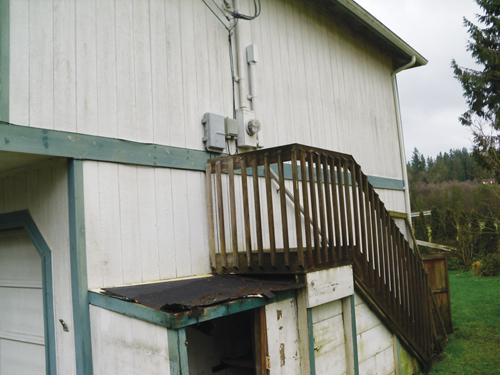 Does this house flood? When the meter panel is 10 feet above the ground, you can count on it.
Paul Luczyk
"A" TEAM Inspection, Inc.
Mukilteo, Wash.
No fresh air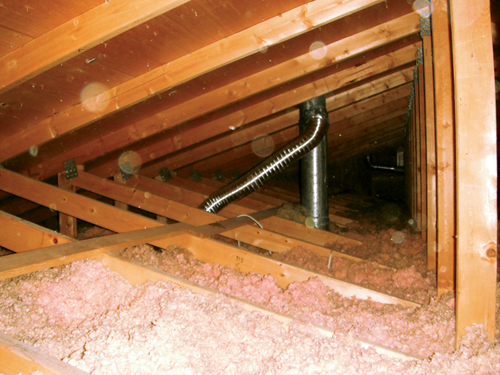 I found this in an attic. The smaller duct on the left is a bathroom fan duct. The vertical one is for the hot water tank. Fortunately, no one in the home was suffering from headaches.
Doug Barclay
Barclay Home Inspections
Kamloops, B.C.
Mortarless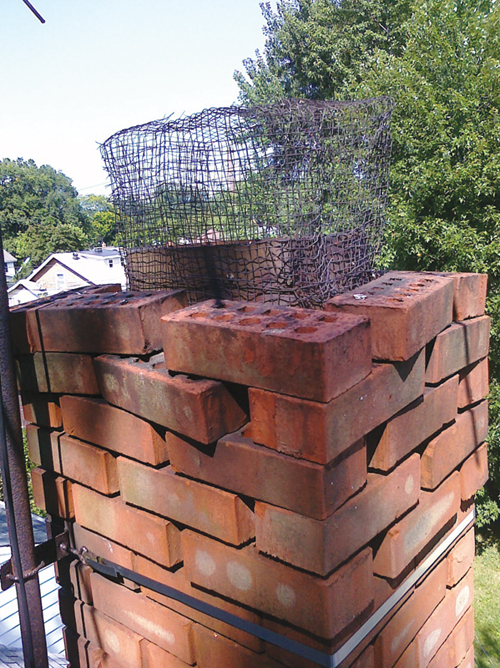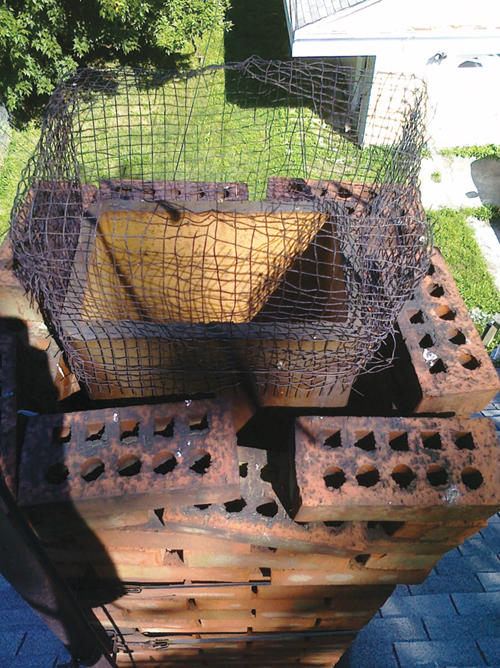 I've seen a lot of chimneys, but never one like this. It looked like the top 1/3 was dry-stacked as there wasn't a speck of mortar to be seen. It was completely loose. You could just lift all the bricks. There also was a tidy stack of about 10 of the same bricks on the ground!! Ouch!
Bob Margiotti
Century Home Inspections
Cleveland, Ohio
Another reason smoking is dangerous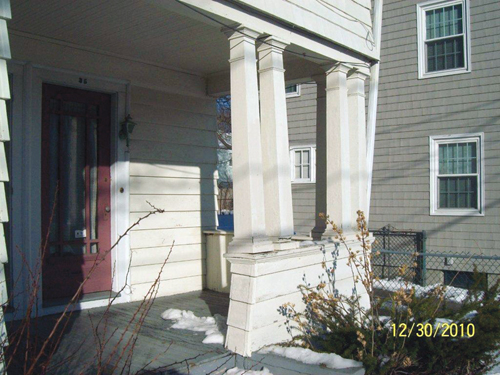 The second-floor tenants use the top-floor porch for a smoking room. I think its time to empty the ashtray — the porch can't take it.
David Grudzinski
Advantage Home Inspections
Cranston, R.I.