Home of 84-year-old Dutchess County, New York resident repaired

Thanks in part to ASHI Member Bill Hughes and Beth Anne Hughes, his wife and office manager, a house in Dutchess County, New York is a much safer place to live. They spearheaded a project for Rebuilding Together with Christmas in April® Dutchess County. The home was sponsored by the Dutchess County Association of Realtors®.
Bill Hughes coordinated a group that included 32 volunteers. Someone donated powerwashing for the two-story structure, and the house was then scraped, primed and painted. Volunteers pruned trees, cleaned up the yard and raked leaves. Concrete stairs were knocked down and replaced with a new set of stairs with a wrought iron railing. Subfloors were replaced in several rooms, and a new door was installed. The bathroom was fitted with grab bars, and a new tub enclosure was installed. Food was supplied by a local deli. All this was done in one day.
The Poughkeepsie Journal ran an article on the project. Beth Anne Hughes described the project as a rewarding experience. "It brings communities together. It brings people together," she said.
Rebuilding Together with Christmas in April has opportunities to volunteer all over the United States. There are 245 affiliates. National Rebuilding Day always take place on the last Saturday in April. Think about getting your chapter involved in 2003. The Dutchess County chapter rehabilitated 18 homes this year.
Thank you to Len O'Connor, executive director of the Dutchess County chapter of Rebuilding Together for providing photos. Visit their web site at
www.rebuildingtogetherdutchess.org
.
Habitat for Humanity®'s Collegiate Challenge builds homes and communities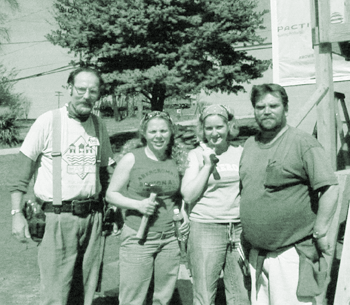 Photo: Paul Andreassen, ASHI Member (above left) and builder Howie Post (above right), both from the Hudson Valley area, with students from NYU and SUNY, working on the Danvilee, Virg. project. Andreassen has been a volunteer for 12 years and travels to different states to work with college students from all over the country. He finds the work rewarding.
In March 2002, a work crew assembled each morning in an old tobacco warehouse in Danville, Virg. Volunteers with Habitat for Humanity brought a diverse array of backgrounds and experience to the project. The group was part of Habitat for Humanity's Collegiate Challenge, in which students give up their spring break to volunteer to build houses. The college students are from New York University, Rensselaer Polytechnic Institute (RPI) and State University of New York (SUNY). ASHI Member Paul Andreassen volunteered along with others from the Saugerties, Virg. area.
ASHI Member's company receives Torch Award for marketplace ethics

Bering Home Inspection, owned and operated by ASHI Member Ted Bering, received a Torch Award from the Cincinnati, Ohio Better Business Bureau.
Judging for the award was done by a panel of respected, independent community leaders.
Out of 49 nominees, 11 finalists emerged. Of those 11, three were judged best in categories based on company size, representing the following:
1. High standards of personal and corporate behavior
2. Solid and ethical business practices in the area of advertising and marketing
3. Expression of those practices in a statement of company policy and practices
4. An ongoing program of employee training in integrity and honesty