ASHI's mission is to promote excellence and exemplary practice within the profession, to be a positive player in inspection-related federal and state legislative and agency activity, and to better educate consumers on the benefits of obtaining property inspections.
ASHI relies on public relations consultants and the membership to promote and educate.
MS&L pumps out press releases, public service announcements and more

MS&L, formerly Publicis Dialogue, has been successful in getting ASHI's message to the public and to the real estate community. Press releases distributed by the public relations firm are picked up regularly by print publications, the public service announcements continue to be broadcast, and editors, reporters and broadcasters contact MS&L when they're looking for information about home inspections or home inspectors.
During June, ASHI press releases were used by 112 publications with a combined circulation of 9,567,523. The public relations firm distributed the press release, "Study Reveals Homeowners Recognize Importance of Home Inspections; ASHI Cautions Consumers that Inspections Are Only as Good as the Inspector," to news services, syndicates, freelancers, regional real estate editors and real estate editors at top national daily newspapers via e-mail. Watch for it to appear in your local publications.
Since being released last year, the ASHI public service announcements (PSAs) have been aired by 38,661 radio and 989 television stations. First-time appearances in June occurred in the following markets: (Click on image to enlarge.)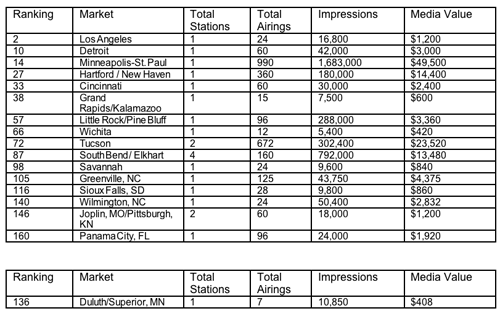 During June, MS&L responded to requests for ASHI background material from the following: Designer Spaces, a new television program; Real Estate Weekly; Albuquerque Journal; Reap The Rewards; Century 21, for "The Road Home with CENTURY 21," an educational series on the Telemundo television network; PARADE; SmartMoney Magazine; HSBC Securities (USA) Inc.; and East Bay Express, an alternative weekly newspaper serving Berkeley, Oakland and the San Francisco Bay area.
Tucker appointed to represent ASHI on National Radon Safety Board

While public relations builds awareness with broad strokes, ASHI also takes a personal approach to building relationships through networking. By working with agencies, organizations and associations that share ASHI's interests, the
society is participating in legislative, industry and public service activities that shape the home inspection environment.
Nancy Bredhoof, president of the National Radon Safety Board (NRSB), invited ASHI to have a seat on their Board of Directors, which is responsible for setting the standards, procedures, polices and certification requirements of the Radon Proficiency Program.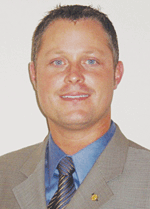 Don Norman, ASHI president, accepted the invitation and appointed
ASHI Member Tim Tucker,
US Inspect, Lebanon, Ind., to serve on the Board as ASHI's representative. Tucker has served for the past three years as ASHI's representative in the American Association of Radon Scientists and Technologists (AARST) as a participant on its National Radon Consortium Stakeholders Committee.
ASHI Members in the news
Reporters and editors across the county know who to call when they're looking for a professional home inspector to help educate their audiences. Here are some ASHI Members who recently answered the call.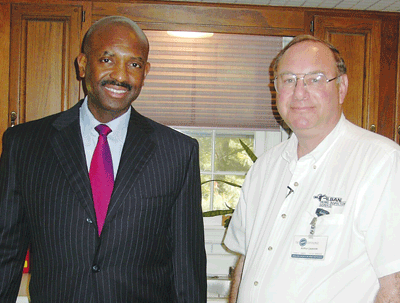 Art Lazerow, Alban Home Inspection Service, Inc., Bethesda, Md., conducted an on-site inspection for Derek McGinty, WUSA 9 (CBS Washington, D.C.). It aired on the 11 p.m. news June 23, followed by the 6 a.m. and 9 a.m. news on June 24, and the 7 a.m. news June 25. (Photo: Left to right: Derek McGinty of WUSA 9 and ASHI Member Art Lazerow)
Frank Lesh, Home Sweet Home Inspection, Indian Head Park, Ill., said, "Just because somebody is licensed does not mean they are qualified," in the May issue of ILLINOIS REALTOR. The ASHI vice president contributed to the article, "Hassle-Free home inspections?"
Lesh was also featured in a
Chicago Tribune
article, June 3, 2005, advising homeowners how to keep their homes in tip-top shape and he conducted an on-site home inspection for a WMAQ TV (NBC Chicago) Target 5 feature, "Cold Reality." It re-aired on the 10 p.m. news June 21.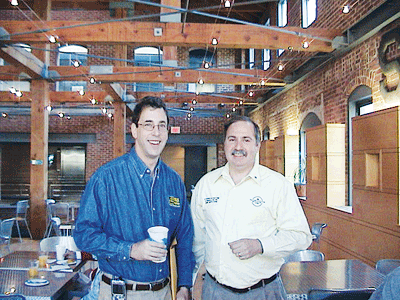 Steve Gladstone, ASHI immediate past president, presented Clark Howard, a nationally syndicated radio consumer advocate and author of "Get Clark Smart" with a letter from ASHI thanking him for his support of the society and of the home inspection profession. (Photo: Left to right: Clark Howard and ASHI Immediate Past President Steve Gladstone)
Bob Kociolek, ASHI director of legislative activities was quoted extensively in the May/June issue of The Real Estate Professional. The issue's special feature, "Will Home Inspections In The Future Be Subject To Tighter Control?," was based largely on information he provided.
Robert E. Lee, GENERAL Home Inspections, Rochester, Minn., saw another home inspection organization mentioned in Jerry Reising's "About the house" column in the June 4, 2005, Rochester Post Bulletin.
"I wrote to the columnist to express my views," he reported, "and he called me a few days later to ask questions raised by the other two responses he had to the column. The June 18, 2005, issue included those two responses, as well as my own, and comments he made regarding our conversation."
David Richardson, Cascade Inspections, Marysville, Wash., was interviewed by KOMO Radio (Seattle) for a story to be aired later on moisture damage and mold problems in Seattle housing.
ASHI sighted
Roger Hankey, Hankey & Brown Home Inspections, Eden Prairie, Minn., heard the ASHI PSA during the early afternoon on the Al Franken show, Air American, AM 950 in Minneapolis/St. Paul, Minn. He said, "Thanks, it sounds great."
ASHI featured
ASHI receives support from Termidor
Termidor Termite Defense
sponsored the "Tips to Avoid the Money Pit" Satellite Media Tour with Tom Kraeutler as its spokesperson, April 28, 2005, 10:25 a.m.–1:30 p.m. Sixteen interviews were scheduled by NBC, FOX, IND and ABC for markets across the country, and a recommendation to use an ASHI home inspector, as well as contact information, were included in every interview. In addition to being the nationally syndicated radio host of The Money Pit Home Improvement Radio Show, (www.moneypit.com.), Kraeutler is an ASHI Member.
ASHI was featured in the home section of the July issue of Money magazine. Along with "dos and don'ts of home repairs," ASHI.org is cited as the place to "find credentialed local inspectors." The article has also been posted online at the CNN/Money site, with a link to ASHI.org.
CNN's "Open House" program – After a few months off the program, ASHI was again featured June 18, 2005, on the "Tip of the Day." The topic of the 60-second segment is the importance of having a home inspection, followed by the suggestion to visit ASHI.org to find a home inspector. Viewers see someone logging on to the ASHI Web site. The spot began airing about a year ago and continues to be used periodically, regardless of the content on the show.