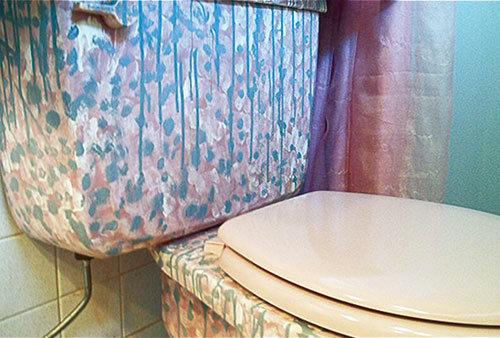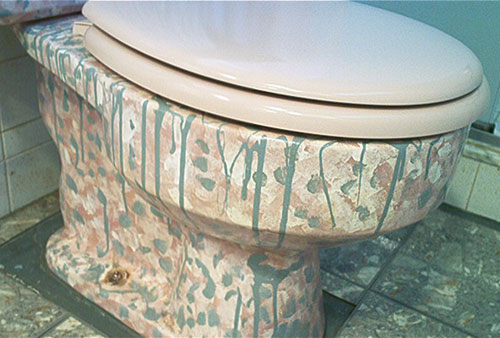 These photos are of a toilet in a master bathroom, and I believe that they show the owners had a lot of time on their hands! This is definitely a "throne to be proud of!"
Joe & Nancy Janosz
Pro-Team Property Inspections
Wesley Chapel, Fla.
Fill 'er up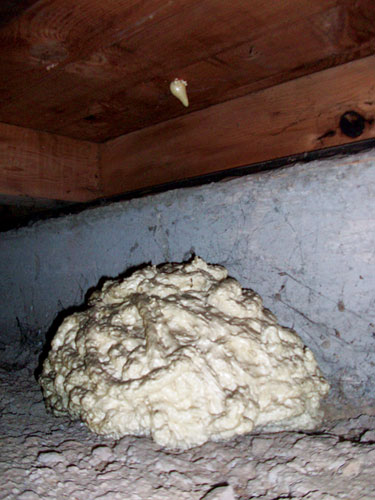 It usually takes about one can of expanding foam filler to seal a 3/4" hole in the plywood subfloor, right?
Bret Husted
Husted Construction & Prevention Inspection
Services
Daly City, Calif.
In the basket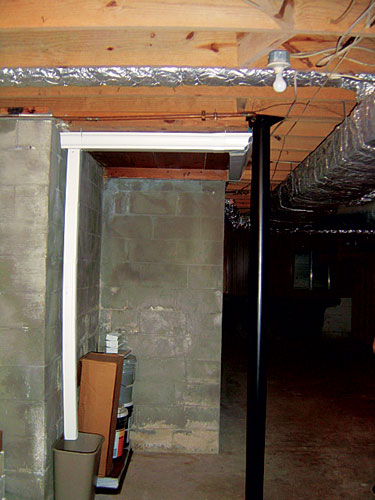 This gutter, downspout and wastebasket are installed under a front stoop. This picture was taken during the call back. Shelves completely full of stuff hid them at the time of the inspection.
Bill Garwood
Edifice Inspections, Inc.
Stone Mountain, Ga.
Altitude adjustment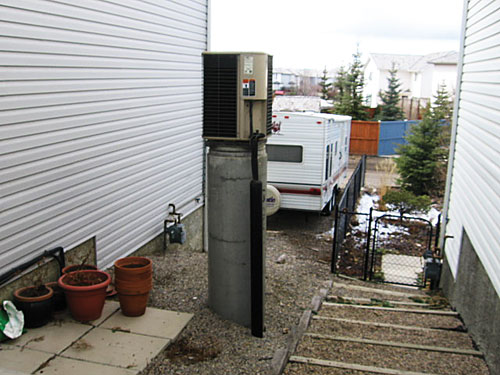 Here's a photo of an air conditioner on top of 8 feet of concrete pipe. Maybe the air is cooler a little higher up?
Jim Hamilton
HomeCrafters, Home Inspection Services Inc.
Calgary, Alberta
Clutter inspection
We occasionally find this condition and the client
wonders why we can't inspect.
Ron Passaro
Res-I-Tec, Inc.
Bethel, Conn.
Toilet tie down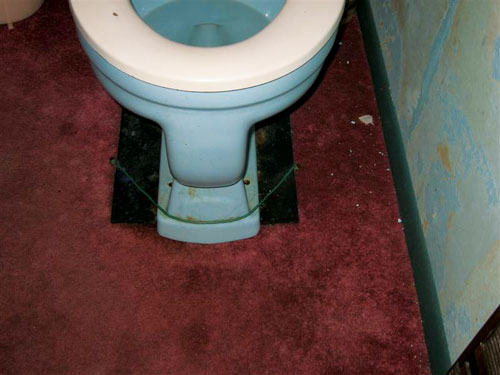 When you find an old toilet and it will not fit, just tie it down.
Bill Coull
Coull Building Inspections, Inc.
Staten Island, N.Y.
The gutter took a hit for the downspout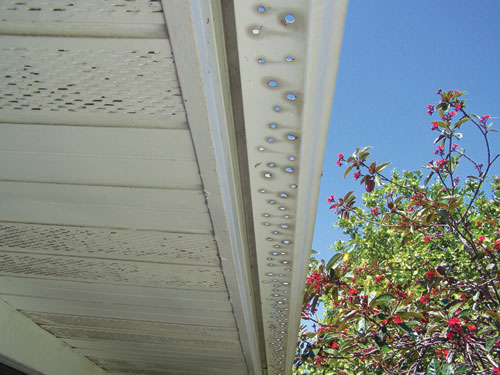 Attached is a photo of a roof gutter that was altered to minimize erosion at the downspout. The poor downspout had to take the brunt of heavy rains. Now it can relax.
Mike Conley
Straight Inspection Service
Anna Maria, Fla.
Probably repels vampires, too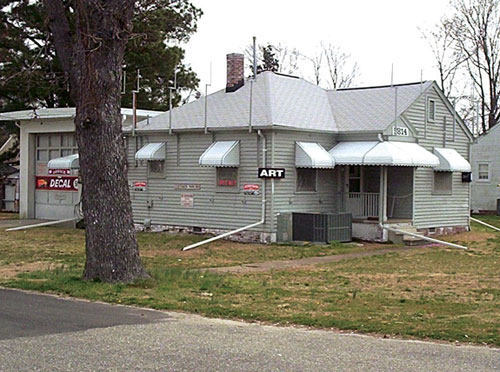 I did not have to tell this homeowner to extend downspouts to discharge away from the foundation or to add lightning protection.
Ken Zenzel
AMER Building Inspection Services, Inc.
Newport News, Va.
Car wash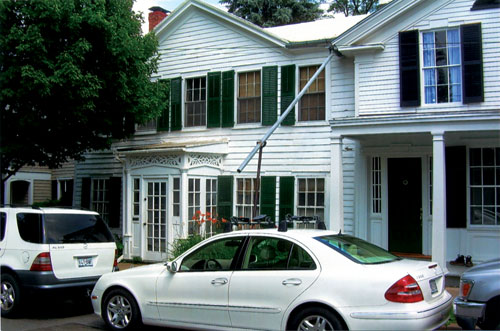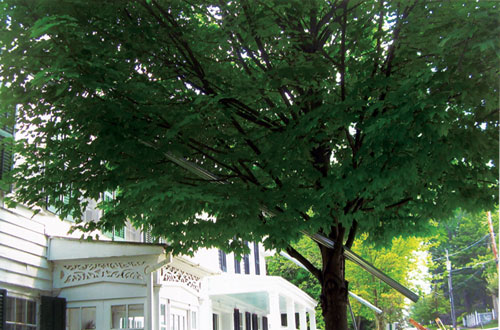 Free car wash when it rains! Note the downspout coming through the tree
(bottom photo).
John Heyn
JJ Consultant
Owings Mills, Md.
Twists and turns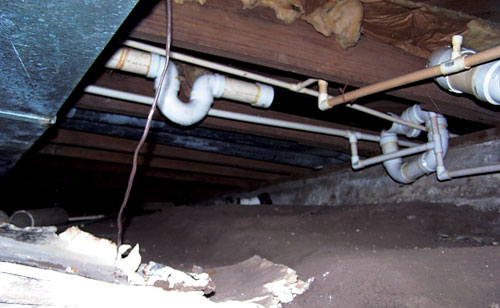 I never determined if the 360 degree trap on the left was for speeding up or slowing down waste before coming to the "inline trap" on the right.
Steve Barnes
Kansas Castle Property Inspections
Smolan, Kan.
Coincidence?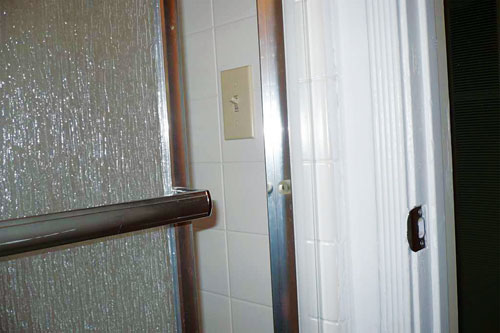 This condition was found in a vacant house I inspected recently. Operational light switch in shower. Both
occupants deceased.
Mark Whelan
Homecheck Real Estate Inspection
Ojai, Calif.
Moldy oldies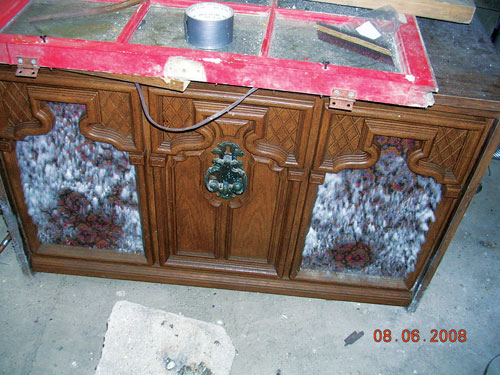 Listen to the "moldy oldies" on this console found in a converted 1904 schoolhouse basement.
Daniel R. Schuerman
Schuerman Inspections, LLC
Cincinnati, Ohio
That groggy feeling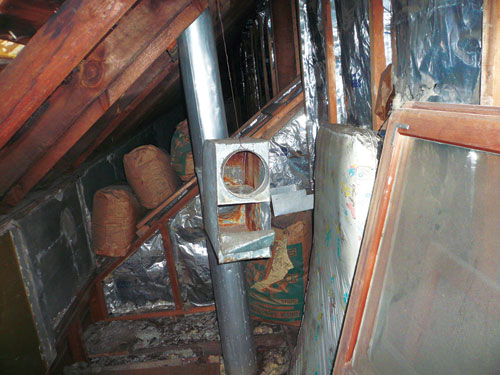 This is a flue pipe for the discharge of furnace gases that was being used as a heating source for an upstairs bedroom! It was a miracle that someone did not die from carbon monoxide poisoning. What a way to save on your utility bills!
David Weeks
All American Home Inspection, Inc.
Urbandale, Iowa
Secret circuit box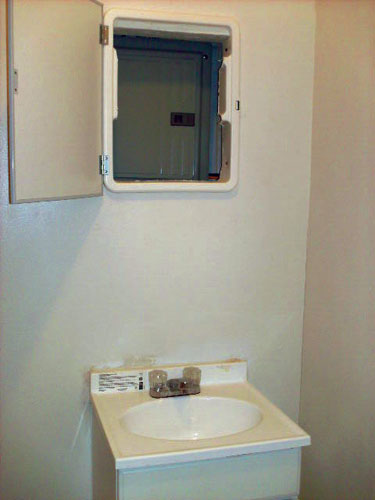 This is a main electrical panel mounted behind a bathroom medicine cabinet! The homeowner was proud of how creative he was and wanted me to agree with how well it was hidden!
John Astl
AVAIL-A-PRO Home Inspection Services, Inc.
Tampa, Fla.
Just recycle it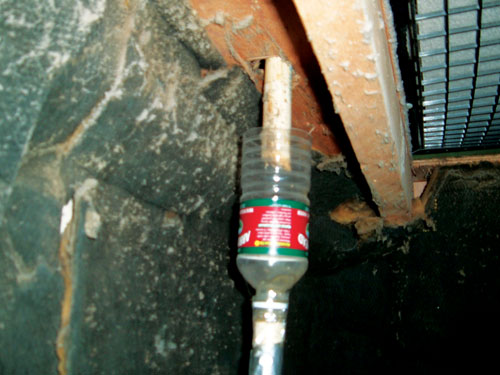 This must be a new way to install a trap on a condensation line below a GFA furnace and save the planet with one less plastic water bottle.
Dennis Pinciaro
All American Home Inspections High Country LLC
Sedona, Ariz.
Nonsense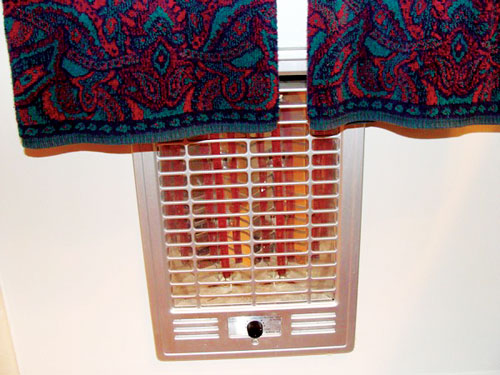 Don't know why someone would install a towel rack in this location just doesn't make any sense.
John M. Quintal
Homespec
Livermore, Calif.