The art and craft of the post-and-beam home

Tedd Benson was a featured speaker at the New England ASHI Chapter conference. Based on the reviews of his presentation, home inspectors may find his book to be of value.

The Timber-Frame Home explores the lush, varied design potential of this timeless architectural form. With 400 color photographs, drawings and plans, the book showcases 23 homes and six timber-frame additions that display the warmth, character and versatility of today's timber-frame home. For homeowners and fans of this classic building form, Benson's book is a stunning visual gallery and a compelling source of inspiration.

While most modern homes conceal their humble skeletons, the timber-frame home honors the structure by displaying it for all to see. The elegant beauty of soaring wood timbers, each magnificently crafted to join
with the next, suggests strength, safe haven and permanence. Each home pictured in the book celebrates its wooden bones in its own way, from East Coast island traditional to Nebraska contemporary.

Ask This Old House's Norm Abram for the most respected name in timber-frame design and construction and he'll cite Tedd Benson, the man single-handedly responsible for the popular national revival of this beloved, age-old construction form. The Timber-Frame Home presents 25 years of Benson's craft and practice, with examples from the Rocky Mountains to New England. With styles ranging from traditional to contemporary, the book takes you on a tour of the most beautiful post-and-beam homes in North America.

The book is available for $29 from the Taunton online store at www.taunton.com.
----------------------------------------------------------------------
Timber-framer receives high praise from New England Chapter
If Bob Mulloy, education chair for ASHI-NE Chapter, says someone is "perhaps the best educational speaker I have had the pleasure to listen to in my many years as an ASHI member," you know that speaker delivered something special.
New England Chapter members had two opportunities to learn from this speaker, Tedd Benson, a timber-framer who first gained fame for orchestrating a dramatic barn raising on one of the early This Old House television shows.
Benson served as the chapter's keynote speaker at the chapter's annual conference in September, and he also welcomed inspectors on a field trip to his framing company in New Hampshire. According to Mulloy, Benson and all his employees took great pride in sharing their knowledge and demonstrating their timber-framing skills. Mulloy recommends that inspectors have at least one of Benson's books in their library.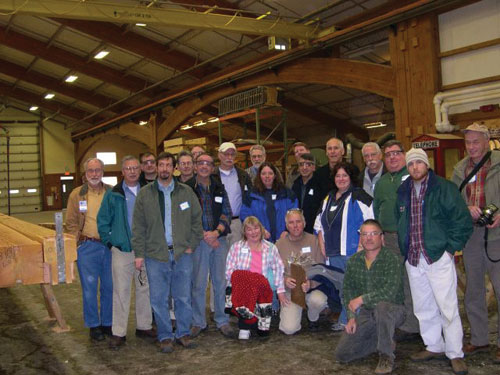 Photo: New England Chapter members gather with renowned timber-framer Tedd Benson (last row, fifth from right) at his company in New Hampshire.

----------------------------------------------------------------------
CertainTeed Corporation introduces Commercial Building Science DVD

CertainTeed Corporation introduces Commercial Building Science Concepts and Practices, a self-study workshop DVD for builders, architects, designers, engineers and contractors.

The self-study DVD illustrates how natural forces affect a building and outlines strategies for achieving energy efficient buildings, identifying trouble spots in construction and planning for safety, comfort and convenience.

The DVD contains seven learning modules: Introduction to Commercial Building Science; Thermal Control in Building Envelopes; Air Barriers; Moisture Management; Understanding Acoustics and Sound Control; Building for Fire Safety; Creating Comfortable Environments; and Green Building Through Sustainable Design. It includes 265 photographs, tables, schematics, diagrams, graphs, animations and cutaway views to explain the issue of commercial building science.

The DVD has received awards for creative excellence from three international competitions, including a gold award at the 40th Annual WorldFest-Houston International Film and Video Festival, top honors at the Aegis Video and Film Production Awards, and a bronze award at the 2007 International Summit Creative Awards.
For those interested in the building science for residential buildings, the DVD "The Art of Building Science" is also available. For information on how to purchase a copy of either DVD, call 800-233-8990.