The ASHI School (TAS) is Sailing Into It's Sixth Year of Educating Future Home Inspectors
The ASHI School (TAS) is full speed ahead, sailing into it's sixth year of educating future home inspectors. As of February 2014, TAS has graduated 100 students in this fiscal year. Twenty-nine students have registered for upcoming classes.
In addition to the 120-hour and 160-hour Home Inspection course, the school will also be holding a three-day Mold class beginning March 22-24, 2014, in Des Plaines, Ill.
TAS has scheduled its three-day Commercial Building Inspection course May 6-8, 2014, in Long Beach, Calif. This course is offered in partnership with Carson Dunlop Weldon and Associates Engineering (CDW).
The school's newest location in Seattle, Wash., successfully graduated four students in January. TAS has four students already registered for the March 2014 class.
With the implementation of new contact software for the school, as well as increased exposure on marketing using AdWords, banner ads and social media, the school has definitely seen an increase in student registration for the current fiscal year.
Jack McGraw, Director of The ASHI School, is passionate about the importance of having a trained and educated inspector inspect a property. Both the home-buying public and potential students need to know that.
The five most common mistakes buyers make are:
Ignoring Property problems - This could mean looking at foreclosed homes, but buyer beware. Previous owners may have taken out their frustrations on the home before leaving. Buyers must understand that they need to hire a qualified inspector to review these potential problems and not just look at the price. You get what you pay for!
Skipping the home Inspection -Be present at the home inspection. Receiving the inspector's report does not give you the full picture of the condition of the home. Buyers need to be present to ask questions. A qualified inspector wants to help the buyer recognize and understand what the problems are.
Ignoring legal and insurance information -Buyers should look for any documents related to disclosures such as "has the basement ever flooded," "is the property in a flood plain," etc. Ensure that any renovations done to the home have been approved; you could be cited if not permitted and approved. The inspector can spot renovations/updates and water damage. This will help the buyer understand the condition of the property and pursue any issues prior to closing.
Leaving too little time for closing -Buyers should not be too anxious to close quickly. By making sure they get a proper inspection, the problems may be addressed before setting the close date. That will ensure enough time for any further negotiations to review these issues.
5. Falling hard for a "bad" home -Just because the price may be "right" does not mean the property is "right." Go over your home inspection with your inspector. Review what the inspector said and address the issues that need to be fixed before the closing. If you have questions after the inspection, call your inspector. As mentioned earlier, your home inspector wants to assist you in understanding the condition and issues of this property.
The importance of having an educated and qualified inspector cannot be overemphasized. That is why TAS continues to set its standards of teaching at the highest level to ensure that each and every student who goes through the school is provided the best education to start them on their new career in home inspection. The school frequently reviews its practices and employs only the best and most qualified instructors to teach and pass on their experience to these students.
With the recent news stories regarding the downsizing of our armed forces, TAS has been working very hard to assist veterans in becoming home inspectors. Through the Veterans Administration, the school is approved for Chapter 31 – Vocational Rehab. TAS has graduated over eight students who used their VA benefits through Chapter 31 to pay for their education. One of our VA students, Mark Bacon, has successfully started his business in home inspection. Mark was one of the first veterans to graduate from a full-range home inspector education program after the Veterans Administration approved The ASHI School, a subsidiary of the American Society of Home Inspectors (ASHI), to offer vocational training through Rehabilitation under Chapter 31.
"The ASHI School opened the window to continue using the skills that I gained in the Navy by teaching me how to apply my understanding of safe structures in a way that's helpful for homeowners," said Bacon. "The ASHI School program goes beyond piles of information. I received hands-on lessons about how systems operate."
TAS continues to seek approval for all chapters of the VA to assist veterans in gaining an education and profession in home inspection.
Recent Graduates of the school: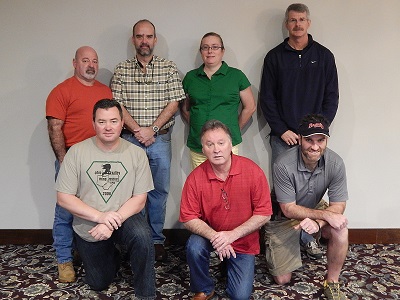 Cincinnati State Graduates, February 2014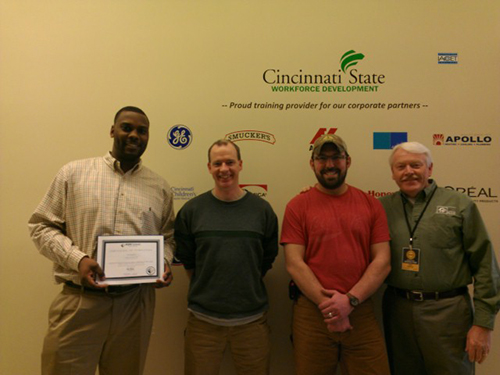 Tampa, FL Graduates, February 2014