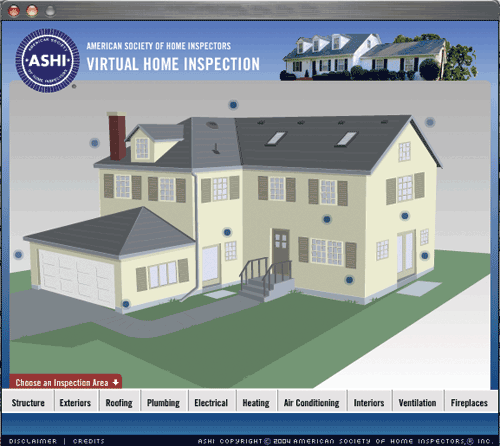 What's more, it offers a specific dynamic, interactive conversation with each target audience – casual visitors; homeowners, buyers and sellers; real estate professionals, home inspectors; and of course, you, the ASHI Membership.
ASHI understands Web users like to scan rather than read on screen – users like to grab what they're looking for and move along. ASHI.org was designed with this in mind.
And as ASHI Marketing Director Carlos Tabora reports, there's lots to grab. He said the site is loaded with activities, information and tools. What's more, he predicts traffic will reach record numbers as The ASHI Experience ads appear on search engines, related Web sites, in print publications and on radio broadcasts, all driving information seekers to www.ashi.org.

Here are a few of the new features sure to delight visitors and bring additional business to Members delivering The ASHI Experience.

Web-users' preferred-style home page – eye-pleasing source of immediate access to Find An Inspector, Membership Login and Search the ASHI Web Site, as well as "Find out more" for Home Inspectors, Real Estate Agents, Homebuyers/Sellers.
The Virtual Home Inspection–a fun, interactive feature that educates the public about what to expect from a home inspection.

Contact tool– a way for consumers and real estate professionals to send an e-mail or text message to the cell phone or PDA of The ASHI Experience home inspector, where it can be managed onsite or downloaded to an independent database.

The Membership Extranet– new tools for The ASHI Experience inspector:

- Increase your chances of being found by adding up to three metropolitan areas you serve to your Find An Inspector search function, while continuing to be identified by ZIP code.

- Use the Contact Management tool to collect and manage leads generated by Find An Inspector.

- Check your Local Chapter Calendar to find out about educational opportunities and to network with peers.

- Download The ASHI Experience tools and materials.

- Candidates, use the Membership Journey line to check online your progress toward becoming a Member.

Plus, Breaking news, Membership Directory, Resources, Discussion Boards and Shop are still here and better than ever.

Each Web page on the new site stands on its own, welcoming the seeker of home inspection information. Whether delivering a service to Membership, educating the public or real estate professional, or providing current legislation information to a home inspector, ASHI.org serves as the premier resource for home inspection information.