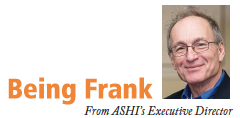 Whatever happened to the "summer doldrums"? From what I've seen, they haven't arrived yet. Most inspectors I know are going like gangbusters.
Ride Out the Summer "Waive" of Inspections
Some inspectors who work in really hot markets, however, might be suffering from the occasional problem of homebuyers believing the comment: "You'd better waive the inspection if you want this house. There are multiple offers, so don't risk it."
Buyers who believe that and waive the inspection may not know it, but they are part of a ripple effect that affects the bottom line of the inspectors who work in that market.
If this happens to you, try this strategy:
1. Peruse a list of recently closed homes in your area by using zillow.com or realtor.com®.
2. Contact new homeowners and offer to inspect their home with a special "welcome to the neighborhood" fee.
3. Do your typical ASHI inspection in a far more relaxed environment at a time that's easier to schedule because you can arrange it according to your client's and your own timeline. There's no need to worry about coordinating the time with a listing agent or a buyer's agent, or rushing to squeeze in the inspection shortly before a closing date.
By making this type of inspection happen, you'll be able to establish a strong bond with the new folks who've moved into your area. Because they've already started to actually live in the house, they'll be able to give you feedback about what they think might be wrong, and they'll appreciate your expertise to help them learn helpful tips about maintaining their new home.
If you have other suggestions about how to weather these kinds of storms, please send your ideas to me at frankl@ashi.org and I'll pass them on.

Drown the Summer Heat Wave with WATER
Speaking of summertime inspections, I know most of us old-timers are aware of the dangers of having a heat stroke during an inspection. Lon Grossman from Bloomfield Hills, MI (who is a real old-timer), told me when I first started doing inspections more than 25 years ago, "Make sure you turn up that air-conditioning thingy up full blast when you start your inspection. Tell whatever whippersnapper is in the house that in order to properly inspect the ice machine, we have to turn it down all the way." (Well, I think he said something to that effect.)
While it sure does feel nice to work in a cool house during the hot summer months, it can be a seriously detrimental situation if you have to climb into a 130˚ attic to check things out. I've known inspectors who have passed out after being in an inferno like that. And you inspectors in the South and Southwest deal with even hotter temps than we do in the Midwest!
So, what's at least one thing you can do, besides crank up the A/C?
DRINK MORE WATER.
Few things are worse for your body than being dehydrated. We really don't think about our level of hydration very often, but during the summer, when dehydration can happen fast, we should remember to have some water with us at all times.
Dehydration can be deadly.
Think of your body as a system. In the winter, one symptom of not drinking enough water is having dry, cracked skin. Another symptom is that your skin might not feel as smooth or supple as it usually does. I know, some of us like to look like the Marlboro Man and although that's not healthy, it's not deadly.
In the summer, however, evaporative cooling is an important element in maintaining your temperature. When that mechanism stops, heat stroke can occur. The solution?
DRINK MORE WATER.
I don't know about the rest of you, but I lost a lot of brain cells in the '60s and '70s and I can't afford to lose many more. So, keeping my old noggin cool is essential. If any of you have ever met my friend Mr. Grossman, you may have noticed how "cool" it must have been to live in the Age of Aquarius.
Next month, maybe I'll talk about the disco craze and Ted Drewes Frozen Custard with Don Norman.
Frank Lesh, Executive Director
American Society of Home Inspectors
Direct: 847-954-3182
Frankl@ashi.org • www.ashi.org