Southern New England Chapter members volunteered to help take pledges for CPTV during the UCONN vs. San Diego State women's basketball game Thursday, November 20, 2008. They raised $16,000 and so enjoyed the good food and fun. They plan to do it again soon.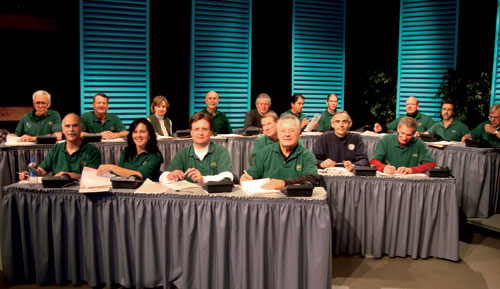 Photo: Pictured (left to right, back row) Rich Madore, Ellery Kington, Catherine & Warren Tomek, Tom Ackman, Brian Dunbar, Kevin Lawler, Tim Needham, Jim Quarello, Andy Kasznay; (middle row) Richard Taylor, Tom Tussing, Dave Sherwood; (front row) Mark Hathaway, Patti Nappi, Jay Olmstead and Roger Villa.
The ASHI Chapter Consulting Program
For three years, David Sherwood and the Chapter Relations Committee have been reaching out and helping struggling ASHI chapters. This new program is the result of those efforts.
ASHI's new Chapter Consulting Program has contracted with three ASHI Certified Inspectors as trainers to conduct on-site development of management and chapter planning skills for struggling chapters. In 2009, leaders of up to 20 chapters will receive training in organizational planning, communications and meeting structure to help them retain members and to grow.
The training will be done by ASHI Certified Inspectors because only another inspector can really understand the challenges a chapter faces. The trainers will travel to the chapters, so the training can specifically address the local issues.
The three trainers will travel first to 20 chapters that have been identified as needing help through vitality questionnaires, additional research and chapter requests.
All the trainers are independent contractors, working for a small stipend, chosen by Russell Daniels, ASHI director of chapter relations; David Sherwood, the Chapter Relations Committee chair; and Jeff Arnold, ASHI executive director and CEO.
Gary Monfeli, Warren Tomek and David Sherwood have been selected as the trainers to put the new program into action after attending a training session at ASHI headquarters in mid-December. Tomek and Sherwood have taught at the Leadership Training Conferences for three years, and have been successful chapter presidents of the Southern New England Chapter (SNEC-ASHI). Monfeli is currently chapter president of the Northern Illinois Chapter (NIC-ASHI).
Measuring the results
In addition to initial chapter visits, follow-up assessments will determine if the program's content and delivery are meeting each chapter's needs and goals. Changes in program content will be made as warranted, keeping in mind that the beauty of the program is that it can respond to the specific issues of a chapter, something not possible at Leadership Training Conference or through other resources such as the Chapter CD.
If, in fact, chapters are the heart of our organization, the Chapter Consulting Program is a smart investment in ASHI's future and adds true member value.
More information
Read the background information and more detail on the program
in the Latest News section of www.HomeInspector.org.