For years I have been a purist and always avoided having power tools in my inspection toolbag. But as we all know, rechargeable tools have been creeping in, starting with our flashlights. Two years ago, my son gave me a DeWalt 8-volt Gyroscopic Screwdriver. My first thought was "Ugh! Something else to carry."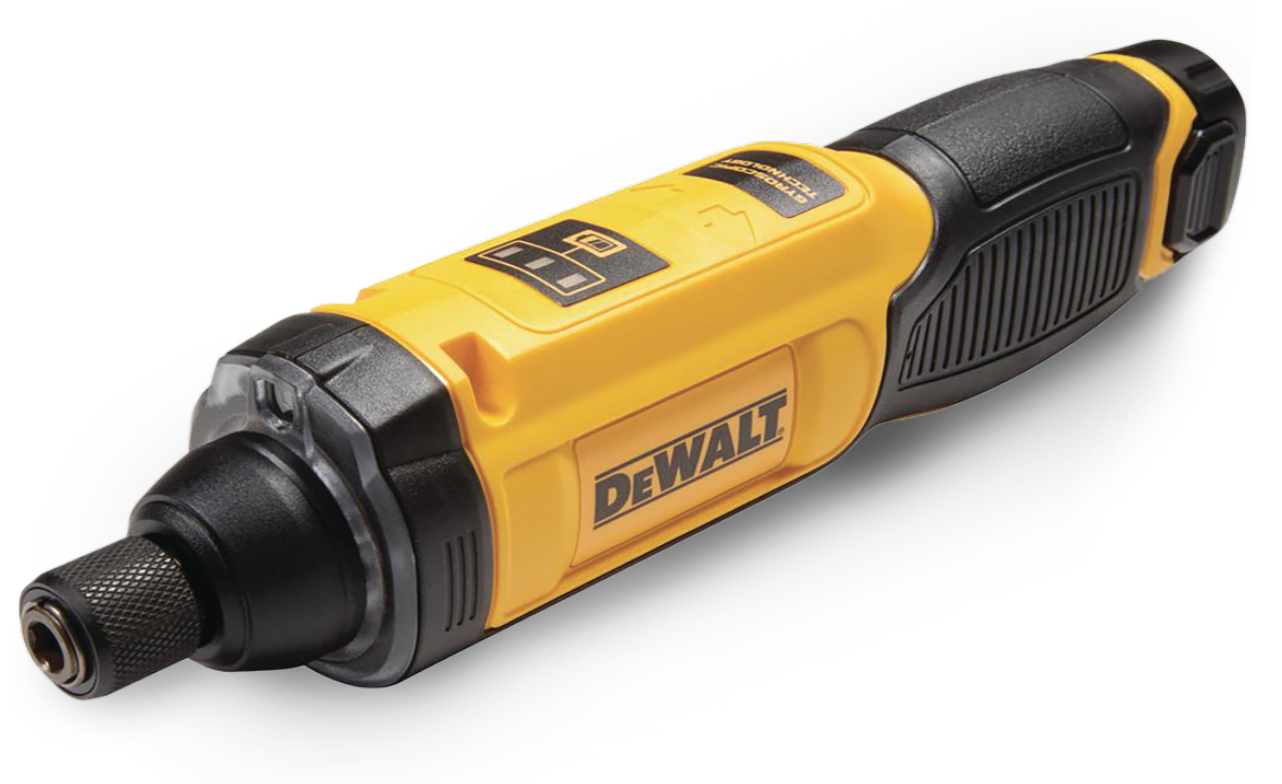 My go-to screwdriver had been a Husky 6-in-1 screwdriver that I used during every inspection. But when I started to use the Dewalt, my opinion changed, especially when I would encounter those 2.5-inch fine thread screws on a power panel that take forever to remove.
The DeWalt screwdriver ticks several of my "must haves" for my rechargeable tools; it has a removable battery, a state of charge indicator, lightweight and designed for one hand operation. This tool has the quick release ¼-inch hex socket which accepts most of the bits available. A bonus is that it has a LED aligned with the bit to light up the area where you are working. That's handy when you are putting the screws back in a panel cover and trying to line up the holes.
What makes this screwdriver unique is that it has a gyroscope to determine direction and speed of the bit rotation. To operate, simply hold the tool with the black "run" switch down—depress the switch and the tool will "growl"—that's the signal that it's ready to go. While still holding the switch "on," very slowly turn your wrist outward to start slow rotation. It need not be a fast twist. To gain speed, simply keep twisting your wrist in the same direction. To reduce speed, just turn your wrist back. At the start or "zero" point, rotation will stop and the tool will again "growl" at the start position for as long as the button is depressed.
The full speed range is accessible with about 0 to 45 degrees of wrist rotation. The control is sensitive, repeats nicely and changes steadily as the wrist is turned. Same is true for opposite turning direction. The torque that this tool has is impressive for an 8-volt device. I regularly use it to remove 2.5-inch sheetrock screws from hatches. If the screw is really stuck, I will break it loose with the Dewalt manually, as the bit is locked when it's off, and then hit the trigger to back it out. So far, there hasn't been a screw that I haven't been able to remove… except for screws with a head that is stripped.
After using this tool for the past two years, I've found that it is reliable and the battery holds up. Typically, I can go two weeks between charges. The battery will recharge within an hour in the included DeWalt charger.
---

Rick Bunzel is the principal inspector with Pacific Crest Inspections and an ASHI Certified In-spector. He holds a BA in Business Marketing, and in the past, he chaired the marketing and public relations committees for a national home inspection organization. Locally, he is an ac-tive member with the North Puget Sound Board of Realtors and has been a firefighter for 42 years. Visit his website at http://www.paccrestinspections.com.