Mounds of Mold
This inspector is considering adding a gas mask to the arsenal of safety tools in the inspection bucket."
Aaron Mayer
Housewarming Home Inspections
St. Louis, MO
We Love to Grill
This is inside the home! They had a custom vent installed above it.
Joshua Crepps
Crepps Home Inspection
Elizabethtown, KY
A New Way To Water The Lawn
Jeff May
May Indoor Air Investigations LLC
Tyngsborough, MA
Leak Management
A fistful of plumber's putty apparently did not fix the leak at this condensate drain connection.
Therefore, a custom gutter with a catch can was added.
Kristin Keller
Key Building Inspections, LLC
Kimberton, PA
Car Jacked Deck
I found this at a home recently "rehabbed" by a
flipper. The deck is supported by carjacks, blocks and bags of Sackrete®.
Alan Trauger
Alan Trauger and Associates, Inc.
Longwood, FL
Cut Once Measure 3 Times?
When you find that a neutral wire is too short, just twist a short, stubby
extension onto it.
Matthew Steger, ACI
WIN Home Inspection
Elizabethtown, PA
Elizabethtown, PA
To Bond or Not To Bond?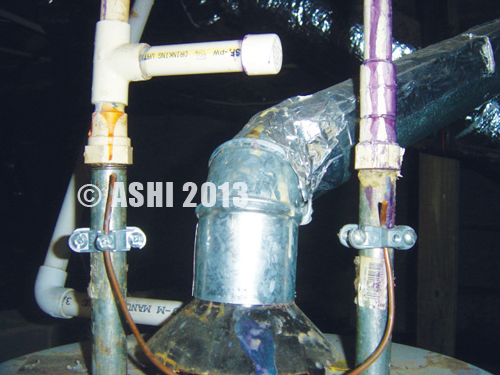 Some pictures just do not need an explanation.
Jeff Nichols
Edifice
Inspections, Inc.
Marietta, GA
Custom Roof Deck Drainage
The owner had installed plastic household storage bins below all the leaks and connected the bins to a network of improperly sloped ¾" PVC pipes that drained into an interior sink
Tony Eldon
Bay Area Property Inspections
San Rafael, CA
Stairs? Really?
I took this picture on one of our trips to Azerbaijan. I thought other inspectors would get a laugh from it.
Doug Zimmerman
Independent Inspection
Service, LLC
Missoula, MT
Hey, I Was Napping!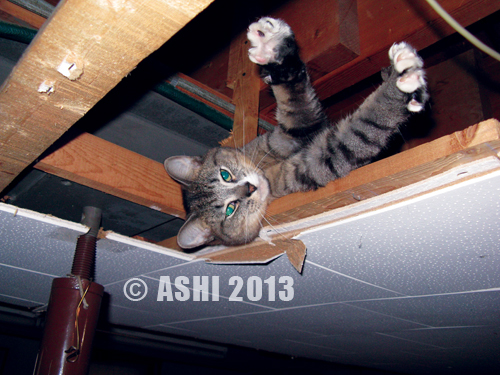 I had limited access to this beam, as the homeowner had installed a security system.
Mario Lucciola
All Spec Building Inspections
St. Catharinas, ON
Warm Feet, Warm Heart, Warm Water
An all-season deck needs a heat source. This one is heated by a 250,000 Btu tankless water heater exhaust vent … complete with plastic dryer vent cover.
Bryant Warren, HouseMaster Inspections, Tulsa, OK