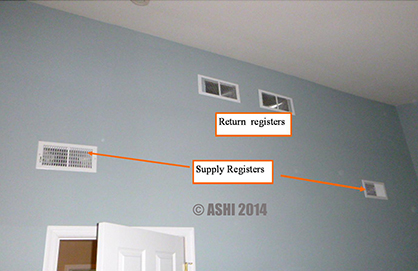 Duct Work Debacle
Both the supply and returns are on the same wall in this room.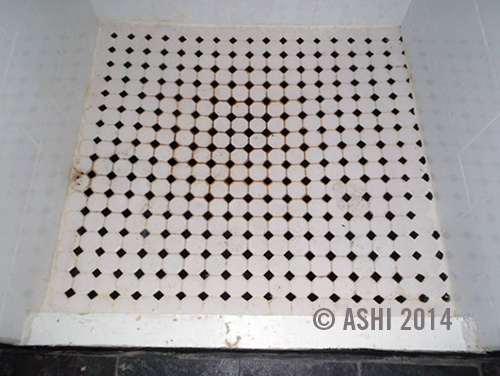 Hmm...What's Missing?
The Homeowner did a very nice job re-tiling this shower. Forgot 1 minor detail: The Drain!.
Lawrence Transue
BP Inspections
Easton, PA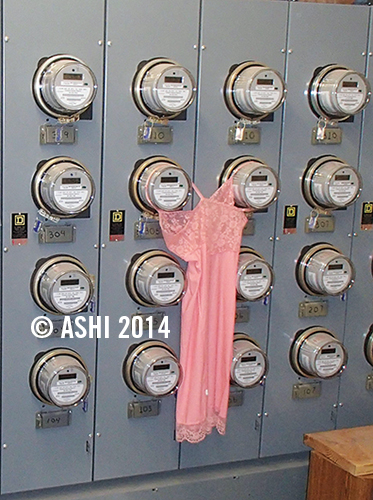 Meter Reader
"The electrician slipped up" or "The Electrician got the pink slip today"
Ken Meyer
Portico Home Inspection LLC.
Portland, OR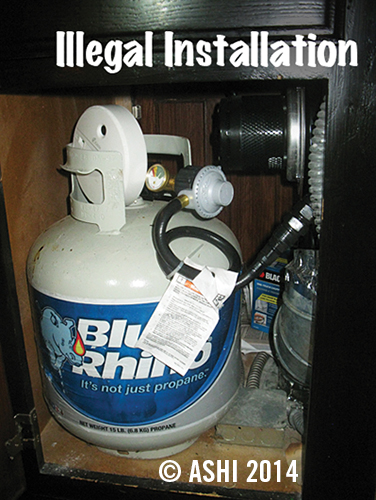 The CO Detector should smell the propane
No gas in your kitchen for a cook-top? Just stick a propane bottle in there, a carbon monoxide alarm will make it safe
Bud Rozell, ACI
Good Home Inspection
Dallas, TX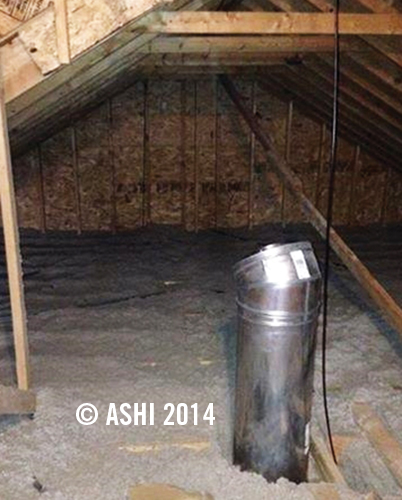 The Flue Doesn't Go Through
Gas operated fireplace chimney that didn't quite make it through the roof on a "newer" home. The insulation & fire stop flashing are a bit deficient too.
Jess Alvarez
A Plus Home & Building Inspections Inc.
Morris, IL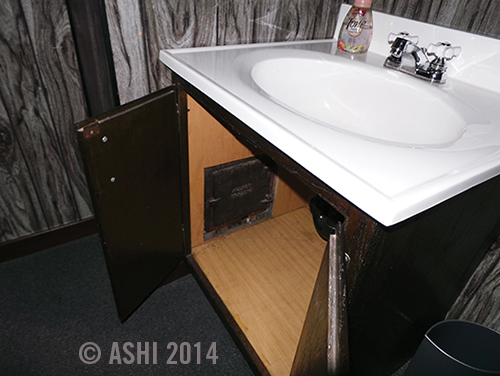 Wash my Ash
I saw this in a custom built home! Wash my ash!
Trent Wilson
Safe-T-House Home Inspection Service
Sunbury, PA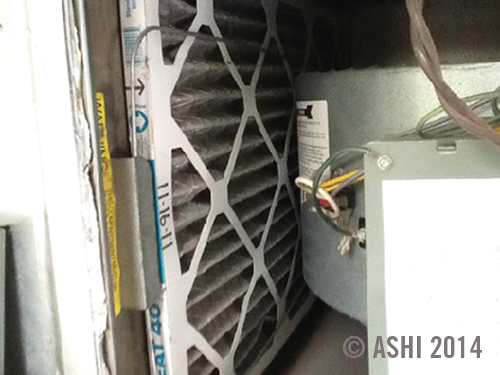 Time for a Change
How often should I change the air filter? Notice the date on the filter. I did this inspection on 4/16/2014. Is it time for a change yet?
Matt Leahy
The Edge Home Inspections
Tucson, AZ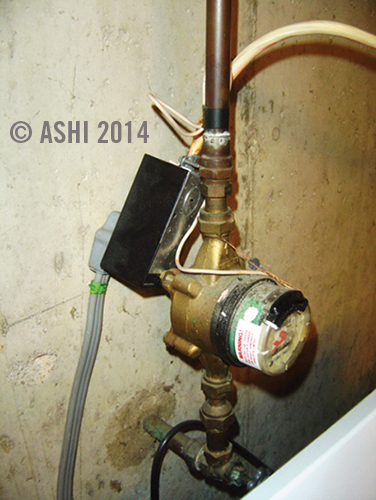 Heat your Water and Wash Clothes at the same time
That 240 volt outlet box is secured just like you asked. It's tied up nice and tight to the water inlet pipe
Michael Chambers
The Brickkicker of St. Louis
St. Louis, MO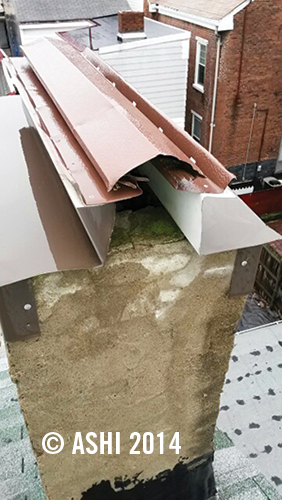 CO2 Accumulator
"It's a bird house, It's a plane hanger...no It's a Carbon Monoxide Accumulator"
Michael J. Ashburn
Ashburn Inspections
Murrysville, PA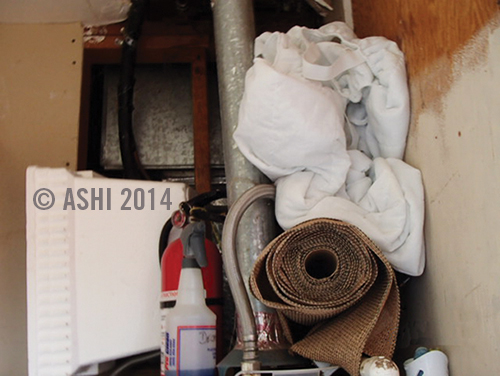 Delusions of Preparedness
Hey it is ok, they have a fire extinguisher on top of the water heater for when the mattress pad that is stuffed against the vent pipe catches fire?
Tim Hemm
Tim Hemm Inspections
Yucaipa, CA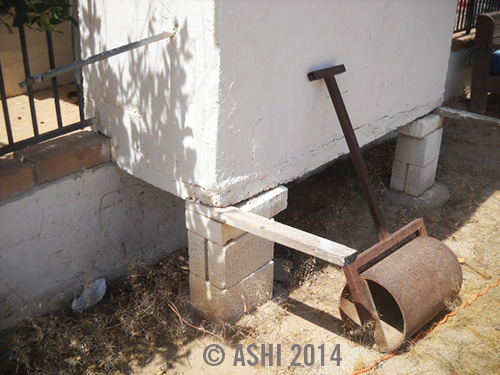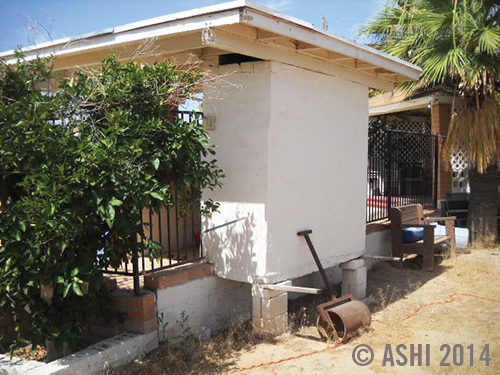 Now It's Secure
This client wanted to add a BBQ to the pool area, but ran out of block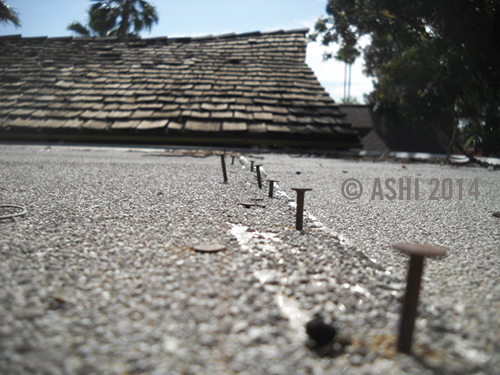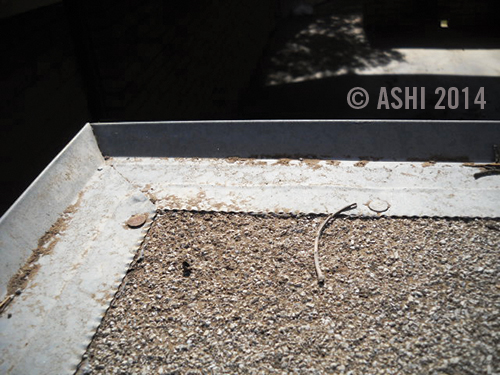 When Your Only Tool is a Hammer
It doesn't rain much here but the flashing on this flat roof should help the water get to the nail holes. Worst flat roof this year!
Mike Lauby
Sunland Home Inspection/ Phoenix Mold Inspections
Phoenix, AZ