This is a photo of an outside yard light mounted on a tree. The tree grew around the light pole bracket and the wires. The light was working.
Joe Lengel
Advantage Home Services, Inc.
Garrettsville, Ohio
What's right with it?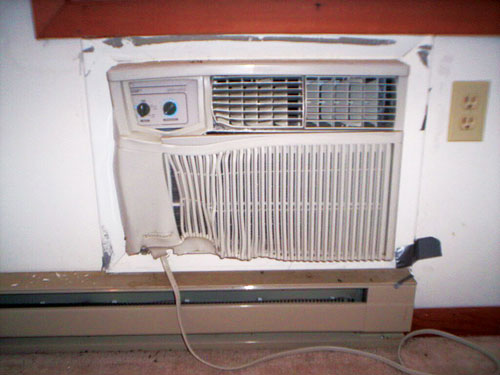 What's wrong with this picture?
Mike Stabile
Mike Stabile Home Inspections
Blakeslee, Pa.
Rainbow roofing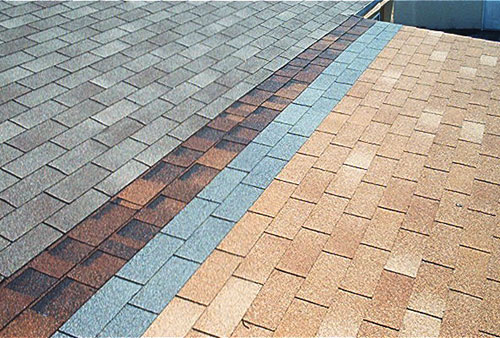 Must have been a mix-and-match sale on roof shingles! It was only three years old and wasn't leaking — what more could you want?
Joe & Nancy Janosz
Pro-Team Property Inspections
Wesley Chapel, Fla.
Trapped again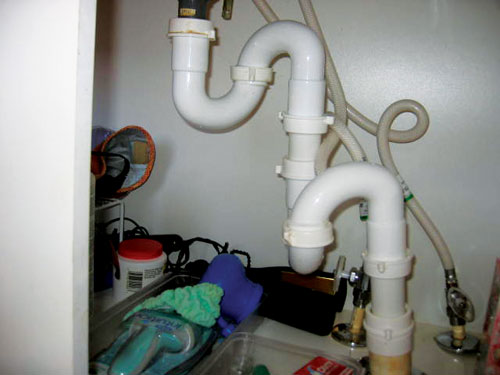 We have many areas in Tennessee where there is no building code enforcement at all. Plumbing seems to be a major stumbling block for a lot of builders. Here is an example of a plumber who had no clue about how to properly install traps.
Jack Feldmann
Clayton Inspection Service, Inc.
Knoxville, Tenn.
It's something, but who knows what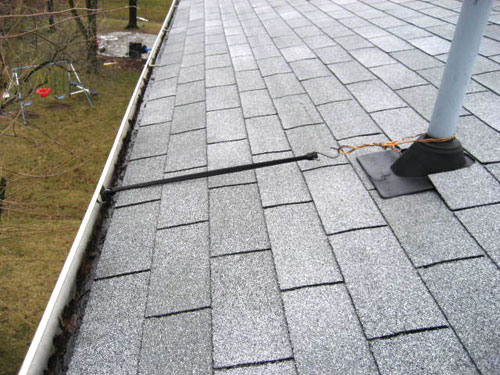 This is a new invention by a house flipper or roofer: a post tension rain gutter support or a shock absorber for a rain gutter. Looks like it might need some additional tuning.
Tom Trotter
National Property Inspections
Troy, Ohio
Quality control needs quality control
The quality control stamp has ink that did not meet quality controls. It was staining everything, including the inside of the bowl. Perhaps the quality control guy used inferior ink. ...
Craig Tillman
Tillman Inspections, LLC
Bryn Mawr, Pa.
Check the crawl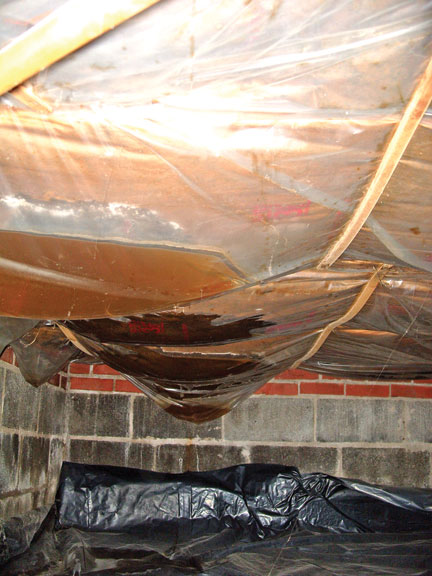 The seller said that there had been a leak at the radiator. They mopped up the water, fixed the leak and refinished the wood floor. No problems now ... but they failed to check the crawl space under the floor.
Greg H. Mathias
CatmanDo Real Estate Services, Inc.
Lewisburg, Pa.
Inexplicable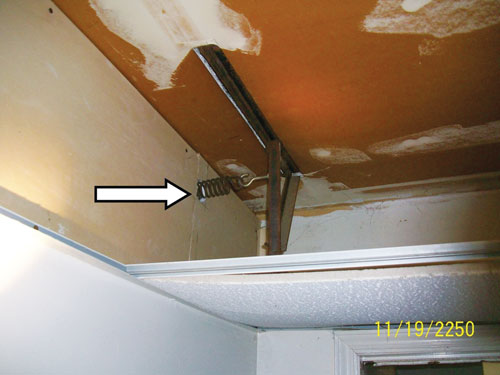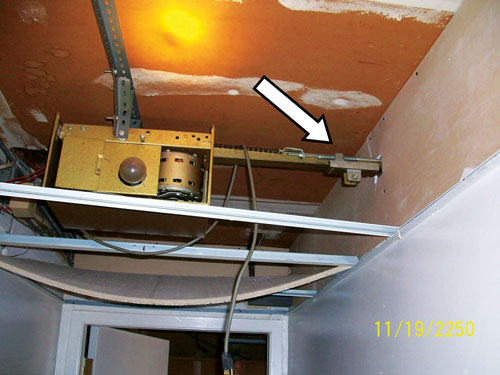 I found this while inspecting a home. Notice the garage door opener track and tensioned springs going through the wall.
Abe Kurek
Home Inspection Services
Rockland, N.Y.