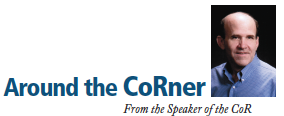 The position of Speaker of the Council of Representatives (CoR) overwhelmed me at first. I had all these ideas about what ASHI was, what it stood for, its rich heritage and all that it could be. I struggled the most with that "all-that-it-could-be" thing. So, I decided that I just needed to figure out exactly what that future looked like, share my visionary agenda, convince everyone that I knew best and implement my grand scheme. I began to imagine the complications that were certain to develop as I implemented my plan. I was going to have to encourage my supporters, convince the undecided and overcome the opposition. Then I woke up, wiped the sweat from my brow, calmed my pounding heart, and took another look at the policies and procedures of the CoR.
Oh, yeah, there it was, in black and white, under the heading "Desired Representative Behavior":

Each Council member is encouraged to speak the desires of his or her respective membership and not promote his or her own agenda.

What a relief! I don't have to solve the problems of ASHI writ large. My role is to facilitate discussion and communication.

Ever since the CoR meeting in January in Las Vegas, the CoR Group Leaders have had some robust discussions. So far, though, most of this talk has been predicated on the thoughts and ideas generated by a handful of representatives. Although there are nearly 8,000 voices in all of ASHI, there may be only 10 people in the room at a any given CoR meeting. Where is everyone else?
ASHI's CoR is designed as a representative system. Chapters select Chapter Representatives to participate, and regional groups elect Group Leaders to represent sets of multiple chapters. If the Group Leaders are going to represent the chapters well, they must be in constant communication with their Chapter Representatives. The CoR Group Leaders need to know what the Chapter Representatives are thinking, but it doesn't end there.
Remember that the purpose of the CoR is to speak for the membership. It's at the chapter level that the CoR Group Leaders can engage ASHI members. It is incumbent upon the Chapter Representatives to facilitate an ongoing dialogue with chapter members. This discussion may begin at chapter meetings, but it can't end there.
Ideas abound! ASHI is a diverse group of professionals with diverse thoughts and opinions. ASHI is faced with a grand opportunity to expand into the 21st century with a robust platform based on the ideas and ideals of its membership. The CoR wants to know what you think.
To that end, I encourage all Chapter Presidents to invite one of their Chapter Representatives to present a CoR Report at every chapter meeting. I'd like to know that CoR Chapter Representatives are listening to their chapter's members and are sharing their thoughts with CoR Group Leaders. The CoR will continue to convene meetings of our Group Leaders, during which we'll discuss these topics. Finally, I'll attempt to distill all this information into a report and present it to the ASHI Board of Directors.
Challenges lie ahead. I have never seen a small group solve the problems of a large one without first listening to the individual members of the group. We have a process; let's use it.