With more than 50 pre-paid phone cards in hand, three home inspectors from the Northern Illinois Chapter were welcomed by hospitalized veterans at Hines Veteran's Hospital, October 2, 2004.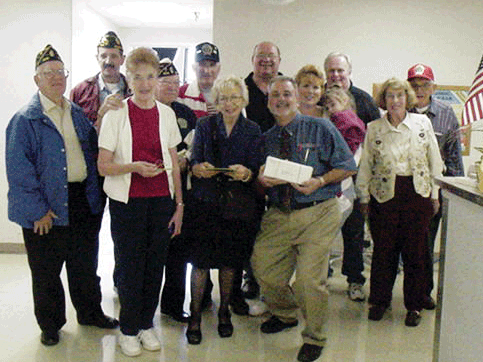 Ed Massart, chapter president said, "We coordinated our chapter's annual community service event with the Arlington Heights American Legion Post's semi-annual visit to the hospital."
The Legionnaires advised the home inspectors that pre-paid phone cards were highly valued by the hospitalized veterans. Three chapter members, Lou Pettifor, Thornton, Ill.; Jack McGraw, Hickory Hills, Ill.; and Chuck Harrington, Lemont, Ill., personally presented the cards purchased by the chapter. Each card allowed 100 minutes of long-distance calls within the country.
PRO-ASHI Chapter Hosts Educational Seminar

Another successful seminar was held in Pittsburgh, Penn., in September. Among the keys to success: 1) publicity included e-mail, Web site and direct mail; 2) speaker selection included respected ASHI Members Mike Casey and Steve Gladstone ; 3) vendors, their presentations and their displays were all leading-edge; and 4) the 21 MRC credits awarded were just what we inspectors needed to satisfy our continuing education requirements
. Photo: The Seminar Committee includes (front row, left to right) Tommy Baker, Dan McGaffin and Aaron Flook. (Back row) Malcolm Whipkey, Brendan Ryan and Tom O'Connor (Chairman).


Central Illinois Chapter Builds Hope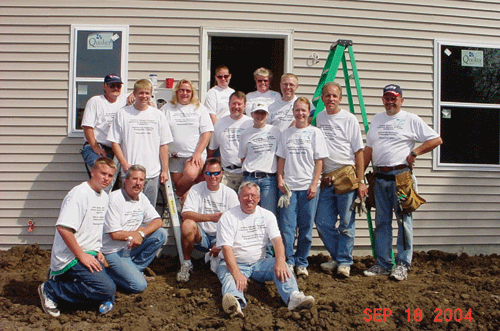 Eight members from the Central Illinois Chapter of the American Society of Home Inspectors and their families spent the day volunteering for Habitat for Humanity. This Habitat for Humanity–Sangamon County home is being built with Anita and Wayne Marquis and their two children in a new Habitat Place Subdivision in Springfield, Ill.
Photo: Front row (left to right): Clay Meseke, Mike Meseke, Mark Teague, John Dunn. Second row: Dana Strumpher, Jason Buraski, Marsha Strumpher, Stan Kupish, Heather Buraski Sobieski, Barbara Buraski, Frank Buraski, David Miller. Third row: Chris Zinn, Jeanne Miller, Kevin Zinn.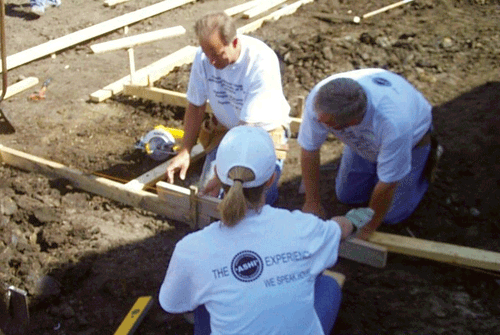 Chapter members Mike Meseke, Full Disclosure Home Inspections, Chatham, Ill.; Mark Teague, Buraski Building Inspections, Springfield, Ill.; John Dunn, Brickkicker Home Inspections, Springfield, Ill.; Dana Strumpher, AmeriSpec Home Inspections, Springfield, Ill.; Frank Buraski, Buraski Building Inspections, Springfield, Ill.; Kevin Zinn, Zinn Inspection Service, Hudson, Ill.; Stan Kupish, Home Team Inspection Service, Decatur, Ill.; and David Miller, DGMiller & Associates, Jacksonville, Ill., along with their spouses and children, donated their time, expertis, and sweat to help the Marquis build their new home.
Photo: Frank Buraski, daughter Heather, and John Dunn form the front sidewalk.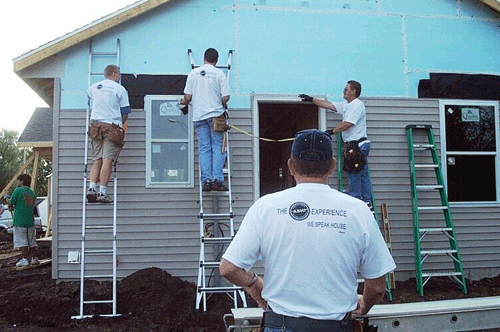 It was a beautiful day and a lot of work was accomplished. A truckload of drywall was carried into the house (guys and gals chipped in), the bathtub was "shimmed" for drywall, the site was picked up, the front sidewalk and steps to the front porch were formed, and lots of siding, soffit, and fascia cover was installed. A special "thank you" to Frank Buraski for providing the Bobcat, and to Mark Teague for his operating expertise.
Photo: (Left to right) David Miller cuts siding while Kevin Zinn, Stan Kupish and Dana Strumpher take measurements.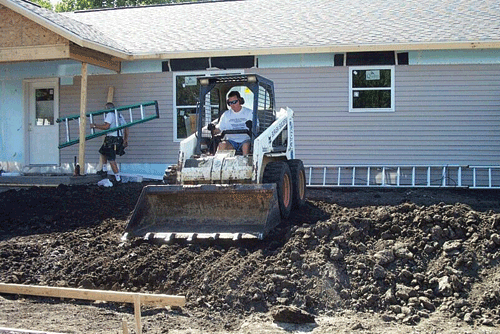 CICASHI President David Miller, organized the Chapter's efforts in conjunction with the Capital Area Association of Realtors which was one of Habitat for Humanity's Covenant Partners. Various local real estate agents also were working that day.
The Central Illinois Chapter ASHI meets monthly for training to improve their expertise in the home inspection industry and to promote The ASHI Experience. Other community service projects in Central Illinois are being planned.
Photo: Mark Teague moved "tons" of dirt with a Bobcat and saved everyone a lot of hand digging.