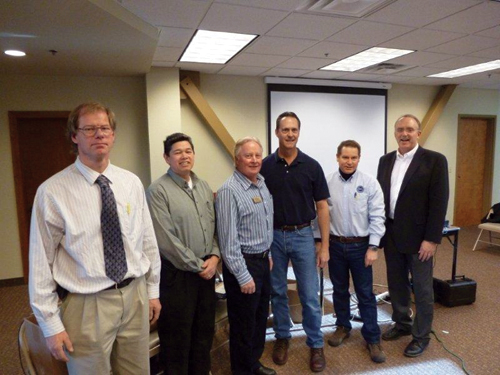 Photo above, l to r: Leo Moorman, Ph.D., owner Radon Home Measurement and Mitigation; Chapter Members Jon Rudolph, John Helden, Scott Ternasky, Chapter President Duane Younger and Gary Williams from Keller Williams Realty in Fort Collins.

January was National Radon Awareness Month. On Jan. 14, the Northern Colorado Chapter (NCC-ASHI) hosted a free public awareness event titled Busting the Myths of Radon in Fort Collins. The chapter brought in a local expert and held a panel discussion. Members of the community and local real estate agents and brokers attended. Chapter members donated free radon measurement tests to be raffled off with other door prizes.

Submitted by Dave Byers, NCC-ASHI public relations representative.
First Local Meeting Group Forms in Mobile
On Saturday, January 28, 2012, five ASHI South Chapter members participated in an organizational meeting with several members from southern Alabama to establish a Mobile Local Meeting Group. The group will be under the direction of the South Chapter's Board of Directors and will provide an ASHI chapter presence in southern Alabama, as well as serve the panhandle of Florida and the Gulf Coast of Mississippi. It is hoped the Mobile Local Meeting Group will eventually become a South Alabama Chapter.
Five ASHI South members drove down to this organizational meeting: Frank Fondren and Phillip Smith from Tuscaloosa, Derl Nelson and Tom Appleby from Birmingham, and John Knudsen from Montgomery. The ASHI members attending the meeting from the Mobile and Gulf Shores areas were Buddy Bullock, Porter Elder, Jim Ellis, Tommy Van Pelt and Gary Middleton.
Submitted by W. Frank Fondren, Tuscaloosa, Ala.
Chapter Form Updated
The "Changes to Chapter Information" form has been updated and can be found under
ASHI Documents and Forms
on the website.
Online Chapter Resources
To access ASHI chapter resources, log in as an ASHI member on www.ASHI.org and go to
Chapters
. You'll find public relations and marketing materials, chapter recruitment tools, leadership resources, legislative tools and more.
Chapter Education Resource Page
The
Chapter Educational Resources
page is available on the ASHI website.
The chapter education coordinator will find information to assist in locating educational opportunities and program topics, speakers and ideas.
If you have any questions, please contact Michele George,
micheleg@ashi.org
.
Discount for New Chapter Members
It's simple and effective. Go to the
Chapter Recruitment Tools page
on homeinspector.org and download the $30 coupon. New chapter members can use it to discount their first year's chapter dues. The chapter is reimbursed when it submits the coupon to HQ.
Questions? Contact Russell Daniels,
russelld@ashi.org
or 847-954-3185.
Smart Track Chapter Modules
Chapter educational offerings: If your chapter is looking for a convenient method of providing educational offerings to members, Smart Track is the way to make it happen.
The Chapter Modules were created as PowerPoint presentations containing technical material, which are down-loadable to a computer and can be projected for viewing at a chapter meeting. Each module comes with presentation notes.
Successful completion will earn the attendee two hours of ASHI continuing education for each module, limited to 10 CEs per year obtained from Smart Track.
A Chapter Educational Leader can be registered to access the modules by contacting Michele George via email at
micheleg@ashi.org
or by phone, 847-954-3188.