NY Metro ASHI recently honored five of its members who have received national awards. Standing left to right, Norman Becker, P.E.; Victor J. Faggella; Victor G. Faggella, P.E; and John Annunziata, P.E. are past recipients of the John E. Cox Member of the Year award. This annual award is presented to the home inspector who has rendered the most outstanding service to his ASHI Chapter over a period of years or during a unique situation which might not occur again. Out of the 20 such awards given over the past 35 years, four have gone to the NY Metro members appearing in the photo. Kneeling is Frank Libero, who received the Monahan Award. The Monahan Award is given to the member who has contributed on the national level.
From a New York Metro Chapter news release.
Submitted by Glenn Woertz.


Great Lakes and NIC-ASHI Team Up to Get Those Phones Ringing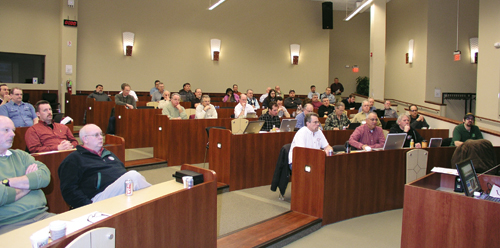 In the photo above, members from two chapters – Northern Illinois and Great Lakes – learn how to "Turn Your Website Into a Call Generating Machine," presented by Dominic Maricic, president of Home Inspector Pro Inspection Software and Website Hosting, February 26 in Rolling Meadows, Ill.
In the photo below, Dominic Maricic (center) poses with (left to right) Frank Lesh, past ASHI and Great Lakes president; Bob Peterson, Great Lakes president; Jory Lannes, Nothern Illionois president; and Jeff Arnold, ASHI executive director/CEO.