Coastal CT and Southern New England (SNEC) use sponsorship and press release for one-two promotional punch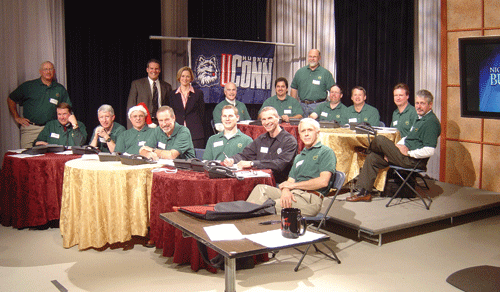 By combining their resources, two ASHI chapters were able to be a major sponsor for the 4th Annual Connecticut Association of Realtors® (CAR) Leadership Conference held in Hartford, Conn., in November.
To maximize the exposure created by their presence at the leadership conference, the chapters issued a press release, complete with a photo of the chapter members participating in the event.
(Photo: SNEC ASHI Members volunteer to answer phones for Connecticut Public Television pledge drive.)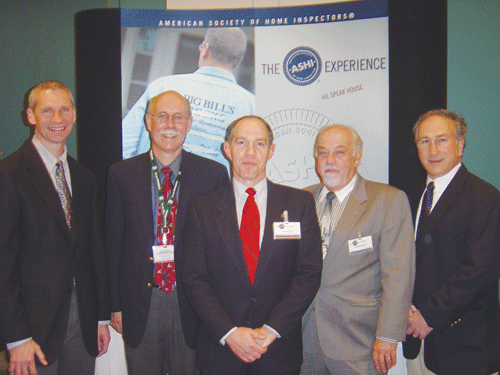 According to the release, David Sherwood, SNEC-ASHI president, and Paul Morris, Coastal CT immediate past president, spoke about ASHI and introduced Jeffrey Cufuade, Idea Architects, one of the featured speakers. Chapter membership directories were distributed to the attendees, who also had an opportunity to speak to ASHI Inspectors throughout the session.
(Photo: L to r: David Sherwood, SNEC-ASHI president; Warren Tomek, SNEC-ASHI public relations chair; Paul Morris, Coastal CT immediate past president; Ron Passaro, ASHI founder; and Bruce Schaefer)
Participating in the conference allowed the chapters to educate attendees about home inspections and home inspectors. It also provided a reason to issue a press release covering the event with the following information about ASHI.
"ASHI is the oldest and largest professional national association for home inspectors with, over 6,100 members and candidates. ASHI requires inspectors to pass two rigorous exams, demonstrate skill level, conduct at least 250 fee-paid inspections, and adhere to Standards of Practice and Code of Ethics as prerequisites for full membership. The mission of ASHI is to promote excellence and exemplary practice within the profession of home inspection.
"To find an ASHI inspector near you or learn more about the organization, visit one of our local Chapters at www.snecashi.org or www.coastalctashi.org, or the national organization at www.ashi.org. SNEC-ASHI meets on the 1st Thursday of each month at 6:30 p.m., Marriott Courtyard, Cromwell, Conn. Coastal CT ASHI meets on the 3rd Thursday of each month at 6:30 p.m., Peppermill Restaurant, Westport, Conn."
SNEC-ASHI works the phones for Public Television's (CPTV) pledge drive
ASHI was mentioned 10 times and Southern New England Chapter members appeared five times on camera during the pledge periods. Broadcasting from Hartford, Conn., CPTV (www.cptv.org) is a statewide network that reaches 750,000 weekly viewers. According to the press release issued by the chapter, chapter members worked with students from Vinal Tech High School, Middletown, Conn., during the UCONN vs. Villanova women's basketball game, and "McNeil Lehrer News Hour" and "Nightly Business Report." Listeners pledged more than $16,000 during these broadcasts. The press release included information about ASHI, the chapter Web site and its monthly meeting, concluding with "Visitors are
welcome."
SNEC-ASHI gives to Conn. Food Bank
Issued December 12, 2005, FOR IMMEDIATE RELEASE, this press release announced "Local Home Inspector members of the Southern New England Chapter of the American Society of Home Inspectors (SNEC-ASHI) made their annual donation to the CT Food Bank."
It included a quote from the charity's executive director thanking the chapter, and announcing that the gift would provide enough food for 3,400 meals. According to Joe Raffone, the ASHI Member who spearheads SNEC-ASHI's annual food drive, this was the third year the chapter participated.
Warren Tomek, SNEC public relations chair, is the contact listed on chapter press releases, and he provided this report on chapter activities.

Holiday is for the Children in Garden State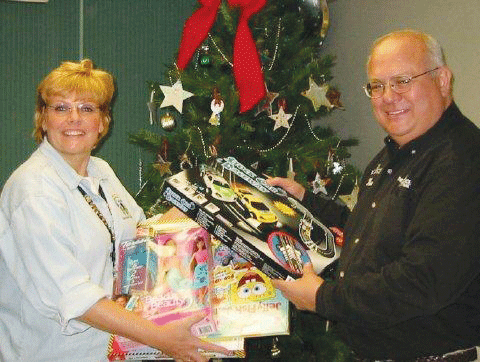 On behalf of the members of the Garden State Chapter of the American Society of Home Inspectors (ASHI), Chapter Past President Ken Salvo presents holiday toys to Janet Weston, Director of Volunteer Services at Children's Specialized Hospital in Mountainside, N.J. The Chapter also made a generous cash donation to the hospital as part of its annual toy drive and fundraising efforts.
Washington State Chapters Discuss State Licensing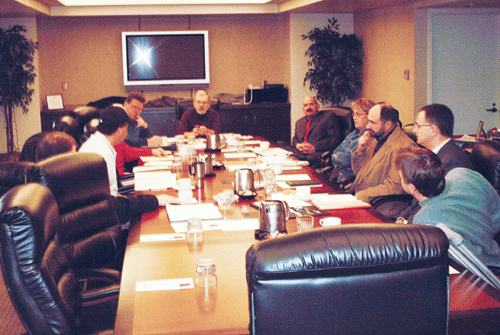 ASHI President-elect Joe Corsetto was welcomed as the featured speaker at the annual Christmas dinner meeting and the special planning meeting held the following day for the three Washington State ASHI chapters. At the planning meeting, the membership discussed recent licensing activity in North Dakota, and decided to push for serious state licensing in Washington. Reported by ASHIWW Chapter President Paul Luczyk.
Andy Kasznay Receives the "Ron Passaro Outstanding Achievement" Award
On Jan. 5, 2006, the Southern New England Chapter of ASHI (SNEC) bestowed upon Andy Kasznay the "Ron Passaro Outstanding Achievement" award. For the first time, the chapter award was given in recognition of service to both the local and the national organizations. Kasznay has served on the Council of Represen-tatives and the ASHI Legislative Committee for three years, chairing the committee for two of those years. He continues to serve ASHI in his new post as Director.
(Photo: Ron Passaro, ASHI founder, left, and Andy Kasznay, right.)
Kasznay joined the Coastal ASHI Chapter when it was formed, and has served on the SNEC ASHI Chapter board for five years. He is a senior instructor for ITA, and is a mentor to many of his colleagues and interns coming into the profession. He has a wealth of knowledge and always is ready to help others. After joining ASHI in 1992, he became a full Member in September, 1997. Direct your congratulations to Colonel Kasznay, if you please. He retired from the Air Force with the rank of Colonel.
The award was presented by Ron Passaro, ASHI founder, who resides in Connecticut.