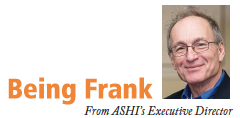 Of all the highlights of IW., one of the most exciting is seeing leaders of the profession gather at the biggest, most successful and longest-running home inspection conference in North America, bar none. For anyone who wants to be immersed in the shared knowledge of the best of the best, IW. is the place to be. There are more exhibitors, more government officials and more rank and file inspectors at IW. than at any other conference for home inspectors. Rubbing elbows with these folks each year is an honor for me.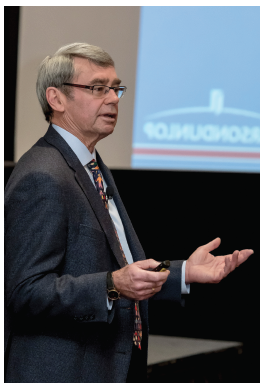 One of the leaders I've had the honor to meet is Alan Carson, a past president of ASHI. He is also an exhibitor, an innovator in the industry and a great guy who has done as much as anyone I know to help the profession. But what I want to tell you is not so much about him, but rather his latest innovation he has created. Alan Carson has developed a new app that may revolutionize the industry.
Because of this creation, I place Alan in a class with Steve Jobs and Mark Zuckerberg. Jobs didn't invent the cell phone, music player, camera or computer, but he put them into one easy-to-use machine that revolutionized our lives. Zuckerberg didn't invent chat rooms, social media or sharing inane conversations, he just combined them in one convenient, ubiquitous product.
Like those two guys, Alan did not invent inspection photography, nor was he the first to categorize deficiencies in properties. But because of his years of experience, he's organized over 10,000 photographs, coupled with descriptions of the underlying problems they depict, and produced an app that's both intuitive and germane to our profession.
It's called Insight by Carson Dunlop, and it's available exclusively to ASHI members for a limited time only, for free. Please see the article on page 14.
Here's how it works. First, go to http://www.carsondunlop.com/Insight to register. A short video explains what the app does. Then download the app (for Android or Apple products) at http://www.carsondunlop.com/FreeInsight.
Once you've downloaded the app, just open it and click on one of the menu items (for example, Roofing or Electrical). A list of deficiencies comes up, along with photos that depict those deficiencies.
This is an app that both experienced and newer inspectors can use when they're struggling to identify and explain a problem area. It's about as simple to use as it can be, and a wide range of information is right at your fingertips. Whether you want to know about swamp coolers or boilers, you'll find photos and descriptions in the app.
This is a deal you can't pass up. Try it—I'm sure you'll like it.
Frank Lesh, Executive Director
American Society of Home Inspectors
Direct: 847-954-3182
Frankl@ashi.org • www.ashi.org