The following is a brief report of the official actions taken during ASHI's third Board of Directors meeting this year. It was held July 17-18 in Rosemont, Ill. Discussion items and withdrawn or failed motions are not included in the report. The official minutes will be presented for Board approval at its next meeting October 16-17 in Rosemont, Ill.

I encourage ASHI members to read the report to learn what actions were taken on their behalf. ASHI directors and officers welcome questions about their actions. You'll find contact information for those serving on the Board on Page 3 of every issue of the ASHI Reporter and in the ASHI Online Membership Directory. Also, you are encouraged to contact me at ASHI headquarters with your questions or concerns.

Report Out: July 2009

Consent Agenda

Consent agenda items are those that do not require debate or dialogue in order for the Board to take action.
The Board reviewed and approved the following motions:
Add a fourth item under Policy 1.5 Mailing List, which details that mailing lists will include name, company,
address, city, state and zip, but will not include phone, fax or e-mail.


Appoint Bill Jacques to chair the ASHI Education Committee.

He will be replacing Gregg Caudill, who asked to step down due to the press of business.


Appoint Board Members Ron Rusch and Michael Stephens to the ASHI Audit Committee.
Meeting Minutes

Board meeting minutes from the April 17-18, 2009, Board meeting were reviewed and approved as submitted.

Governance Task Force

The Governance Task Force presented its final report, which the Board discussed at length. Following the discussion, the Board appointed a governance work group to evaluate the various options and to report back to the Board.

Presentation on InspectionWorld 2011 and 2012

After a presentation on possible sites for InspectionWorld 2011 and 2012, the Board authorized staff to work with Experient, a conference management company, and Hilton Hotels for IW2011 and 2012 in Atlanta and Phoenix, respectively.

Finance Committee/Treasurer's Report

The Board approved the following new endorsed programs, all designed to be of value to members and to provide ASHI with non-dues revenue:
Senior Home Safety Network – offers a network for specialty inspections that enable senior citizens to continue to live in their homes in a healthy and safe environment.


Divorce This House – offers marketing, training and referrals for regular, full inspections triggered by a pending divorce situation.


Advanced Method – creates short Web site videos, scripted by ASHI, provided to members on a lease basis, to promote and highlight home inspections.
Full details regarding these endorsed programs will be coming in the next 30 to 60 days.

The Board rescinded Policy 7.5A, ASHI Outreach, which allowed inspectors to join the chapters for a six-month trial period, before they were required to join ASHI National.

Executive Director's Report

As recommended in my report, the Board approved a motion to authorize legal counsel to form and file articles of Incorporation in the State of Illinois for a business corporation named "ASHI Education, Inc."

The purpose of the corporation is to engage in lawful activities for the furtherance and offering of formal educational opportunities for professional home inspectors. (Please see Bill Richardson's "Report From the President".)

The Board approved a motion allowing the ASHI Smart Track online educational program to be made available to non-members for a fee.

The Board reviewed an application to form a new chapter named the Carolina Chapter and approved the application.

The Board approved a motion to allow the Standards Committee to continue to develop Ancillary Standards.
The Standards Committee will follow the procedures in 10.3A and 10.3B and also take into consideration legal recommendations on insurance protections for ASHI.
The Board also approved changing the year for the appointments to the Certification Committee to 2010 instead of 2009.

New Business

The Board approved a motion to extend an offer of ASHI membership to NAHI CRI members to the end of the 2009 calendar year.

The Board approved the proposed meeting dates for 2010 as follows: Sunday, January 17, Bally's Hotel and Casino, Las Vegas, Nev.; Saturday, April 24, Rosemont/Chicago, Ill. (tentative); Saturday, July 24, Rosemont/Chicago, Ill. (tentative); and Saturday, October 23, Rosemont/Chicago, Ill. (tentative).

-------------------------------------------------------------------
Board Receives Good News:
ASHI's Accredited Certification Program Approved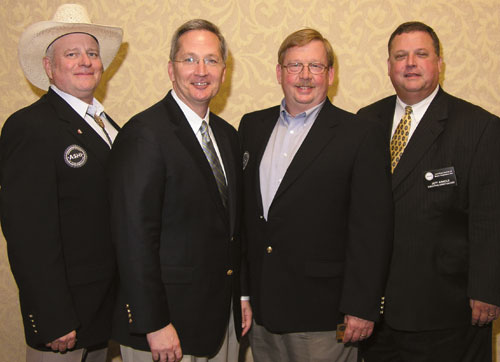 Photo: Right to left: ASHI President Bill Richardson, NCCA Executive Director Jim Kendzel, ASHI Immediate Past-President Brion Grant and ASHI Executive Director/CEO Jeff Arnold

Prior to the official business meeting, Bill Richardson, ASHI president, and I had the pleasure of welcoming Jim Kendzel, NCCA executive director, to the July Board Meeting. NCCA is the National Commission for Certifying Agencies, and he was there to announce, in person, that ASHI's accredited certification program had been approved.

The application for approval has been shepherded through the process for almost 18 months by a group of dedicated ASHI members. As ASHI members vote on creating the ASHI Certification Committee, the final NCCA requirement, it is appropriate to recognize the following hard-working volunteers:

Brendan Ryan, Brion Grant, Paul Staron, JD Grewel, Joe Kelly and Jim Hemsell.

This is an historic step for the society, and I am proud and honored to serve its members during this groundbreaking era.

Jeff Arnold, ASHI executive director/CEO


Photo by Don Nelson
-------------------------------------------------------------------