We are setting the stage for ASHI's InspectionWorld to be held in Nashville, Tennessee in January 2014. Plan to arrive early and stay later to experience this year's great locale. The Music City offers so much that you can't find anywhere else.
From its very beginnings, Nashville grew from a foundation built on music. Music has been the common thread connecting the life and soul of the city and its people. And visitors have ventured there to experience the music that weaves such a fundamental pattern in its cultural, business and social fabric.
Nashville has also long been known as the "Songwriting Capital of the World." Songwriters from all over the world come to Music City to learn the art and share their passion of songwriting.
Nashville has also become a hub for pop, rock, bluegrass, Americana, jazz, classical, contemporary Christian, blues and
soul music. Rolling Stone recently gave Nashville the title of
"Best Music Scene."
Live music can be seen and heard every day and night of the week in Nashville. The world-famous honky-tonks, located on Broadway, offer free live music 365 days a year. And with more than 130 music venues around town ranging from large arenas and concert halls to small clubs and featuring nearly every genre of music, it's easy to see why this is the city that "music calls home."
Nashville's connection to music is unequaled, and its reputation as Music City has been consistently proven for over 200 years. In Nashville, music is written, recorded and performed daily.
Nashville has been named among the best places to visit and
its attractions offer history, family fun, outdoor activities,
music and more.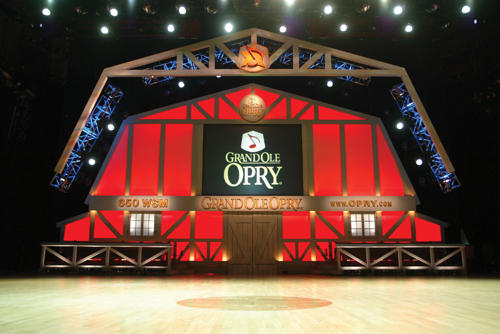 Grand Ole Opry:
The world's longest running live radio show, the Grand Ole Opry, takes the excitement of a live audience and an incredible mix of talent to the world. Fridays and Saturdays at 7:00 pm. 1-800-733-6779 or
www.opry.com
Country Music Hall of Fame and Museum:
Rediscover
the music you love. Daily 9:00 am - 5:00 pm.
www.countrymusichalloffame.com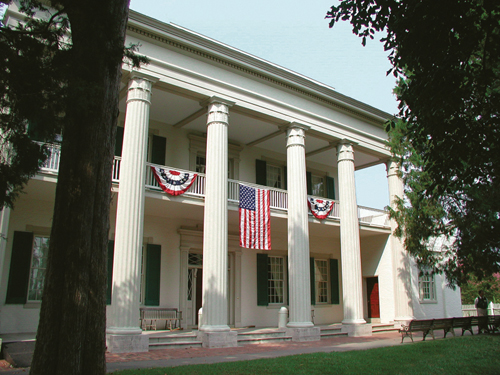 The Hermitage:
The home of our nation's 7th President, Andrew Jackson. Guides in period costume welcome guests to this grand 1837 mansion. Daily 8:30 am to 5:00 pm. 615-889-2941 or
www.thehermitage.com
Ryman Auditorium:
A National Historic Landmark and former home of the Grand Ole Opry has served as the cornerstone of Music City's entertainment tradition for over a century.
Daily 9:00 am – 4:00 pm. 615-458-8700 or
www.ryman.com
Belle Meade Plantation:
Once a world-renowned thoroughbred horse nursery, this site offers visitors the chance to experience what life was like in the 1800s. Period costumed interpreters conduct one-hour tours of the 1853 Greek Revival Mansion. Mon – Sat 9:00 am – 5:00 pm; Sun 11:00 am – 5:00 pm. 1-800-270-3991 or
www.bellemeadeplantation.com
Cheekwood Botanical Garden and Museum of Art:
Cheekwood is an historic property and includes 11 botanical gardens, a walking sculpture trail and educational programs for children and adults. Tue – Sat 9:30 am – 4:30 pm; Sun 11:00 am – 4:30 pm. 615-356-8000 or
www.cheekwood.org
CURRENT ASHI MEMBERSHIP
ASHI Certified Inspectors: 3,386
Associates/Logo: 79
Associates: 1,569
Retired Members: 114
Affiliates: 38
Total: 5,203

MEMBERSHIP BENEFIT
Benefits of ASHI Membership? Jackets, Shirts and Caps
This months's benefit is ASHI Jackets, Shirts and Caps. Market yourself with these superior quality clothing items that can be imprinted with the ASHI logo to identify you in all places you go as an ASHI inspector. Available to ASHI members in the Online Marketplace. For more ASHI benefits,visit:
http://
www.homeinspector.org/join/benefits.aspx#clothing
ASHI EVENT CALENDAR
July 26-27, 2013
ASHI Board Meeting, Rosemont, Ill.
Oct. 18-19, 2013
ASHI Board Meeting, Rosemont, Ill.
Jan. 12-15, 2014
InspectionWorld, Nashville, Tenn.
January 6-9, 2015
InspectionWorld, Philadelphia, Pa.
..........................................................................................................
The ASHI Family Photos


Do you have a family member who is also an ASHI home inspector? A son? A nephew? A brother-in-law? A sister? If so, then send us a photo of the two of you together for the ASHI Reporter along with your names, locales and company names so that we can include you in
an upcoming issue.
Please email your photos to our graphic designer, Arlene Zapata, at ArleneZ@ASHI.org. We look forward to seeing you.
ASHI'S interim executive director, Frank Lesh, with his son, Zachary Lesh. Zac graduated from the ASHI School home inspection class in Illinois on May 17, 2013, and works with his dad at Home Sweet Home Inspection Company in Indian Head Park, Illinois.



Graduates of the ASHI School home inspection class in Illinois on May 17, 2013
Left to right: Christopher Wilhelm, Clay Abbott, Don Fisher, Wasim Ansari, Ed Massart (Instructor), Shahab Mehkri, Zachary Lesh, and Orest Dutko.
ASHI-Endorsed Membership Benefit Programs
ASHI's E&O Insurance Program:
Business Risk Partners (BRP)
www.inspectorinsurance.com
866-268-1327
ASHI Health Insurance Program:
Empyrean Benefit Solutions, Inc.
800-934-1430
www.empyreanbenefits.com/
healthportal/ashi
ASHI's Personal Lines Insurance
Program: Kemper Select
800-637-2782
Linda Huguelet
lhuguelet@kemper.com
ASHI's Long-Term Care Insurance:
Norris Pacholik Benefit Advisors
John Pacholick, 312-804-1762
john@mynpba.com
www.mynpba.com/ashi
ASHI's Supplemental Health Insurance
www.aflac.com/ashi
ASHI Yellow Pages® Program
Stephanie Sharp, 800-775-8444
LegalShield
Joan Buckner, 505-821-3971
SendOutCards
Russell Daniels, 847-954-3185
russelld@ashi.org
EXAMS
ASHI Standards and Ethics Education Module
Go to www.homeinspector.org, click on Education and Training, then click on the link for the ASHI Standards of Practice Education Module.
NHIE Exam: 847-298-7750
www.homeinspectionexam.org
ASHI-Endorsed Training Programs
ASHI@Home Training System
800-268-7070
education@carsondunlop.com
The ASHI School
Jack McGraw, 888-884-0440
jack@theashischool.com
www.TheASHISchool.com
ASHI COUNCIL of REPRESENTATIVESSpeaker:
Tony Smith
319-533-4565
inspectthathouse@
netscape.net
Alternate Speaker:
Bruce LaBell
602-765-2140
inspect@cox.net
Secretary:
Larry Cerro
850-545-8448
larrycerro@comcast.net
Group Leaders
New England/Canada:
Mike Atwell, 617-285-8554
mike@jmhi.com
New York/New Jersey:
Jerry Sanangini
856-232-6607
jsantangini@comcast.net
Mid-Atlantic:
Jim Funkhouser
571-214-4039
jfunkhouser@aol.com
Midwest:
Mike Wagner, 317-867-7688
mwagner@ralis.com
South Atlantic:
Richard Hart, 770-827-2200
ashi1@comcast.net
Gulf:
Larry Cerro, 850-545-8448
larrycerro@comcast.net
South Midwest:
Paul MacNeill
314-392-9313
paul@appleinspections.com
North Central:
Brendan Ryan
724-898-1414
brendan@csahomeinspection.com
Mountain:
Marcus Richter
520-271-8582
info@handsonhome
inspection.com
Pacific:
Scott Swickard
949-454-1389
scott@inspectoc.com