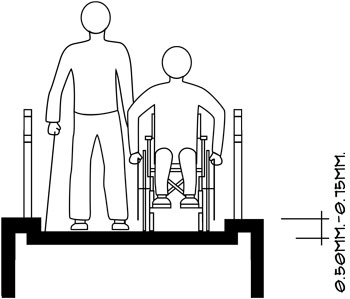 Every year, thousands of people experience unintended home injuries as a result of using indoor stairs and handrails that have not been properly constructed or maintained.
The results include trips to the emergency room, billions of dollars in medical costs and even fatalities. "Knowledgeable home inspectors can help prevent many of these injuries," explains Armand Magnelli, President and Senior Consultant, Livable Housing, Inc., York, Pennsylvania.
In his consulting and training activities, Armand works with municipalities, local nonprofit housing organizations and national nonprofits such as the National Center for Healthy Housing. His work focuses on improving health, safety, energy efficiency and affordability in all sorts of housing. "I went to school for mechanical engineering and have always had an interest in construction and how people use their homes. I also have many interests related to safety issues in homes. Home inspectors who understand how to identify and address home safety issues can offer such valuable information to their clients."
One of the resources that Armand suggests for home inspectors is the American National Standards Institute (ANSI). ANSI offers the Standard for Accessible and Usable Buildings and Facilities, commonly known as A117.1, which was developed in cooperation with the International Code Council (ICC). The 2009 version of the A117.1 guidelines can be accessed online (http://ecodes.biz/ecodes_support/free_resources/ICC_Standards/ICC_A117.1-2009/ICC_A117.1-2009_main.html). Although this document regulates public spaces and not private homes, it offers useful guidelines on accessibility. For example, Chapter 5 of the A117.1 guidelines focuses on indoor stairs and handrails.
Armand also recommends Code Check Complete: An Illustrated Guide to Building, Plumbing, Mechanical and Electrical Codes, 2nd Edition.
Both of these documents provide illustrations showing the proper placement of handrails, grab bars and electrical switches and outlets, and both resources address issues of accessibility and safety.

Older homes are more likely to have safety hazards, but problems occur in new construction, too. As you check the overall structure of the home and compare its condition with applicable codes and accessibility standards, look for potential safety issues. Remember that, although injuries can happen to people of all ages, some occupants may be especially vulnerable. Ask the homeowner whether any of the people who use the stairs — including those who live in the home and those who visit — have special needs.
Here are a few examples of safety issues to put on your checklist:
Check the stairs' ratio of tread to riser (minimum 11-inch tread depth and maximum 7-inch riser). You will find more specifics and illustrations in Chapter 5 of the A117.1 guidelines.
Are there handrails on both sides and are they secure? Handrails (or lack of handrails) can affect the mobility of elderly people as well as others who use the stairs.
If there is carpeting, is it loose? If the stairs are wood, are they slippery? Both of these issues can be hazardous.
What is the shape of the handrails? If the handrails are too large in diameter or if they are a difficult shape to grasp, people could have problems using the stairs safely. A117.1 offers good guidance on this point.
Check the lighting at the top and the bottom of the stairs. Is it adequate? Is there a contrast between treads and risers? If not, consider whether painting the risers a contrasting color could help.
Are there light switches that are lighted or phosphorescent (glow in the dark) at both the top and the bottom of the stairs?
How high are the railings and light switches, and is the height appropriate for the people who use them?
Do the handrails extend all the way down past the last stair?
Is there sufficient clearance at the bottom of the stairs? Is a door placed too close to the bottom stair?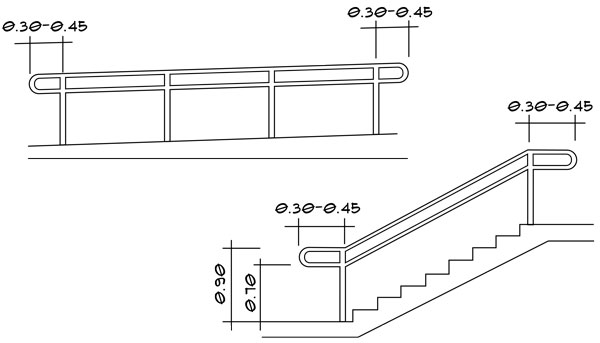 Home inspectors have an opportunity to help make homes safer for the occupants and their visitors by identifying ways to improve staircases. Often, making improvements to stairs can be relatively simple jobs. For example, although it would be difficult to modify the tread-to-riser ratio, adding appropriately shaped and well-secured handrails to both sides of the stairs and providing adequate lighting are reasonable recommendations for most homeowners. Making these kinds of adjustments can help prevent injuries from occurring on a home's indoor stairs.