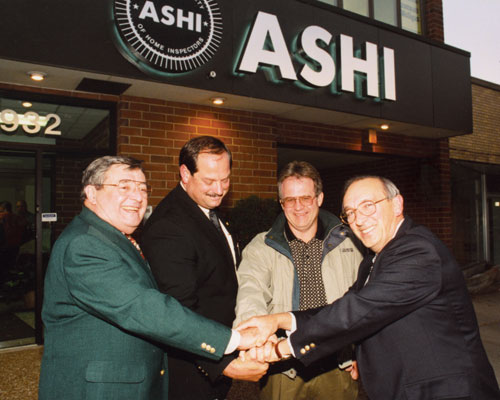 Photo: At the celebration of the purchase of the ASHI headquarters building in 1998, l to r: Tommy Byrne, John Palczuk, Pat Casey and John Ghent.


Remembering Charter Member and Past President Tom (Tommy) Byrne
ASHI was notified in June of the death of Past President Tom Byrne, Whitestone, N.Y., at the age of 78. What follows are excerpts from a conversation the charter member had with Founder Ron Passaro and several other charter members in January 2001, while attending ASHI's 25th Anniversary
celebration in Las Vegas.
In his own words:
"It was Ronnie's idea. He called the first meeting at his house," Tom Byrne said.
Discussing how people doing this new thing called home inspections sought out each other and formed ASHI, the group agreed learning always had been important. Tom said he prepared for months to assist the person doing the electrical presentation at the first educational conference at Rutgers University in 1977. Then three weeks before the conference that person moved to Hawaii.
"Now, I'm left to do the presentation. I stood up before these guys, and I was scared to death because I didn't know who in the room knew more about the subject than I did. But, it went well."
Later, serving as the Education Committee Chair, Tom participated in the three-day seminar "road shows." He said, "I remember going out with Ronnie one day. It was a dark roof, and we're comparing notes. I didn't think going on roofs was necessary at the time. Ronnie said, 'Let's go up on it.' He had one of those telescoping ladders. When we got up on it, the roof was shot — bad, bad shape. From that day on, I've gone on every roof I could. We all learned from each other."
When asked what he would like new members to know, the charter member said, "I'd like them to know it's not all business. There are more lifetime friendships that are made in this society. The camaraderie and the sharing still go on. It's the best group, I think, — competitors, yes — but assisting one another, helping one another, the friendships that are made — to me that's most important. If a new candidate asks, he'll
get all the help he needs."
And, in the words of some of those friends ...
John Palczuk, ASHI past president:
The task of notifying ASHI members of Tommy's death fell to his long-time friend John Palczuk. John included the following in his message:
"We are all better people for having known Tommy. I, for one, considered it a great privilege to have had him as a friend. He will be tremendously missed."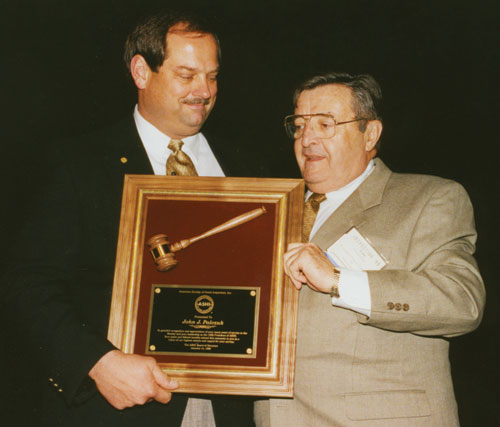 Photo: John Palczuk, l, and Tommy Byrne, r, at InspectionWorld in 1999.
The response to this message came quickly as many of his ASHI friends shared their thoughts.
Cole Greenberg, ASHI past president:
"Tommy appointed himself my personal mentor at my first Metro Chapter meeting in early 1978 and he 'pushed' me along as he saw opportunities for me to take leadership roles in Metro and then in Big ASHI. He was, for me, the essential definition of friend.
"He visited me in Arizona after the storms of dependence and then independence from AMG and ASHI logo-use were history, and we completely buried the hatchet, taking our friendship back to where it was when we first met. Were it not for Tommy's intervention in the membership process, I would not be an ASHI member today. I loved him and I have been missing him. Our profession would not have reached the respect it has were it not for Tommy. He and Lovey are finally together again. Farewell, my friend!"
John Ghent, ASHI past president:
"Tom Byrne was a star. He was the first person I met at my first Metro ASHI meeting in 1979, and over the many years of our friendship, he never failed me when I needed his assist. He was colorful, playful and dedicated to his friends and family. He gave anything he had to anyone who asked. He gave a great part of his life and energy to ASHI. Tommy, I raise my glass to you. We will never forget you."
JD Grewell, ASHI #193:
"Tom Byrne was a walking encyclopedia relating to the history of ASHI. He was Charter Member #17, and he served on the Board of Directors for more than 20 years. I used to travel to board meetings to hear the discussions and watch the voting procedures. I noted that every now and then, Tom would raise two hands. I thought he was just making sure he wasn't overlooked.
"When I asked him about what I had witnessed, he chuckled, gave me a sly look, and explained he was making a point. If he thought a vote might be close, he raised two hands so they both got counted. Seeing my consternation, he said he actually represented two chapters from New York state. I know
of no one else accorded that degree of trust — to have the
respect from two different chapters that both selected him to be their board representative.
"Tommy never intended to be an officer, but toward the end of his ASHI career on the Board, one of our elected officials had to resign for health reasons and the board looked to experience and ability. The choice was simple, and Tom agreed to fill the vacancy. He was an effective speaker, a personality, and a very special friend to so many of our members and staff. He was one of those unique persons who loved his fellow man and reaped the return his entire life."
(Editor's note: At one time, each chapter had a representative on the Board of Directors.)
Steve Baranello, ASHI Certified Inspector:
"Teacher, mentor and friend are just a few words that would start to describe Tom Byrne. His dedication to our profession and to ASHI will always be remembered. Learning was something Tom believed in all of his life. Licensed Master Plumber in New York City, ASHI inspector and instructor and when he "retired," he went back to school to be certified by NY State Code Enforcement to become a Code Enforcement
Officer. Always quick with a chuckle when he saw some odd installation, he would say, "You can't make this stuff up."
His love of life and our profession will surely be missed."
Alan Carson, ASHI past president:
We asked Alan to let us know where people could make a contribution in Tom Byrne's name. His response follows:
"At the funeral, there were two envelopes:
Nina Weiner, American Cancer Society,
80 02 Kew Gardens Road #400, Kew Gardens, NY 11415
and
St. Jude Tribute Program, P.O. Box 10000, Dept. 142,
Memphis TN 38148-0142
Also, I know Tom was a big supporter of the Boys and Girls Clubs of America."
Photo: Alan Carson, l, and Tommy Byrne, r, at InspectionWorld San Diego in 2000.
CREIA Remembers Jim Farmer as Influential Leader
Michael Casey, ASHI past-president, notified ASHI of the death of Jim Farmer.
"On May 19th, CREIA lost one of its most influential leaders with the passing of Jim Farmer. Jim joined the joint ASHI/ CREIA Los Angeles chapter in 1988, served as a chapter
officer in that chapter as well as two CREIA chapters. He
was a Master CREIA Inspector #0004.
"With a list of awards, accomplishments and certifications representing his thirst for knowledge, Jim was voracious in his approach to learning. It seemed like there was no subject that he did not have a good understanding of and, in most cases, an extensive knowledge of subject matter. More important, he was generous with his time and willing to help others."
Great Lakes Chapter Mourns Don Dean
Frank Lesh, ASHI past president, notified ASHI that former member Don Dean died.
"He had a long fight and met his fate like the true Marine he was. Although he was physically frail, his spirit never wavered! Don was a great asset to the Great Lakes Chapter (GLC) and ASHI. He was instrumental in the GLC Peer Review process and helped man the phones when ASHI moved from Arlington, Va., to Arlington Heights, Ill. He was a mentor to me and always offered advice whenever an
inspection problem occurred."