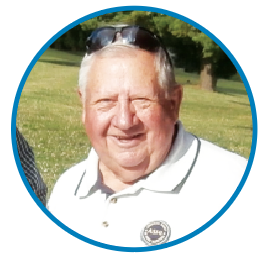 It is with great sadness that I have to report that Ron Rusch, a great friend to all of us, a mentor, an fellow home inspector, has passed away.
Ron was on vacation with his family, children and grand children in the Mountains of Colorado. He was having a great time branching out from Colorado Springs, they visited Garden of the Gods, and made it to the top of Pikes Peak, had dinner with all the family, went to bed Tuesday evening and expired in his sleep.
Ron was an phenomenal individual, generous with his time and talents. He was responsible for our Chapter's strength for many years, serving as secretary, treasurer, membership chairman and winning the Great Plains ASHI Chapter Outstanding Member Award. He served at the national level on the Chapter Relations Committee and on the Council of Representatives and then on the ASHI National Board of Directors giving back to the profession that was his passion.
Ron retired a few years ago, which was not an easy decision for him, but did not drift away from us. He attended our annual conferences every year and continued to go to the ASHI National conferences. He spent his retirement years traveling the world with his wife, Alice of over 50 years.
- Miki Mertz & Tom Lahoun



Ron Rusch Biography:
Retired ASHI, Manager of A Buyer's Choice Home Inspections


Active in local Great Plains ASHI Chapter

2000 Treasurer
2001 Secretary
Outstanding chapter member award for his work in updating the chapter bylaws
2002-4 and 2010-11 Membership chairman
2005-7 Council of Representatives



National ASHI

2007-9 Board of Directors
2002-6 Chapter Relations Committee



Civil Engineer from University of Missouri-Rolla


Avid golfer


Retired Army

Ron Rusch, passed away July 2018. He was a long time ASHI member, serving on Chapter and National Committees and on the National ASHI Board of Directors. Ron was passionate about attending Inspection World every year and encouraged all to attend. He felt he gained so much more value than the cost of attending. Ron said he always learned new things, networked with fellow inspectors from across the country, picked up ideas that resulted in income increases for his business.
The Great Plains ASHI Chapter Board wants to continue his passion for Inspection World by paying for a newer inspector to attend.
They must be:
Chapter members who have passed the NHIE Exam
Relatively new to the business
Never attended InspectionWorld
Applications may be submitted starting in September and will be due by Nov. 1.