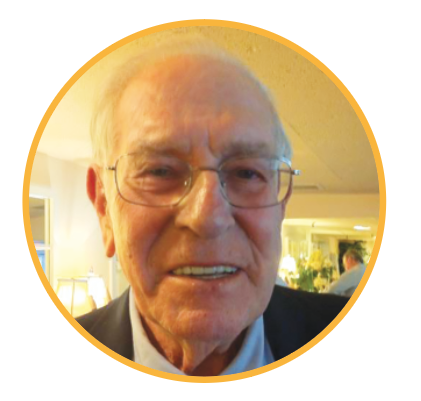 Remembrance by Norman Becker, ASHI Member #7 (nbeckerpe@gmail.com)
Sherman Price, a professional engineer, home inspector, a good friend and a dedicated ASHI member, passed away recently. He joined ASHI in the very early days before it became a full-blown society. At the first ASHI Conference in December 1977, Sherman gave a presentation titled "Inspection of Foundations and Structures." Always willing to share his technical knowledge, Sherman gave similar presentations at seminars sponsored by other ASHI chapters.
Sherman's input in developing the ASHI Standard of Practice had a direct impact on the Standard we use today. After he retired from doing inspections, he maintained a relationship with ASHI for more than 10 years as a volunteer verifier of inspection reports for new ASHI applicants. Sherman's passing is a loss to ASHI. We will miss him. I will miss him. Our condolences to his family and friends.
Remembrance by Bob Mulloy, ASHI Member #561, Retired Chair of the ASHI New England Chapter Education Committee
(rmulloy@verizon.net)
Sherman Price, a past honorary ASHI New England (ASHI-NE) Chapter member and a member of the education committee, recently passed away. For many years, Sherman had been a structural engineer and a successful ASHI home inspector in New York. He will be greatly missed.
For more than 10 years of his retirement, Sherman was one of four national report verifiers for ASHI applicants. In this role, he spent countless hours reviewing and critiquing numerous home inspection reports for ASHI, helping applicants for ASHI membership to grow and write reports that conform successfully with the ASHI Standard of Practice, thus achieving ASHI membership.
After being a member of an ASHI chapter in New York, Sherman came to the ASHI-NE Chapter when he and his wife moved to Taunton, MA, to enjoy their retirement. He found my business name and contacted me, saying that he greatly missed the camaraderie of other home inspectors. He asked if he could attend one of our monthly meetings, but he also said that he did not know the roads and had failing eyesight. I volunteered to drive him to our meetings and I am very glad that I welcomed him. I gained a valuable resource on structural knowledge. He was the gentlest man I had ever met and he became a good friend.
Years ago, Sherman started the Trainee class that I now teach here in Massachusetts and will continue to teach in his honor. Ultimately, Sherman had to fully retire because of his failing health, and he and his wife moved to Rhode Island to live with their daughter to receive extended care. About 1.5 years ago, Sherman suffered a stroke that badly damaged his memory.
I believe that Sherman is up above us now, inspecting the pearly gates for structural integrity and looking down on us for compliance with the SOP. Rest in peace, my old friend.
If you wish, please send your condolences to
Mrs. Salome Price,
75 Pleasant Street, East Providence, RI 02916.