InspectionWorld wasn't the only recent successful joint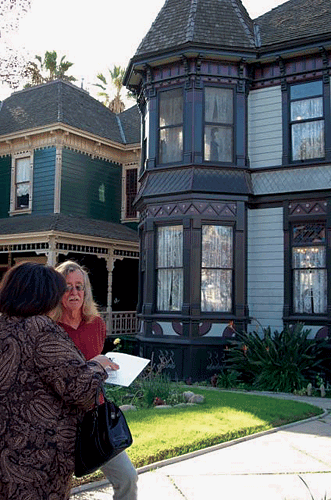 venture for ASHI and the California Real Estate Inspectors Association (CREIA). On January 9, both organizations joined with the Los Angeles Conservancy to hold a press conference to raise awareness about the benefits of historic home inspections.
And what better way to raise awareness and to announce a new partnership of the three organizations than to invite the press to accompany CREIA member and historic home expert Duane McCutcheon on an inspection of the 1887 Heim House in Angelino Heights, one of L.A.'s most historic neighborhoods.
Photo: CREIA Member McCutcheon, who conducted the walk-along inspection of Heim house, said, "Older homes have a lot of stories to tell, and the
Heim House is no exception—it's a gem of Victorian architecture and Los Angeles history. Inspectors of historic homes can read a building, sharing its history with clients and helping preserve it for future generations."
"The Heim House is a Los Angeles Historic-Cultural Monument and part of a National Register Historic District," said Rob Paterkiewicz, ASHI's executive director. "It's the perfect location to kickoff this partnership and to show people what's involved in a historic home inspection."
"We're excited about the partnership," said Linda Dishman, executive director of the Conservancy, the country's largest local historic preservation organization. "L.A.'s historic properties are irreplaceable, and they
have special needs when it comes to inspections.
It's important for owners or buyers of historic structures to find an inspector who understands preservation and can identify maintenance issues that might compromise their safety or integrity.
Photo: Like almost all home inspections, at some point they have to duck their heads.

A number of ASHI and CREIA members fit the bill, with specialized expertise in helping owners understand how they can make repairs and adapt a historic home for modern use while maintaining its unique character."
The Los Angeles Conservancy is a nonprofit membership organization that works. A small group of concerned citizens formed the Conservancy in 1978 as part of a community-based effort to prevent demolition of the Los Angeles Central Library. The Conservancy now has more than 7,000 members and 400 volunteers. ASHI and CREIA were pleased to be able to support its preservation work with a donation.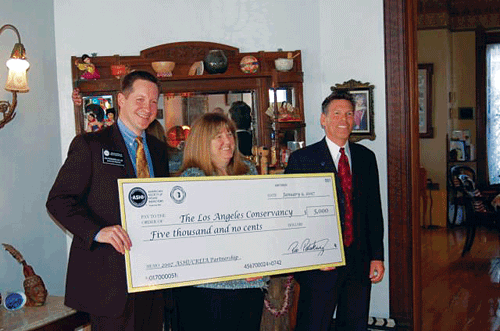 Photo: Rob Paterkiewicz, ASHI executive director (l), and Tyler Clydesdale, CREIA executive director (r), welcomed the opportunity to present Linda Dishman, LA Conservancy executive director (center), with a donation supporting the work of the nonprofit membership organization that works through education and advocacy to recognize, preserve and revitalize the historic architectural and cultural resources of Los Angeles County.