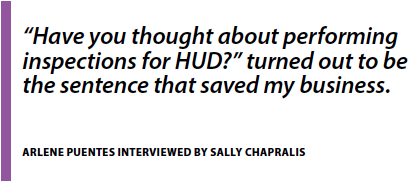 I WAS REMINDED OF IT when a Past- President of ASHI, Frank Lesh, asked me to write an entry for "Herspective."
"But Frank," I wrote him, "I can't write an article for ASHI. I don't even think I'm still a home inspector. For the past couple of years, I've only performed about 20 home inspections a year."
"Of course you're still a home inspector," Frank wrote back. "There are a lot of home inspectors who only perform 20 home inspections a year."
Who knew?
And that reminded me of the 2006 telephone call I received from another Past- ASHI President, Marvin Goldstein. He wanted to best serve ASHI's Board and so was calling home inspectors to ask their opinion on ASHI's direction. During that phone call, he allowed me to vent about the slowdown in my home inspection business. It turned out this slowdown was common for home inspectors nationally and would only get worse.

"Have you thought about performing inspections for HUD?" he asked.


No. I hadn't. Marvin told me about it and so, with his encouragement and guidance, I got a badge from HUD's Real Estate Assessment Center (REAC) and began performing REAC inspections for HUD through Marvin's company, BISCO. I did this until the end of 2013 when I voluntarily gave up my REAC badge and began the more satisfying and more lucrative full-time work of consulting for the properties that are subject to this inspection. This is why I'm still in business and this is why I only have time to perform about 20 home inspections a year.
Is it worth it for you to go through the trouble of getting an REAC badge? Here are my thoughts on the matter.
Good points about the REAC inspection work:
• It's more or less regular money. If your home inspection business is floundering, this just may be the ticket to getting it afloat.
• You don't have to commit to an inspection if you don't want to.
• You get to know large commercial buildings. I have inspected thousands of commercial roofs, AC systems, water tanks, heating systems, plumbing systems, electrical systems, venting systems, etc. I have spoken to countless maintenance supervisors about their work, their local codes and the components they maintain. I will never be intimidated by a commercial inspection.
• You meet wonderful people. The property managers and maintenance staff who work in the field of affordable housing often work under difficult circumstances. And yet I have found most to be extremely competent, hard working and caring.
• You have the option of working with Marvin Goldstein's company, BISCO. They're a much appreciated buffer between you and HUD.
• It may lead to something else. As I said, I have happily and successfully branched out to related consulting work.
Not-so-good points about the REAC inspections:
• It's not easy to get an REAC badge. There's a waiting period and a training period and written tests and field tests.
• Working with HUD can be frustrating enough to make you want to chew the inside of your cheek. Their directions to the inspectors are infuriatingly badly written and subjective.
• It's more work (physically and time-wise) for about 2/3rd the money of a home inspection.
• You may have to buy a new laptop or tablet that can run REAC software.
• It will take time away from your home inspection marketing efforts.
• You will not be your own boss. HUD is the boss. When HUD says blue is green, well, then, blue is green. HUD does not give your experience as a building professional the respect it deserves. It was more unnecessarily humbling than I wished it had been.
• You will probably have to commit to a schedule many weeks in advance and so will lose some home inspection work.
• There are regular HUD surprise audits of your inspections. These audits are a pill.
• You will have to learn the REAC inspection protocol and, for that, you have to turn off your brain and focus on HUD-speak.
I liked performing home inspections more than I liked performing REAC inspections for HUD. But I like my REAC consulting work — counseling the properties that are subject to REAC inspections — more than I like performing home inspections. I'm glad to have traveled my recent career path. And I know that none of it would have happened without ASHI. 