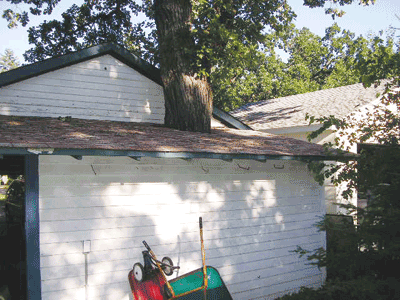 What does the Standards of Practice say about "tree houses"?
Scott Scheuer
Protection Plus Home Inspections
Eagan, Minn.
Trouble ahead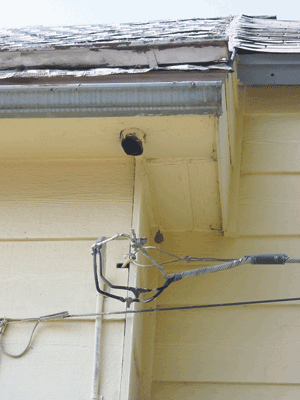 This is a picture of a 100+-year-old home. The buyer very proudly told me that the seller was going to replace the roof. I asked her if that included the gutters and down spouts. She replied that she wasn't sure, but would check!

Jack Koelling
Advantage Home Inspections
Bel Aire, Kan.
Re-muddled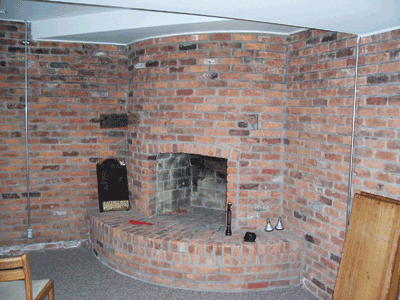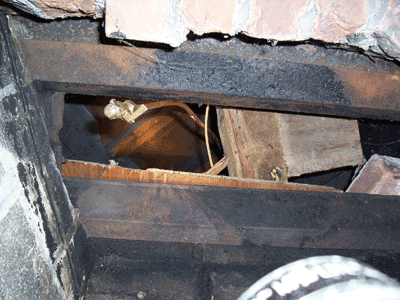 This "completely redone in 2002" remodeled home is advertised as having a gas fireplace in the lower-level family room. When looking up through the damper, you can see the new great room subfloor, joists and gas line. But, hey, don't forget the "spectacular sunset lake views."
Barry Whitehead
Bretton Inspection, Inc.
White Lake, Mich.
Bucket of trouble
Obviously, someone thought they could use this bucket as the condensation pump housing. Other than the obvious, consider the hazard of the dripping condensation on the power wire.
Stephen Mark
Professional Home Inspectors of Georgia
Canton, Ga.