Photo courtesy of Don Nelson.





Southern New England and Coastal CT Chapters Reach Realtors®
Southern New England Chapter (SNEC) President David Sherwood was a guest speaker at the Connecticut Association of Realtors®' Leadership Conference in early December. SNEC and Coastal Connecticut Chapters of ASHI co-sponsored the conference lunch. Mr. Sherwood spoke to approximately 200 Realtors® at the evening banquet about the ASHI Standards of Practice and Code of Ethics. Dave also told them to look for contining education classes next year through their local Realtor® board. Representing ASHI were Warren Tomek and David Sherwood from SNEC, and Paul Morris and Kevin Maury from Coastal, all of whom answered questions from participants during the conference.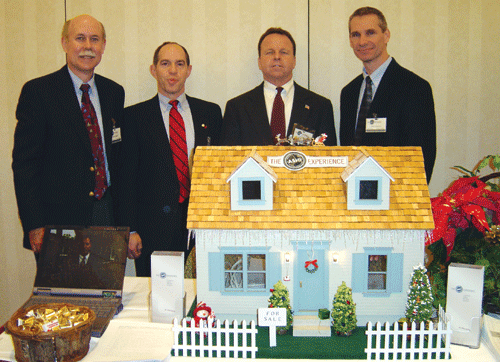 Photo: L to R: Warren Tomek, SNEC Chapter; Paul Morris, Coastal CT Chapter; Kevin Morrey, Coastal CT Chapter; David Sherwood, SNEC Chapter. Photo courtesy of Warren Tomak.