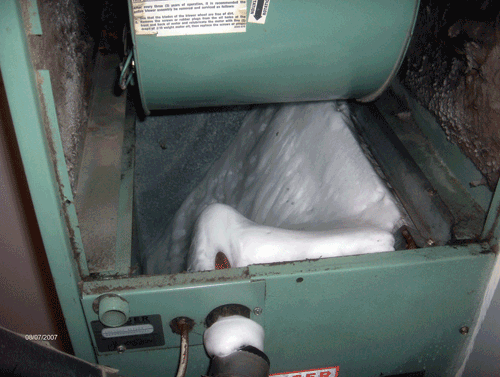 This photo shows why the AC did not work in this home. It was frozen!
Bil Greg
BIG Home Inspections
Springfield, Va.

No deck parties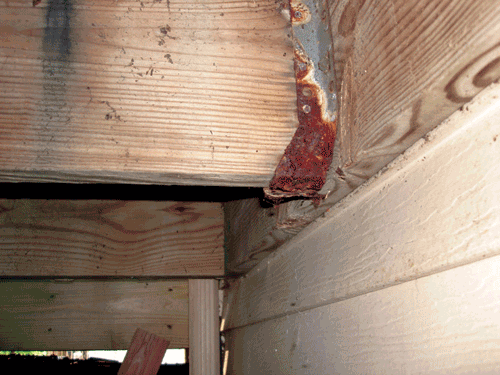 This electrogalvanized joist hanger was used on the rear deck of a townhouse that was built with pressure-treated lumber whose treatment chemicals have destroyed the "stirrup." Any real weight on this joist will result in a failure.
Jim Rooney
Freestate Home Inspections
Annapolis, Md.
Great-grandfather's sub-panel
This sub-panel is live and in use on the basement ceiling in a 117-year-old house. I've heard of electrical systems being grandfathered, but not great-grandfathered.
Mike Leiden
Castle Inspections
Cleveland, Ohio

Chewy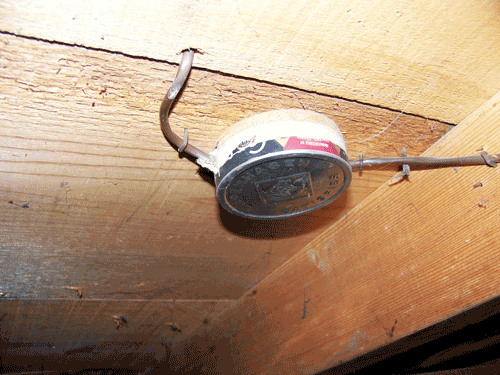 You know you are a redneck HVAC tech when you use a used chew can for a junction box.

Lamar Rase
Complete Home Inspections, Inc.
Missoula, Mont.
Zap!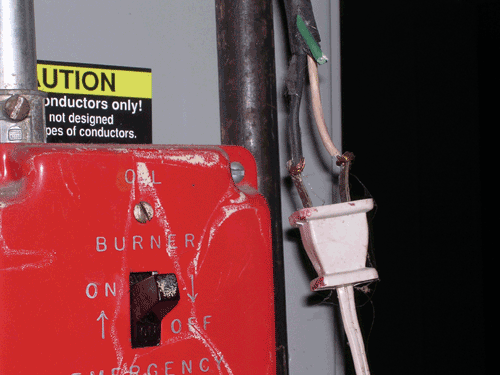 The white plug wire was powering a floor fan trying to dry up water on the basement floor of a local condominium. When reported to the association board, its response was: "We have an on site superintendent who has been here for years and we've never had a problem."

Jim Entwisle
A-Plus Home Inspection LLC
Fairfield, Conn.
Ungrounded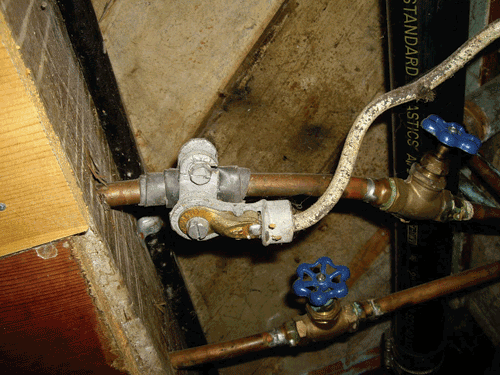 The installer of the ground wire was smart enough to know that you shouldn't install a galvanized ground clamp to a copper plumbing line, but not smart enough to know that if you insulate the connection with a piece of rubber inner tube you might as well not connect it at all because the plumbing lines won't be grounded.
Dan Kopp
Valley Home Inspection
Caldwell, Idaho
Copper's not THAT expensive
This is a water pipe connection made with a water hose. I guess the owner didn't own a torch.
John Woods
Champia Real Estate Inspections
Marietta, Ga.
Bee's knees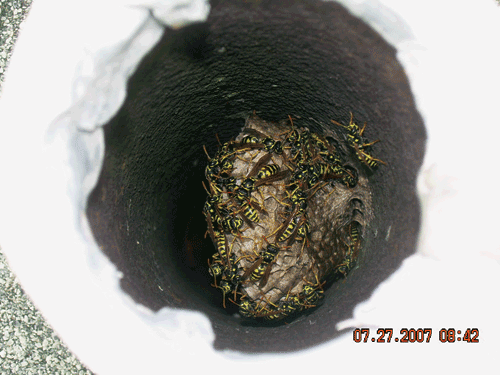 When walking a roof, it's always a good idea to peek down the plumbing vent stack. You never know what might be clogging that air flow.

Charlie Rice
Pillar to Post
Sykesville, Md.