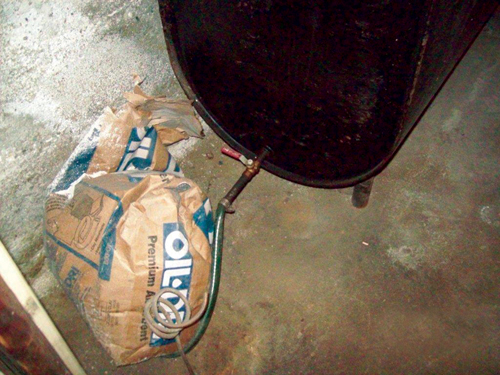 "Who needs an approved oil line? I think I can use my garden hose."
David Grudzinski
Advantage Home Inspections
Cranston, R.I.
Or a death fan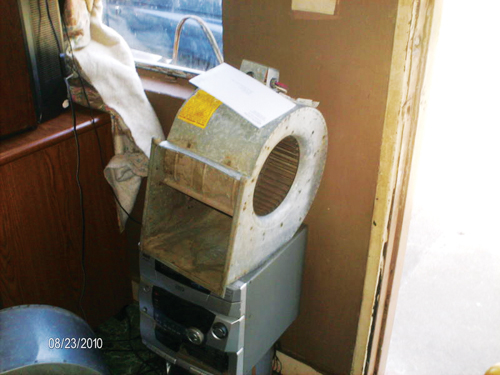 The gas had been turned off, so the furnace blower was removed and wired to an extension cord. Who needs a desk fan?
Michael Gonzalez
Champia
Atlanta, Georgia
Buttered brick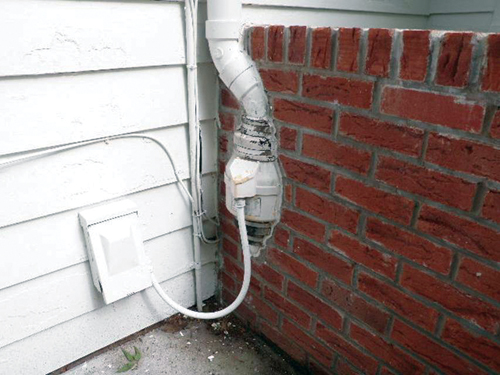 The owner said the mason told her he "buttered" the mortar so the fan could be changed if needed.
David Maudlin
Cornerstone Inspection Services
Carmel, Ind.
Oh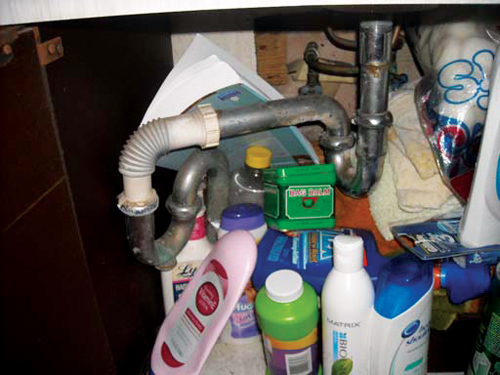 This one was found in a basement recently ...
Pat Borkowski and Howie Shanker
Apex Inspections
Philadelphia, Pa.
Running on empty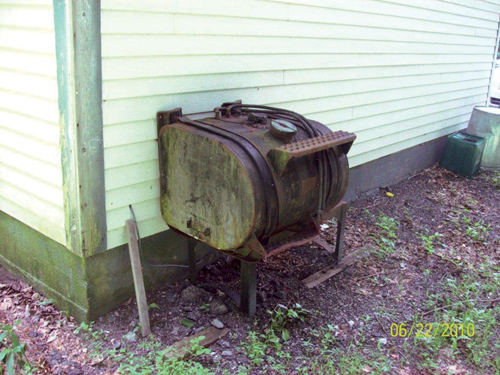 The garage has its own furnace and a truck tank to go with it. "Hey, my garage is on empty."
David Grudzinski
Advantage Home Inspections
Cranston, R.I.'
Nutty toilet tank repair of the month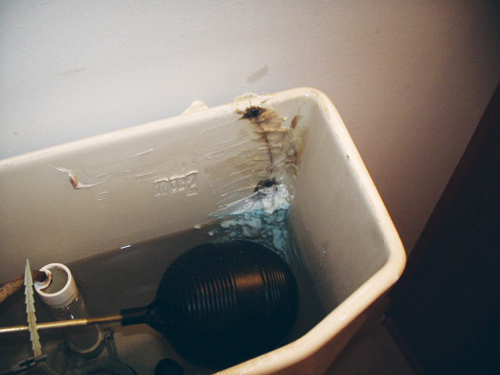 I found this on an inspection recently. The toilet tank had cracked and rather than replace it, the homeowner had filled the tank with caulking.
Brodie Brown
Browntree Home Inspections
Marietta, Ga.
What's that old saying?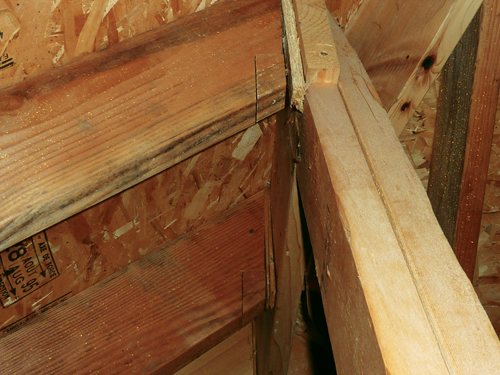 Measure once, cut twice.
Ed Massart
Speaker of the House
Glen Ellyn, Ill.
Lint-sulation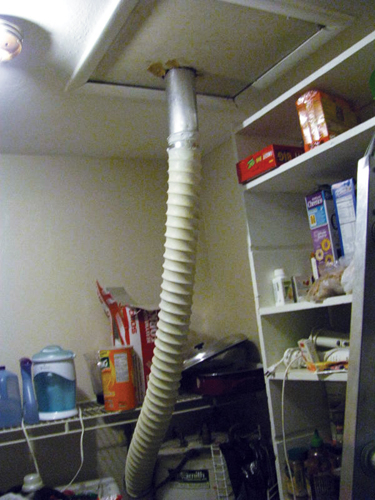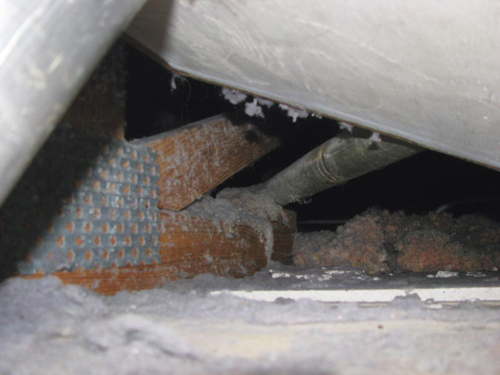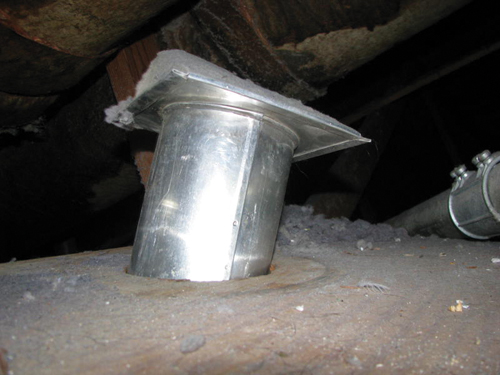 I came across this interesting way to add extra R value insulation and humidity in your attic space: with a dryer vent. No wonder the rental unit gets really hot on a hot, hot, hot day in summer.
Norman Bodewig
Accu-rate Home inspections
Cape Coral, Fla.
Snake eyes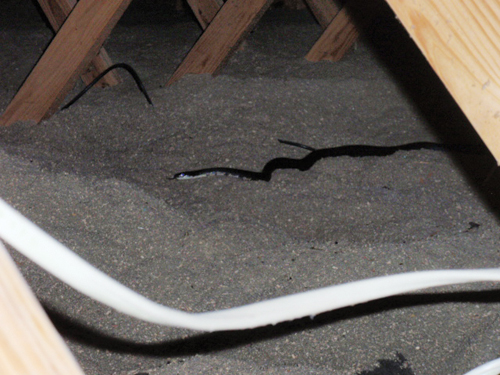 Another vacant home with a built in mouse trap. Once we saw each other, it didn't take long for both of us to turn and go the opposite way. Just another day in paradise.
Paul Reichle
Missouri Property Inspections, LLC
Troy, Mo.
Looks like Yeti took a bite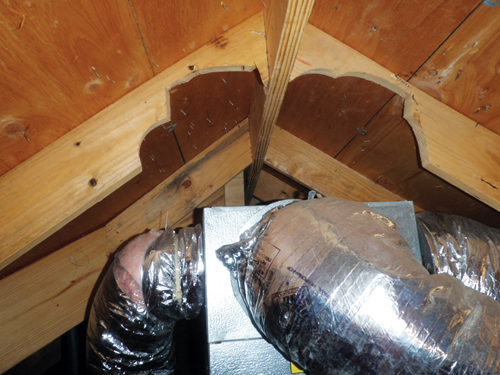 Mechanical contractors and power saws are a dangerous combination. This evisceration of the rafters was not needed to install the unit or ducts. They were cut out "just in case."
Steve Anderson
Anderson AmeriSpec
Germantown, Tenn.
Danger: NO diving!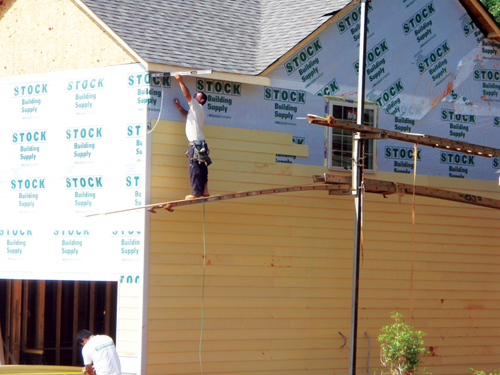 This home has a high dive, but no pool!
Ronnie Blankenship
Complete Home Inspectors
Salem, Ala.