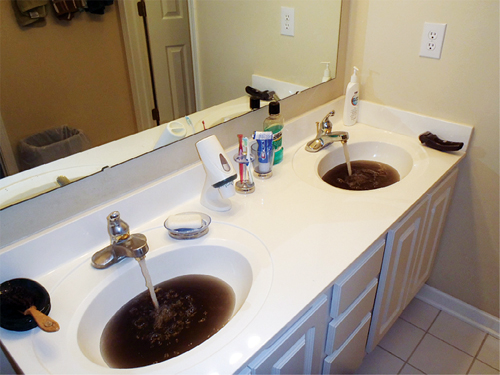 This should keep the guests from overstaying their welcome. Notice the toothbrushes and drink cups in the holders next to the far sink.
David Maudlin
Indy Pro Inspection Service, Inc.
Carmel, Ind.
Built to last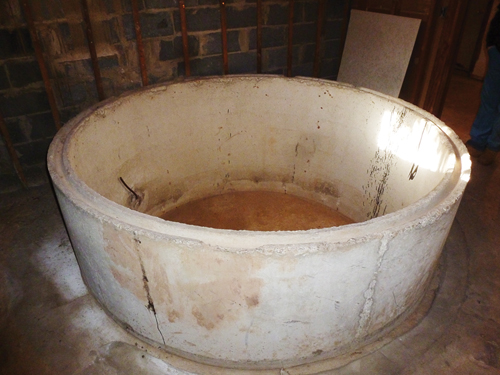 I found this in a basement — a concrete pipe is sunk into the cement slab, complete with drain and water feed. I was informed that the owner was trying to make his own hot tub. There has to be an easier way.
Abe Kurek
Home Inspection Services
New City, N.Y.

Attic access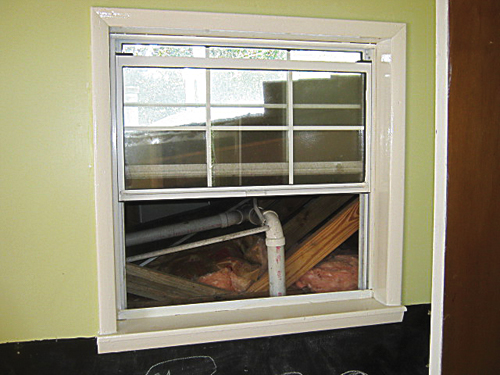 Need access to the attic? Just open the window. The screen already has been removed for easy access!
Kirk Bingenheimer
B-Sure Inspections, LLC
Mt. Pleasant, S.C.
Drippy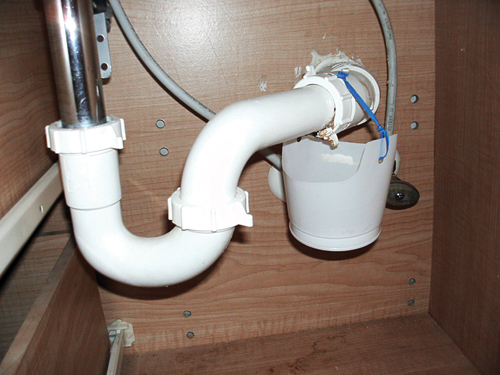 Sometimes the homeowner takes the guesswork out of the inspection.
Rob Rehm
BPG Property Inspection Services
McCordsville, Ind.
Fall colors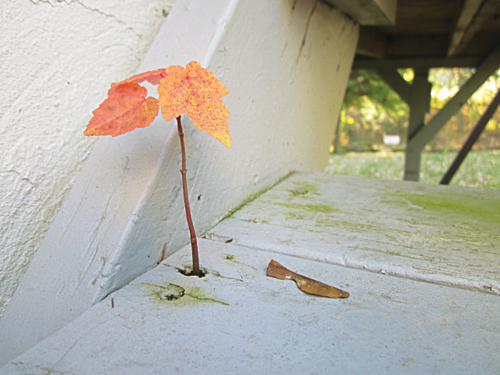 Tenacity!
Annie-Laurie Hunter
Ardent Home Inspections, LLC
Syracuse, N.Y.
Askew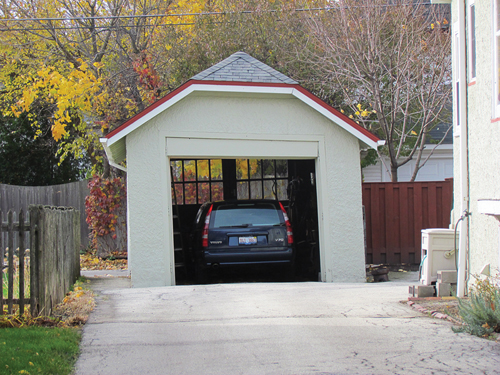 Is it just me or is something out of square?
Allen R. Sebaugh, P.E.
Allied Building Inspections
St. Charles, Mo.
Please don't fry the fish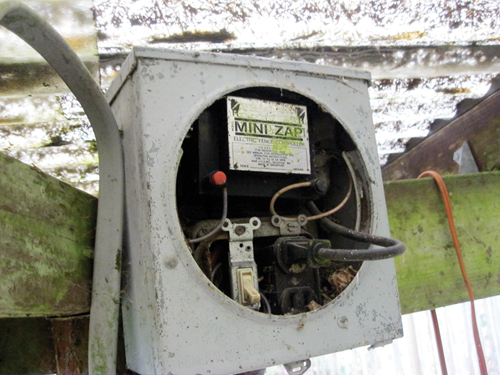 This was at the corner of an unstable roof structure — built over a koi pond. One wrong move and it's "MAXI ZAP."
Blaine DeVoy
HKI Building Inspections Inc.
Port Angeles, Wash.
It was almost crazy enough to work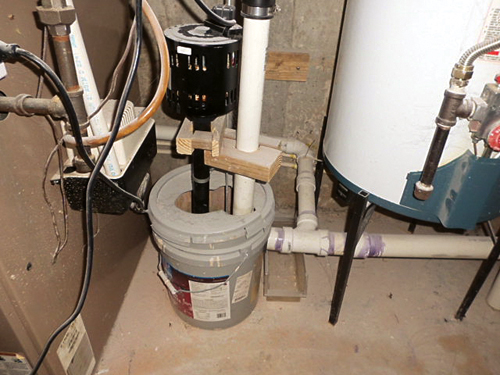 The basement is finished on this house, complete with a bathroom, kitchen and laundry. Instead of investing in a macerator pump system to lift the waste up to the sewer system, the homeowner created his own. Using a 5-gallon bucket and a sump pump, with the drain waste lines dumping into the unsealed bucket, the crude system works. But the smell is unbearable. Not to mention that it is not vented outside, has no backflow preventer valve and no shutoff valve. Every time we think we've seen it all, we find another example of "homeowner ingenuity."
Jim Radcliffe
Medallion Inspections
Cumming, Ga.
Multi media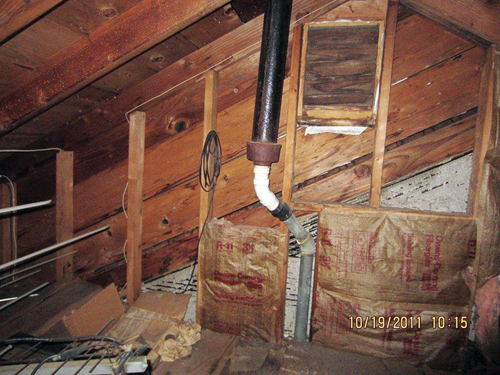 Okay, did we miss any materials here? The stink pipe starts out at galvanized, goes to rubber, then PVC and finally to cast iron, then lead on the roof. I think we have them all covered.
David Grudzinski
Advantage Home Inspections
Cranston, R.I.
Bucket duty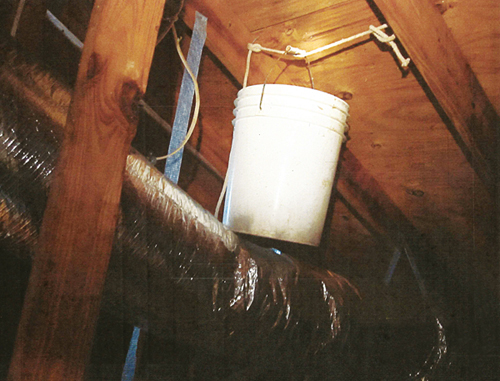 I found this is in an attic on Boca Grande. "No, sir, this roof doesn't leak."
Daniel Dunham
Englewood Home Inspections
Rotonda West, Fla.
Spaghetti plumbing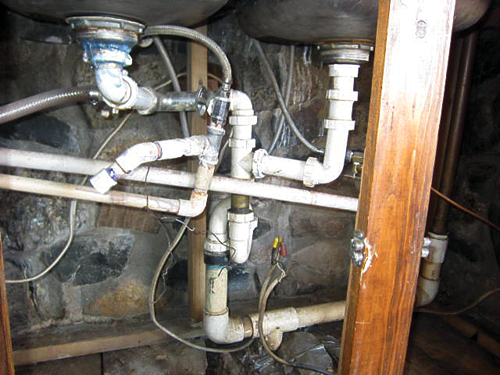 This is the plumbing under a kitchen sink. The 'extra' supply lines and the flexible drain line are to a clothes washer in another room. The angled line under the left basin is an open hot water line. I never found where the 1⁄4-inch copper supply line is going. It disappears into a wall. Note the S trap and exposed wiring.
Randy West
Professional Building Consultants
Prescott, Ariz.
Can do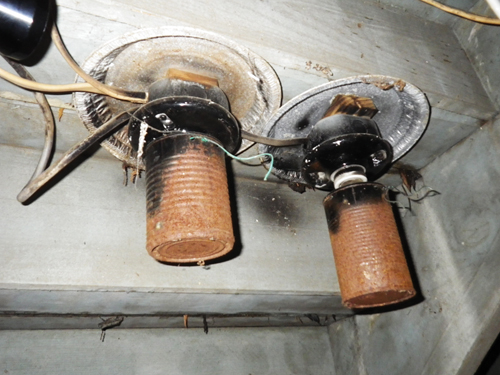 "Hey, honey, we need some accent lights under our 171-year-old home's wooden steps. Bring me a peach can, a bean can, two aluminum pie plates, some wooden blocks, some old wire, two interior old procelain light bases and a couple of bulbs."
Scott Stegall
Carolina HomePro Inspections
Rock Hill, S.C.
It pails in comparison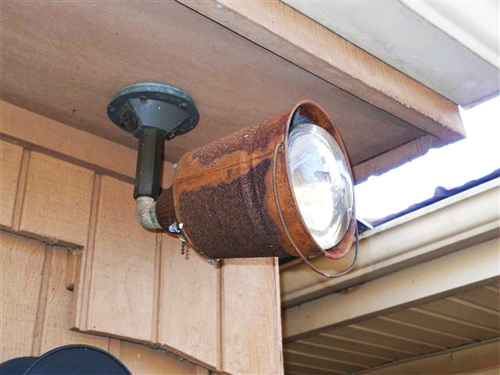 This is a homemade floodlight made with a rusty pail. I call it a "Rural Listed" fixture.
Hank Spinnler
Harmony Home Inspection Services
Hoschton, Ga.