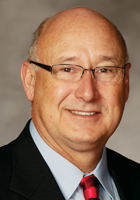 ASHI Secretary Randy Sipe was listed as being part of the NOVA Chapter in the January issue. While we're certain the NOVA Chapter would love to have him as a member, he lives in Kansas and was an officer for the Great Plains Chapter. The correct info is listed below.
Randy Sipe, Secretary
Family Home Inspection Services, Inc., Spring Hill, Kan.
Membership growth to increase revenue is the most significant issue facing ASHI. Marketing to existing inspectors in licensed states and franchised inspector companies will increase our needed revenues. Marketing to existing inspectors who have established businesses will help with long-term renewal.
The second issue is getting ASHI operating in the black, which can be achieved by growing membership, and careful planning and budgeting.
Membership highlights:
2003, joined ASHI

2003-2012, Great Plains Chapter director

2005-2006, Great Plains Chapter president

2007-2009, Council of Representatives group leader

2010-2013, ASHI director