ASHI Certified Inspection Frank Cooper, Atlanta Property Inspections, Atlanta Ga., was filmed in January for the HGTV show "My First Place," which features the homebuying challenges for first-time buyers.
The episode aired May 11, 2008. According to Cooper, "HGTV has scheduled 13 episodes of 'My First Place' to be filmed in Denver, Colo., 13 episodes in Atlanta, Ga., and 13 episodes in Phoenix, Ariz."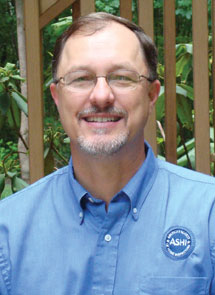 He said, "Our Atlanta show, titled 'Expensive Taste', chronicled an Atlanta woman who falls in love with a new home she may not be able to afford. It followed Angela, a first-time homebuyer, going through the challenges of qualifying for a mortgage, looking at multiple homes for sale in an in-town neighborhood and, finally, the inspection procedure. I helped our single, first-time homebuyer learn about her home, and we found several surprising new-construction defects and code violations."
Cooper, who joined ASHI in 1994, reported, "Concerns in this brand-new home included improper framing at 21 of 27 load-bearing wall studs on one side of the home, which was visible in the crawl space; a loose water heater exhaust vent spilling carbon monoxide into the attic; the jetted tub was not wired or fully installed; the roof had some damaged shingles; and there were several other minor items.
Photo: Frank Cooper
The general theme of the inspection was that new homes need inspections, too. Fortunately, the builder agreed to fix everything, and our homebuyer moved into her beautiful new home in February 2008."
He said his comments about selecting an ASHI inspector were edited out, but he wore his ASHI dress shirt, which was visible during his scenes.
Use Client Bill of Rights to connect with your local media
ASHI announced its new
Client Bill of Rights
by distributing a press release to the national media, real estate-related publications and some local outlets. ASHI also provided its membership with a template press release so that all ASHI inspectors would have the opportunity to be identified with this new declaration of commitment to customer service. The template was distributed to ASHI members in the First Thing and The Inspector e-newsletters in June.
Members and chapters are encouraged to develop a relationship with local media, and this template press release offers an easy way to open the door. For additional information, contact Sandy Bourseau at
sandyb@ashi.org
.