Coastal Connecticut Chapter members went on a field trip to the Westchester Modular Home Factory in Wingdale, New York, a modern facility where three homes are completed every week. A guided tour allowed the ASHI members to see the entire process, from the automated cutting saw at the beginning of the procedure to the finished product at the shipping end of the factory. They were impressed with the quality of the materials and with the end product.

Field trip participants are pictured left to right: Top row: John Koch, Bill Horelick, Frances Brennan, Steve Gladstone, John Oppenhimer, Rick Hvolbeck, Ron Passaro, Rob Camarda, Tom Saunders. Middle row: Peter Seirup, Jed Walker. Bottom row: Ronald Greene,
Neil Scott (chapter president), David Leopold & Bill Hirsch.
Great Lakes Chapter Summer Conference
Great Lakes Chapter held a successful three-day conference in Schaumberg, Ill., in July. The conference included a Peer Review, seminars, vendor room and a general meeting, as well as "Stump the Chump." Jeff Arnold, ASHI executive director, attended the event.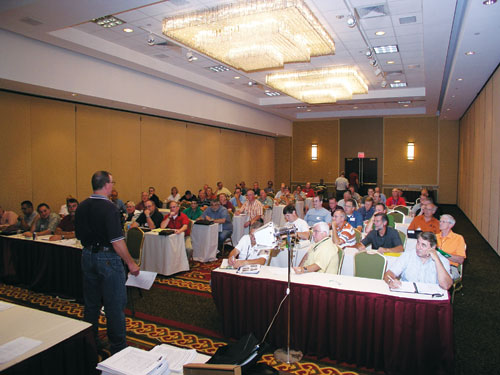 Photo submitted by Don Nelson.