Photo: Gregg Hardwood, right, accepts the Central New York ASHI Annual DeMasi Award from Tom Sherman, chapter president. Hardwood was recognized for outstanding leadership and dedication over the years while serving as an unsung chapter leader.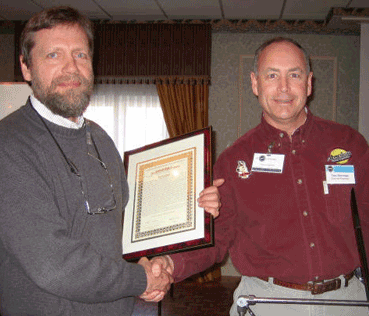 Keith Oberg, left, received the Central New York ASHI Annual DeMasi Award from Tom Sherman, chapter president, for his outstanding leadership and dedication while working as an advocate for all New York state home inspectors during the licensing process.


Mid-Atlantic Chapter (MAC) Seminar Features Rex Cauldwell

More than 100 home inspectors were on hand to hear Mid-Atlantic Chapter's guest speaker Rex Cauldwell, on Saturday, March 18. Cauldwell is a Master Electrician and Master Plumber and the author of "Wiring a House" by Taunton Press. He has also been a presenter at InspectionWorld, and contributes to the Journal of Light Construction and Fine Homebuilding.

Submitted by JD Grewell

Photo: Rex Cauldwell answers a question from one of the more than 100 attendees at the Mid-Atlantic Chapter seminar in March.










Photo: MAC-ASHI President John Vaugn thanks Rex Cauldwell for his informative presentation.

Photo: Richard (Chip) Castell, MAC-ASHI seminar chair.
Keep Those Pledges Coming—New England Chapter Members Work the Phones for the Local PBS Pledge Drive

ASHI-NE Chapter members took part in the pledge drive for WGBH-Boston, the local public service station, which broadcasts This Old House and Ask This Old House. Chapter members have been volunteering for station fundraisers for several years and felt as if they were working among friends.

Submitted by Matt Gatzke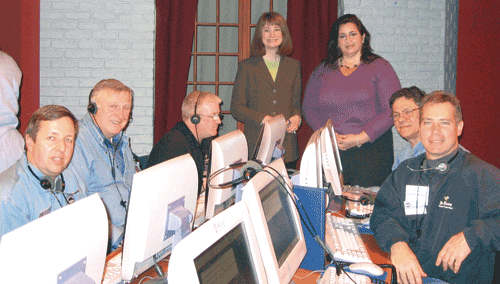 Photo: Working the phones for the WGBH March 2006 Pledge Drive were the following ASHI-NE chapter members from Mass., from left: Lenny Licari, B-Sure Home Inspections, Boston; Jack Ahern, Jack Ahern Home Inspections, Needham; Michael Henegan, B-Sure Home Inspections, Haverhill; (WGBH Staff); Paul Rogoshewski, Harmony Home Inspection, Stow; and Richard Aiello, B-Sure Home Inspection, Inc., Boston.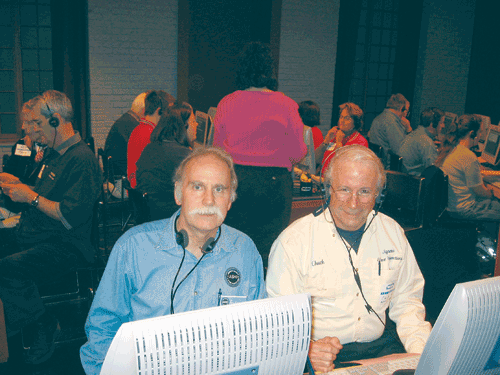 Photo: ASHI-NE Chapter Member Ken Bates, Ace Inspections, Inc., Boston, (left) takes a break while Chuck Mangio, Jigsaw Home Inspections, LLC, Middleboro, continues to take calls during the WGBH-Boston Pledge Drive.