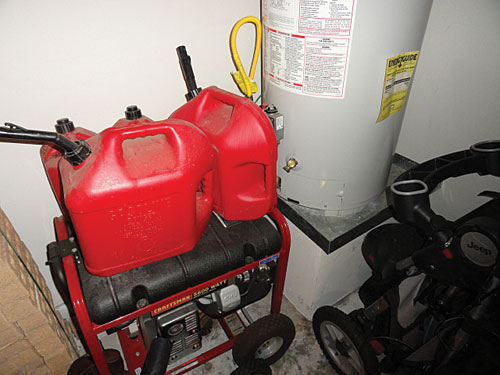 I found this recently here in Houston. I guess the owners were more worried about being ready for a hurricane (see the generator) than about blowing up the house.
Robert J.P. Goodspeed
Goodspeed Inspection Services, Inc.
Missouri City, Texas
The goop solution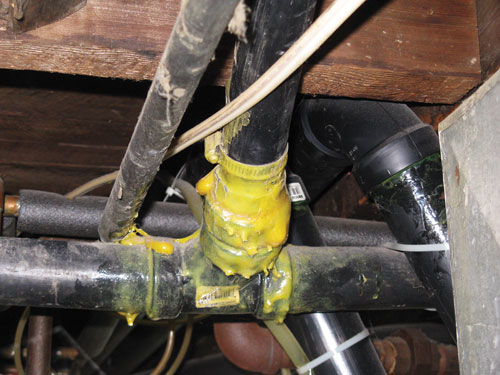 "Honey, I took care of that pesky leak before the home inspector showed up!"
Mario Lucciola
All Spec Building Inspections
St. Catharines, Ontario
Too late to start a diet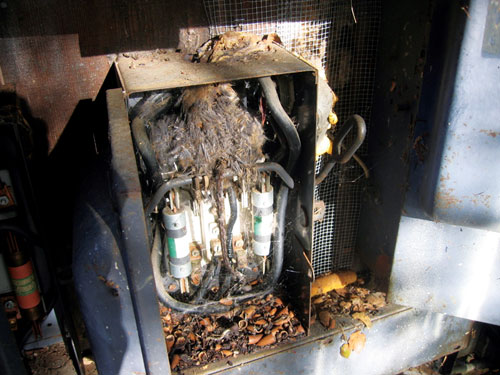 This rat ate so much while in the main fuse box that when it came time to get out, he needed help by placing his feet on the terminals-OUCH! Be careful opening electrical panels for many reasons other than the obvious!
Duane Serrano
Tri-Star Inspection Services
Campbell, Calif.
More lurking behind the panel door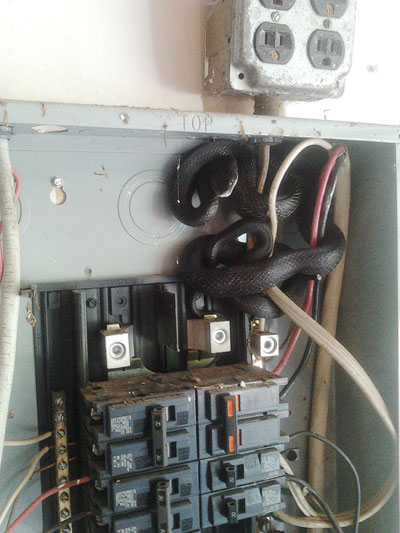 This 5-foot black snake was rather upset about being disturbed. He is a perfect example of why all openings in an electrical panel should be sealed. The snake was removed and released unharmed.
Bob Sisson
Inspections by Bob
Boyds, Md.
S is for silly, or stupid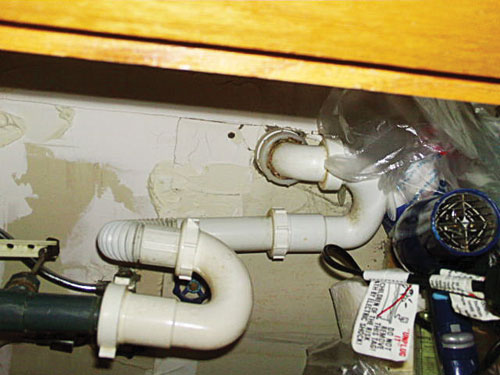 As if a single S-trap isn't enough.
Bryant Warren
HouseMaster Inspections
Broken Arrow, Okla.
Save me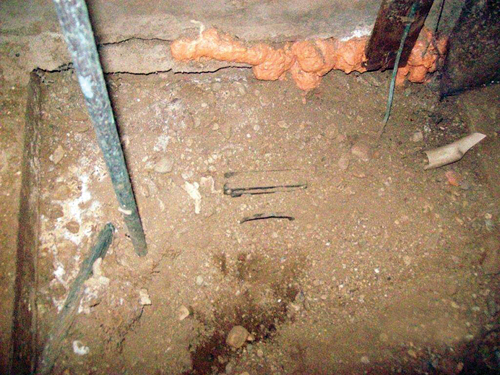 The water meter's last words: "Help, I think I fell in quicksand."
David Grudzinski
Advantage Home Inspections
Cranston, R.I.
It never gets old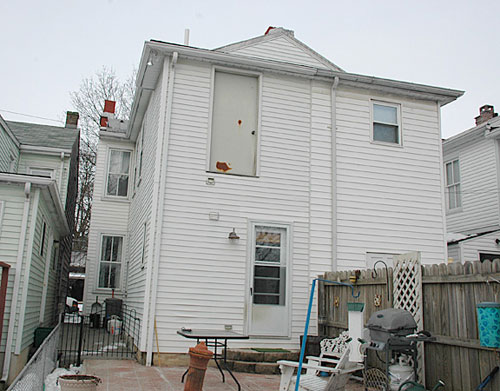 This is a functioning door on the second-story of a home with no staircase. Do you need a handrail if their is only one (20-foot) step?
Wally Shank
Mid Penn Home Inspections
Carlisle, Pa.
Furnace on fire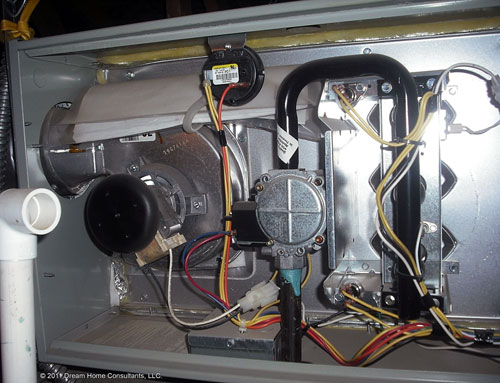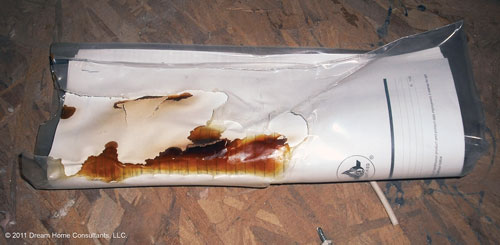 Aren't you supposed to take the instructions out of the furnace before start up? It's good that we don't use furnaces too often in Phoenix.
Bruce Barker
Dream Home Consultants
Peoria, Ariz.
Whoosh!
I think this water heater needs replacing.
Joe Lengel
Advantage Home Services, Inc.
Garrettsville, Ohio
Hold the mayo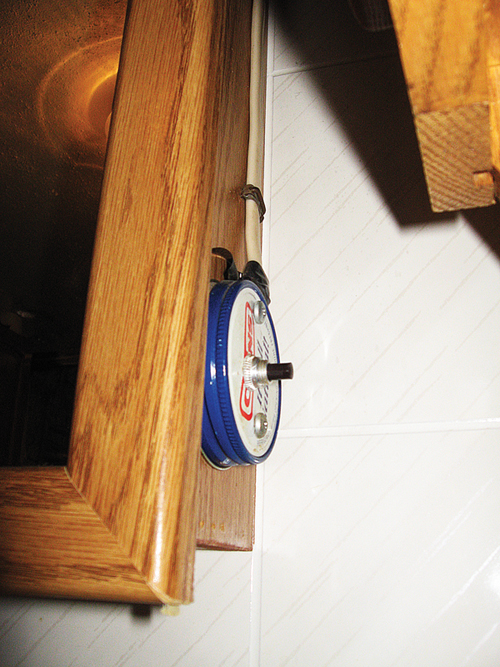 This wiring controls a vanity light. The switch box is a Cain's mayonnaise lid. Maybe he used mayo instead of shaving cream?
Tim Rooney
Homeview Property Inspections
Exeter, N.H.
In stairs, under stairs, upstairs, downstairs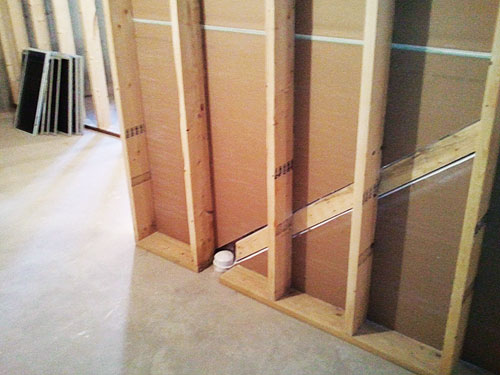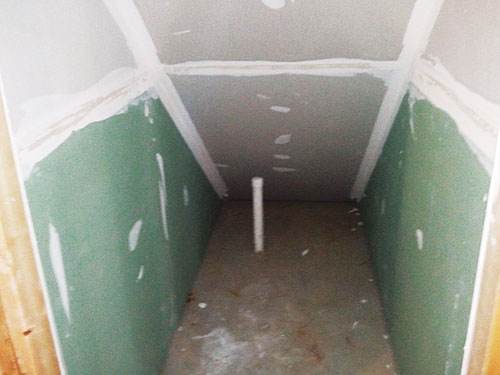 Why would anyone want a new construction inspection? Because evidently plumbers and carpenters don't talk! The top photo shows the basement rough in for the toilet ... IN the stairwell. The second one, I suppose is for the basement wet bar sink drain .. UNDER the stairwell!
Charlie Yates
WIN Home Inspection Crown Point
Crown Point, Ind.