Author's note: With this article, we introduce a feature that will profile members from across the country who are successfully integrating the
U.S. Department of Energy's Home Energy Score into their businesses.
Call them "early adopters," "pioneers" or "innovators"—they are the ones who stick out their necks to create new and better ways of doing business and try out practices that improve not only their own bottom line, but also positively affect the larger industry. And although their more reactive competition might prefer to hang back and respond to a changing industry after the fact rather than work to shape its future, these market players take the opposite approach, one that the U.S. Department of Energy (DOE) has its own name for: leadership.
New Approaches Meet Old Values
Sean Troxell, one of the two principals at JD Grewell and Associates, is good at what he does. An ASHI Certified Inspector with over 700 inspections under his belt, Sean nevertheless confesses to feeling like a rookie several times a week. That's how it goes when the company's founder (and Sean's father-in-law) is none other than JD Grewell himself—the man whose name has been synonymous with high-integrity, no-nonsense home inspections in the Washington, DC, area for over 45 years. It's the kind of business that anyone at JD's stage of the game would be proud to look back on.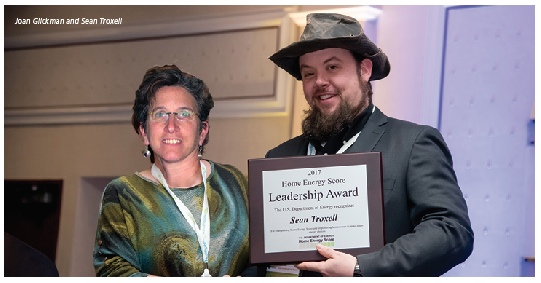 Given the stature of JD Grewell and Associates, it's perhaps not surprising that many of Sean's visions for building on the company's success are met with something of an "if it ain't broke, don't fix it" response from JD and the original team. Whether it's modernizing operations with automated IT systems or taking on additionalservices like the Home Energy Score, Sean knows that he needs to choose his battles wisely. "That's what us younger guys can bring to this industry," Sean said during a break between inspections recently, "a fresh set of eyes and an openness to changing with the market. This company's reputation is all about trust and expertise, and anyone who doesn't think that being able to provide solid information about a home's energy efficiency is the future of this industry is kidding themselves."
"Deputized" by the DOE
Sean isn't merely an early adopter of the Home Energy Scoreprogram. As anyone who attended ASHI's 2017 award ceremonyat InspectionWorldTM knows, he's the kind of program ally who's ready to roll up his sleeves when the DOE needs some real, in-the-trenches input to make the program work for the inspection industry. Take, for example, that new Remote Mentoring/Desktop QA offering from the DOE that's been covered in these pages and elsewhere in the industry press; it's a huge program change that finally makes the Home Energy Score accessible to inspectors nationwide, and it couldn't have happened if Sean hadn't run dozens of (uncompensated) experimental scores on his clients' homes to test the concept. Same goes for the first-ever Home Energy Score "boot camp" training last fall, where Sean brought 20 or so members from ASHI's Mid-Atlantic Chapter (MAC-ASHI) and Northern Virginia (NOVA) Chapter together for an intensive two-day sprint through the program's "Sim" training and an in-field mentorship session at Sean's own home.
"Super-energetic champions like Sean are the secret key to any successful program," says Joan Glickman, DOE Senior Advisor and Program Manager of the Home Energy Score, who got a close-quarters dose of Sean's enthusiasm when she happened to sit next to him on a flight from InspectionWorldTM a couple years ago. She said, "The Score is now positioned to have a big, positive impact on the home inspection industry, and we just couldn't have gotten to this point without input from people like Sean. They're the only ones who can show us what inspectors need from a program like this."
Finally, a Good Fit for Inspectors
And just what do Sean and other inspectors need from a program like Home Energy Score? ASHI members have made clear that, in addition to being able to associate themselves with a respected brand (this is perhaps the DOE-sponsored program's biggest single benefit), inspectors need an easy-to-use system that only adds (at most) an extra 30 minutes to their normal inspection process, and they definitely don't need any additional personnel kicking around a client's house with them in the name of mentorship or quality assurance, as important as those aspects are to the program's continued credibility.
"People don't understand that they're doing 90% of this stuff already," Sean told us recently. "With these changes to the program, now that I've nailed down my process, it really takes investing only an extra few minutes to achieve something that holds a lot of value for our clients." He also sees home inspectors as the rightful providers of energy-related information, given the unique nature of the sales process. He said, "No homebuyer is going to buy a $500 energy audit for a house they might not purchase. Home Energy Score reports give my clients the right amount of information, for the right price, at the exact time they need it most."
Now that Sean has been so instrumental in helping the DOE get this revamped, inspector-friendly program across the finish line, how does he feel about its role in the industry and in his successful, but somewhat set-in-its-ways, business? "We all do our share to drive this industry forward," Sean responded when we asked him to comment on his outsized role within the program. "I hope the work that I've done with the DOE will be seen as a small part of that effort."
More than that, this proud ASHI member sees his future in the industry in both a personal and professional light. "As a father of young kids, it's important to me to be on the right side of how we use energy in this country. And as an inspector with some really big shoes to fill at our company, I know that offering the Home Energy Score is the kind of service that will protect JD Grewell's reputation as the best in the business."