Arizona Chapter members seized the opportunity presented by the Realtor expo in Scottsdale, Ariz., to introduce the 900 attendees to the new ASHI Client Bill of Rights.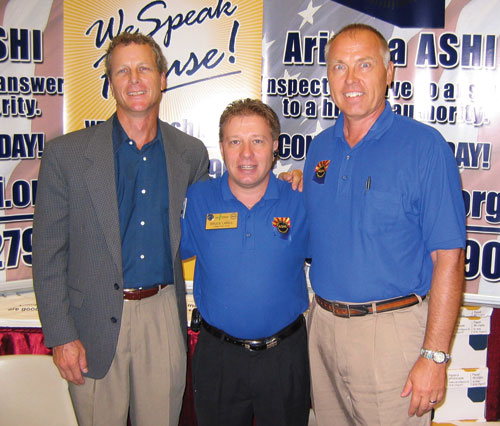 Bruce LaBell, who is the chapter's PR-marketing chair, created cards with the Bill of Rights on one side and the chapter logo on the other. Handouts, banners and volunteers all promoted this recent addition to what sets ASHI members apart from other home inspectors.
Paul Staron (left), chapter past-president and ASHI Public Relations Committee chair, and Neil Brogen (right), chapter central district director, joined LaBell (middle)in the booth.

New England Chapter Members Gather Around the Table

Sherman Price, P.E., ASHI verifier and retired member, holds the New England Chapter placard after conducting a monthly round-table discussion for the chapter.
Round-table discussions are conducted as part of the chapter's educational program arranged by the Education Committee, which is chaired by Bob Mulloy, right rear.
At each session, the discussion includes a primary home inspection topic and an opportunity for members to share an inspection "war story" or inspection concern. At this session, the topic was "Inspecting foreclosed houses." In addition to conducting round-table discussions, Price has lectured on structural aspects of home inspection and has written a book on the subject.
SUNTECH Annual Seminar Prepares Inspectors to Add New Services

With the recent real estate recession hitting hard in Florida, many home inspectors would like to bring in the dollars necessary to stay solvent by offering new services.
The Florida Suncoast Chapter tapped into that need with its annual SUNTECH seminar, which offered sessions on cutting expenses and diversifying services.
Home inspectors came from as far away as Puerto Rico and Georgia to hear David Sherwood, ASHI Chapter Relations Committee chair, suggest reducing the costs of common business operating services by having chapter members join together as a purchasing unit that could negotiate a lower rate than each would receive individually.
Mark Cramer, long-time ASHI member, past-president and educator, provided an introduction to commercial inspections.
Will Spates, an indoor air quality specialist and chapter affiliate member, shared information about building biology; and Bob Koening, director of the Contractors Institute, spoke on forensic inspections.
Charles Gifford, ASHI vice president, updated the attendees on Florida licensing, while Tom Fleming, the local director of Business Networking International, focused on developing and using a lead-generating network to connect with consumers.
Attendees also learned about thermo-graphic inspections, LEED inspections and green building.
As the seminar drew to a close, Neal Fuller, 2008 SUNTECH seminar chair, said, "I don't believe I've ever seen as much class participation at a seminar as I saw this weekend. There were more than 70 continuing education certificates awarded, a good time was had by all and the chapter even made some money.'
He added, "Watch for the announcement for SUNTECH 2009."
Great Lakes Chapter Holds Peer Review and Conference
ASHI Executive Director Jeff Arnold
attended the Great Lakes Chapter summer conference in Deerfield, Ill., in July. The conference included a Peer Review, as well as educational sessions.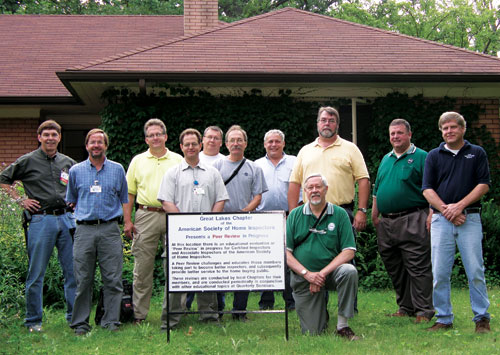 Photo: Kneeling: Don Nelson; standing left to right: David Bunker, Patrick Lyons, Chuck Zehner, Cary Seidner, Howard Pegelow, Frank Lesh, Jeff Nathan, Kevin Doyle, Jeff Arnold and Robert Jensen. Absent: Jack Fehlandt (lost in the attic)

Photo and caption courtesy of Don Nelson.


Leadership Training Conference (LTC) 2008 in New Orleans
Attention Chapter Leaders
The invitations have been sent to chapter presidents. Now it's time to decide who will attend this year's
leadership training in New Orleans.
Who:
Target current and new up-and-coming leaders. The LTC is a two-year program. Send last year's attendees if it was their first conference. Replace anyone who has attended two or more training conferences.
When:
Thursday and Friday, Oct. 16-17, 2008
Where:
Hilton Riverside, New Orleans, La.
Make your travel arrangements early.
Questions? Contact Bob Kociolek, ASHI state legislation and chapter relations director, at bobk@ashi.org.
Pocono-Lehigh Members Pitch in for Humanity

Habitat For Humanity supervisors were "thrilled to have home inspectors help" on the 40-home project in Bethlehem, Pa., according to Larry Transue, who organized the July 1 workday and coordinated
Pocono-Lehigh Chapter member volunteers.
On a typical hot July day, the following Pocono-Lehigh Chapter members from Pennsylvania worked for the most part on framing two of the three or four houses
expected to be completed in early 2009: Chris Licata, Mr. Inside Out, Dingmans Ferry; John Gogal, Keystone Inspection Service, Sciota; Mike Stabile, Mike Stabile Home Inspections, Inc., Blakeslee; Lawrence Transue, Integrity Inspection Service, West Easton; and Ronald
Crescente, AmeriSpec, Blakeslee.
ASHI members John Alastick, Lawrenceville, N.J., and Ron Black and his wife, Katie Black, from Residential Inspections, Macungie, Pa., joined the volunteers from the chapter.
Transue said the volunteers were eager to help and enjoyed the day in spite of the heat. Because of the scale of the project, it will take several years to complete, presenting an ongoing opportunity for home inspectors to continue their service to the community.
Photo: Chris Licata, ASHI Certified Inspector
Photo: Ron Cresente, ASHI Associate with Logo Use
Photo: John Gogal, ASHI Certified Inspector



Photo: Mike Stabile, ASHI Certified Inspector