Home inspectors' daily routines and inspections are event-filled and can often be puzzling as we address many diverse problems. For example, we must accurately and professionally diagnose many complex issues with precision and accuracy for the single most important purchase many families will make in their lifetime: their home.
Home inspectors' professionalism and integrity are called upon multiple times daily to deliver peace of mind for this purchase, but many times also to raise awareness of potential warning signs, and areas of the home that each family desperately wants and needs. This can be stressful and, in many cases, a daunting task to complete.
Lintel failure is all too common and is estimated to plague millions of homes in the United States.
While we as home inspectors typically don't offer solutions to the many problems or concerns we identify during an inspection, it is important that we are aware that solutions and complete repairs are possible and available for every problem we identify. One area that home inspectors must face surrounds the garage area, specifically the lintel failure. This problem is all too common and is estimated to plague millions of homes in the United States.
You might assume that there are many possible repairs or solutions for fixing a failed lintel, which is such a common issue, but that is not the case. In the past, there were few complete solutions for the homeowner, buyer or seller to repair this problem, and most of the solutions involved multiple days of construction and were very expensive. In addition to the cost and timing of the repair, not much knowledge or research was put into the repair. Homeowners could not always be confident that their problem would be completely repaired by a trained technician. This issue halted transactions, all because of lintel failure.
What is a Lintel?
According to Wikipedia, a lintel is a structural horizontal block that spans the space or opening between two vertical supports. It is often found over portals, doors, windows and fireplaces (Photo 1). So, as it pertains to a building, a lintel provides vertical support for anything on the exterior of the building that is above the span or opening.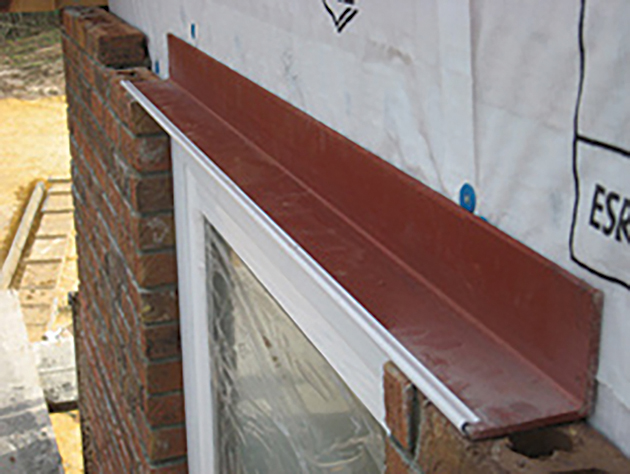 Photo 1. Example of lintel.
Bricks, on average, weigh approximately 50 pounds per square foot. The bricks on a structure support each other vertically so that the lower bricks support the upper bricks all the way up the structure. Where an opening or span is located, there are no lower bricks to support the upper bricks, so another support element is needed. This is where a lintel comes in.
A lintel, usually an angle iron, is installed across the span so that the bricks installed above the span have support needed to stay in place. This is the only support that bricks have above an opening, so it's very important to have the correct size and strength of lintel installed. This accuracy, or lack thereof, is the source of problems that you see while inspecting brick homes. Structural lintel—even when its installation has followed specifications, such as IRC 606.10 and 608.8—sometimes seems to fit into a "one-size-fits-all" mentality. This means that, in some cases, the lintel that is holding up two rows of brick on one house is the same size lintel that is supporting a gable-end brick structure.
The Lintel Lift System
Jeff Kennedy, the inventor of the Lintel System, an engineered and patented product, owned and operated a structure moving and foundation repair company in Alabama. His company received weekly calls from customers that had "cracks above their garage door" and feared they had foundation issues. Jeff discovered these customers didn't have any foundation failures at all, but rather a failing lintel.
He started to investigate a repair for this increasing problem that he could offer to his growing number of customers, but he found nothing. The only option at the time was to remove all of the bricks above the garage door opening, replace the undersized lintel with another lintel that was more than likely undersized again and replace the bricks. There are many issues with this repair, beginning with replacing a failed system with another system that is going to fail again.
In addition to this, the bricks that would be used to rebuild likely wouldn't match the weathered and sunbaked bricks that remain in other areas of the house; even if they are still available from a local warehouse. As previously mentioned, Jeff took these complaints into account and sought out a solution, thus establishing Lintel Lift in 2014.
The Lintel Lift System has evolved from its beginnings into a powder-coated structural steel kit that quickly, efficiently and permanently repairs a failed lintel while enhancing the appearance of any house with a beautiful ultraviolet-protected and paintable surrounding trim.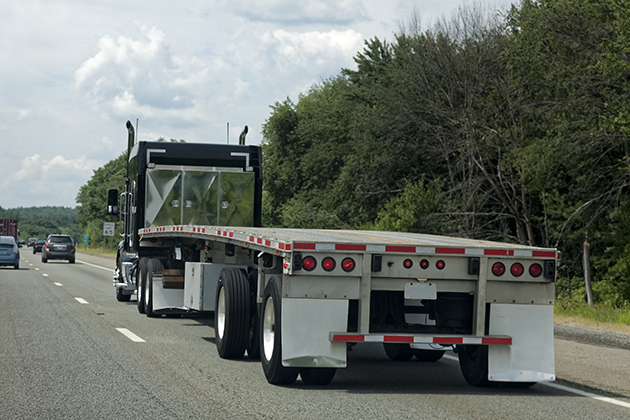 Photo 2. Example of camber on truck weight.
The secret of this system starts with a hardened steel lintel that is engineered and sufficient to sustain and properly support any brick load above a span, typically a two-car garage. While a typical lintel is flat or level at installation, Lintel Lift's improved design is cambered or bent to accept the load and weight of the bricks.
This is a very old and proven engineering principle and is evident to everyone while driving on any interstate highway when you see a flatbed trucking trailer. When the trailer is empty you will notice a curve, or camber, in the trailer when it's not loaded so the middle of the trailer is higher than the front and back. This allows the trailer to accept and support the weight of the load without buckling or breaking after years of service (Photo 2).
This same principle applies to our cambered lintel; it's prepared to accept the load of the bricks and not break or buckle over time like the original lintel. This cambered beam is also what allows the Lintel Lift System to stabilize and return the bricks to their original location. This removes all of the stress and cracks that the downward movement of the bricks caused over years.
Home inspectors have noted different kinds or types of cracks located above and around a garage door span. All cracks in a brick siding tell a story as to how and why they started and all point to the original failure. Almost always, when visible cracks are noticed above or around a garage door opening, they can be directly attributed to a failed lintel.
Types of Cracks
There are two main types and categories of cracks that you will notice and report when inspecting a structure: shear and stairstep.
A shear crack is most times vertical in nature and travels a direct path through bricks, causing them to break and separate (Photo 3). Structural engineers attribute this to an event or occurrence, meaning that the bricks were intact and fine one day, separated and cracked the next. The underlying problem that created the pressure on the structure is often a failed lintel not supporting the brick load, but the event that is most likely causing these types of cracks is weather. A close-by lightning strike and resulting thunderclap can shake a house resulting in the brick structure, with all of the pressure applied from not having the proper support of a failed lintel, giving way and revealing a shear crack. In most instances, this type of crack goes completely through the bricks and is wider at one end, usually the bottom.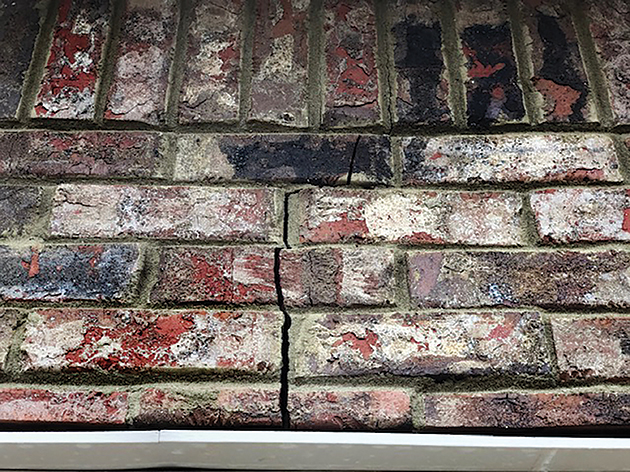 Photo 3. Shear crack.
These clues show how the structure has moved and are typically located close to the center of the horizontal opening.
The second type of crack usually noted is a stairstep crack (Photo 4). These cracks follow the mortar lines and usually don't continue through the bricks themselves. This type of crack indicates more of a slower-moving lintel failure and will also be wider at one end than at the other. Both types of cracks point to the same lintel failure and the downward movement that it causes. In many instances, additional relief cracks will be evident at the edges of the garage door span located a little higher up from the lintel, about 2 or 3 feet above the lintel. These cracks are a reactionary crack resulting in pressure relief from the original movement and failure of the lintel.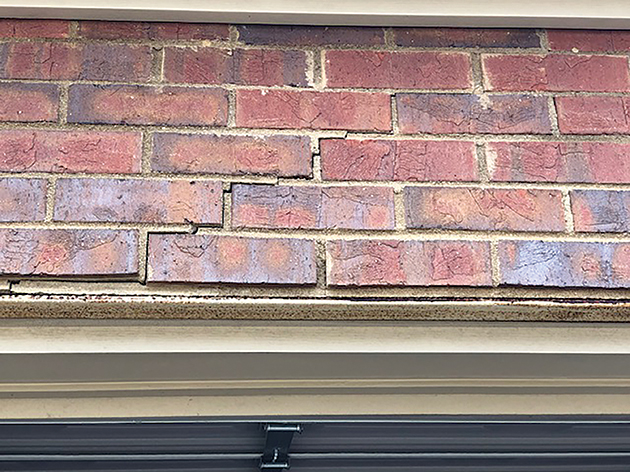 Photo 4. Stair step crack.
There are additional concerns with this cracking that really have nothing to do with the lintel failure itself. Cracks and gaps in any exterior of a structure are a passageway for water and pests to enter the building and establish themselves. Water having constant access to the inside of a structure could lead to mold and rot over time.
A Passion for Solving Problems
The Lintel Lift System is manufactured in Birmingham, Alabama, where I live. Our business model is to sell our patented products to foundation repair companies in North America, and for them to sell and install the products in homes. Our current business model has been in place since 2018 when we partnered with Jeff, the inventor, to produce and offer this unique solution to everyone who needs it.
Our passion is to help people especially in a time of need. Our system is a perfect solution for this common problem, specifically when a real estate deal is in the balance. Most times, when cracks and foundation problems are suspected, our solution fits into the equation and solves the problems quickly and efficiently allowing the transaction to continue to completion.
A sister product to our Lintel Lift system is the Load Bearing Beam (LBB). While the Lintel Lift system is applicable for the exterior of the structure, LBB is designed to be installed in the interior when removing a load-bearing wall to provide an open concept. Current options for doing this are to add a wooden beam or engineered lumber where the wall was to support the structure above. Although this is a common practice, it leaves the desire of an open concept a little unfilled by having a 16-inch beam in the line of sight between the rooms. Our system LBB provides the same support needed for a span while only using 5-inch reveal. Our same patents and manufacturing processes are utilized to camber and engineer this interior beam to maximize the desired open concept. While the current lumber beam requires more than a day to install, our LBB system can be installed in two to three hours with a crew of two people, making it more economical for the installer and the homeowner. We are very excited about both our systems and the need they fill in the marketplace.