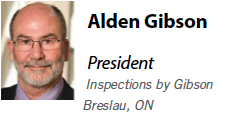 1. Building the membership is critical to maintaining low dues. The cost of living continues to rise. The economy is slowly starting to recover. We must build the membership to maintain our low fees. The membership must assist ASHI in building the society.
2. AEI has great potential to produce income for AEI & ASHI. The AEI Board must pay close attention to the operation of TAS and provide support and guidance when needed.
Membership Highlights
1992, Joined ASHI/OAHI
2011-2012 Board of Directors, Treasurer
2010 Board of Directors, Secretary
2007-2010 Board of Directors, Director
2001-2002 vice president, OAHI
2001-2002 officer, OAHI
1997-1999, 2000-2002 Board of Directors, OAHI
2014 President-elect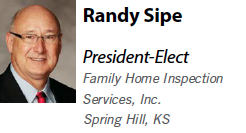 Growing membership to increase revenue is the most significant issue facing ASHI. Marketing to existing inspectors in licensed states and franchised inspector companies will increase our needed revenues. Marketing to existing inspectors who have established businesses will help with long-term renewal.
The second issue is getting ASHI operating in the black, which can be achieved by growing membership, careful planning and budgeting.
Membership highlights:
1999, joined ASHI
2002-08, NOVA Chapter Director
2004-06, NOVA Chapter President
2008-11, ASHI Director
2014 Vice President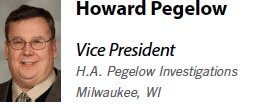 There is no question positive membership growth and, more importantly, membership retention are the two most significant matters that require continued diligence and awareness. As for the paths to follow, it would appear the committee and the board are proceding in such matters by the development of various contacts with franchise entities and amending current membership catagories. Furthermore, the equalization of the current dues structure has been addressed and is being monitored. Allowing ASHI School students to become paying members has shown positive reaction as well.
Membership highlights:
1998, joined ASHI
2007-08, Great Lakes Chapter president
2009-2010, Governance Task Force
2006, Complaints Committee - Logo Use
2004-2008, 2009-2013, EBPHI/NHIE, director and Treasurer
2008-2014, Amvets, VFW
2009-2010, Speaker of the CoR
2014 Secretary
The two significant issues facing ASHI are increasing membership while keeping and developing strong chapters.
ASHI needs to budget funds to market on a national level while providing marketing tools to local chapters and members to help them advertise, promote, and market ASHI® and their business.
In addition to a strong marketing/advertising campaign, putting on quality education is a must. Continuing to promote IW and chapter education is the key. Quality education not only improves the profession, but provides value to national and chapter membership.
Membership highlights:
2012-2015 Director ASHI National
2013, Director ASHI Education Inc.
2013, Board Liaison Membership Committee
2013, Board Liaison Finance Committee
2013, Member Strategic Planning Committee
2010-2011 Member Council of Representatives
2011, Instructor, The ASHI School
2009-2011, President Ohio Chapter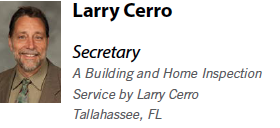 ASHI should separate itself from the other home inspectors and convince the public about what the difference is. ASHI's strengths lie in the experience of its inspectors and their professional attitude. It is time we take that experience and professionalism on the road and convince the world that there is a difference between an ASHI inspector and a home inspector. If done right, our numbers will grow automatically. Build it and they will come. This is how we can face the challenges of competing inspector organizations — by keeping our bars higher than all the rest.
Membership highlights:
1990, 1994, Bylaws Committee
1992-1993, 1995, Education Committee
1992, 1996, 2005-2009, 2012, Officer Nominating Committee
1998-2000, Legislative Committee
1998-2000, 2001-2002 Public Relations Committee
2001-2002, 2006-2009 Technical Committee
2010-2012, Technical Committee BoD Liaison
2003-2004, Speaker of the CoR
2002, 2005, Group Leader
2006-2008, 2013 Southern Group / Gulf Group
1992-1995, President Florida ASHI Chapter
2014, Director, ASHI National