ASHI Member Paul Luczyk, A Team Home Inspection, Mukilteo, Wash., says "They got a great shot of the ASHI logo on my shirt," when he appeared on a four-minute news report broadcast by the local CBS station (KIRO 7) in Seattle. The text version of the report, "Some Home Inspectors Unqualified, Inexperienced" by Wayne Havrelly, KIRO 7 consumer investigator, is available at here. Luczkk is identified as the president of the Seattle ASHI chapter, and ASHI is described as, "a national organization that would also like to see quality home inspection legislation in our state."
ASHI Member Kenny Hart, a frequent contributor to the ASHI Reporter from Virginia Beach, Va., reports Part 1 of his cross-connection article was reprinted in the magazine Drinking Water and Backflow Prevention, and that he now has a regular column in the Hampton Roads Realtor® magazine, circulation 4,200.

ASHI Member Scott Brown, HouseMaster, Pittsburgh, Pa., has been a frequent special guest on IAQ Radio, a weekly internet radio show (Indoor Air Quality). This is an interactive show that can be listened to around the world live on Talkshoe.com. He has been asked to continue as a monthly guest lending his expertise in water intrusion replying to other guests and listener questions.
November report from ASHI's public relations consultants

Media highlights
Richmond Times Dispatch – MS&L secured an ASHI placement in the Richmond Times Dispatch in response to the press release "No Habla English, No Problema: New Spanish Language Home Inspection Materials Make it Easy for Homebuyers to Learn About Home Inspections." Results: Article ran on Nov. 4, 2006.

New York Times – MS&L arranged for ASHI Member Arlene Puentes to participate in a New York Times panel discussion for first-time Hispanic homebuyers. In addition to coordinating the appearance, ASHI was able to forward English and Spanish versions of the brochure and Standards of Practice. Results: The panel discussion took place Dec. 11.

Success Magazine – ASHI President Joe Corsetto spoke with Marc Myers, a business editor with Success Magazine, who was working on a feature story on wealth protection. In the article, Myers devoted a section to making sure your house stays fit. Corsetto spoke about the importance of a home inspection in maintaining the value of a home through home maintenance, specifically repairs and upgrades. Results: Run date to be determined.

Monthly activities
Monthly Press Release – MS&L drafted and distributed the press release "All I Want for Christmas Is to Sell My Home: Homeowners Can Boost Sales with a Pre-Listing Home Inspection." The release was distributed to home, real estate and consumer interest reporters at daily and community newspapers.

National Association of Realtors® Conference – MS&L coordinated media outreach activities to support ASHI's presence at the NAR conference in November.

Wire Release – MS&L distributed the October release, "No Habla English, No Problema: New Spanish Language Home Inspection Materials Make it Easy for Homebuyers to Learn About Home Inspections," on the wire.

Trends Research – MS&L researched and analyzed data from the real estate industry that will be used to develop targeted programs for the upcoming year, and monitored industry publications for industry news and events and possible PR opportunities.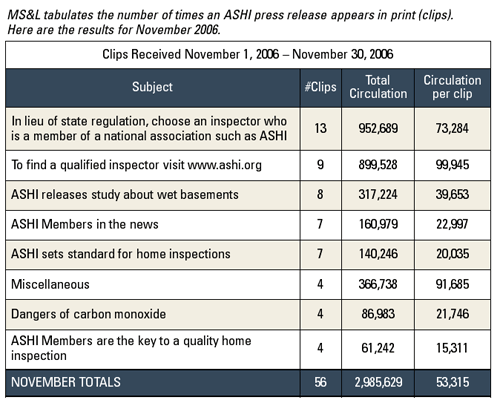 Ohio Chapter Says Hire Professionals for Outstanding PR Results

According to Tony Tilenni, chapter public relations chair, Ohio chapter members were so pleased with what the public relations firm Liggett & Stashower accomplished in 2006, they are making plans for an expanded program in 2007.

The Cleveland-based PR firm Liggett & Stashower arranged and coordinated media interviews for the 15 members of the chapter public relations committee statewide. Committee members were chosen from throughout Ohio to ensure there was local appeal.

The program theme was "5 top problems discovered during a home inspection." Prior to its launch, committee members attended a two-hour media-training course conducted by the PR professionals. The program's goal was to increase name awareness and position the Ohio Chapter members as the media's and the public's "go to" source for information about home inspections and home inspectors. And, the committee members were prepared to make it happen.

Media kits with the ASHI Standards of Practice, chapter brochures, facts sheets on the benefit of a home inspection and ASHI camera-ready articles were mailed statewide. The PR firm followed up the mailings with a phone call to their contact people.

Results such as a home inspection done with Tim Stull on the Ohio News Network (TV), and many radio and press interviews motivated the chapter to start making plans for 2007.

Liggett & Stashower proposed the following additions to the program for 2007.

• Speakers Bureau
• Recurrent newspaper column
• Series of news releases—several topics
• Editorial media tour for ASHI representatives targeting regional major daily newspapers in Ohio.

To learn more about the PR firm's proposals and Ohio's successful program, contact Tony Tilenni, chapter PR chair, at mrsuprhi@aol.com.
Partnership Raises Awareness About Historic Home Inspection Expertise

The Los Angeles Conservancy scheduled a press conference for January 9 at the 1887 Heim House in Angelino Heights to announce its new partnership with the American Society of Home Inspectors (ASHI) and the California Real Estate Inspectors Association (CREIA) and to raise awareness about the benefits of historic home inspections.

"We're excited about the partnership," said Linda Dishman, executive director of the Conservancy, the country's largest local historic preservation organization. "L.A.'s historic properties are irreplaceable, and they have special needs when it comes to inspections. It's important for owners or buyers of historic structures to find an inspector who understands preservation and can identify maintenance issues that might compromise their safety or integrity. A number of ASHI and CREIA members fit the bill, with specialized expertise in helping owners understand how they can make repairs and adapt a historic home for modern use while maintaining its unique character."

"The Heim House is a Los Angeles Historic-Cultural Monument and part of a National Register Historic District," said Rob Paterkiewicz, ASHI's executive director. "It's the perfect location to kickoff this partnership and to show people what's involved in a historic home inspection."

According to advance publicity, including an ASHI press release, CREIA member and historic home expert Duane McCutcheon was to lead those attending the press conference on a tour of the house, with ASHI members assisting in a walk-along inspection. More about the prestigious partnership and the press conference will be available in the next issue of the Reporter.