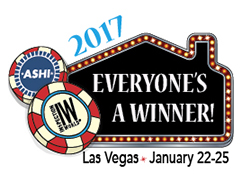 It's time to register for InspectionWorldTM Las Vegas, ASHI's annual conference, for a great learning experience and some quality networking.
Register early and SAVE. Conference registration early-bird pricing continues until December 16!
Book your hotel accommodations at Bally's Las Vegas to be close to the action. The ASHI Group room rate of $89 is available for the nights of Thursday, January 19, through Saturday, January 28. Special note: At check-in, guests will have the option to purchase the hotel resort fee at $29 per night. Guests who do not purchase the resort fee can access amenities with a la carte pricing (for example, the hotel's basic in-room Internet access package costs $13.99 per night).

Click Here!: IW 2017 Schedule at a Glance

Everyone's a winner at IW! Here are five tips to get the most from your conference experience:
1. Get on the Event App. Check out the events schedule, activities and sessions and create your own schedule each day. Instantly connect with your peers and exhibitors, make appointments, get the latest news, give feedback on your educational sessions, take real-time polls, post to social media and more—all from ASHI's InspectionWorldTM App! This useful tool will be made available to registrants prior to IW for downloading and logging in.
The schedule of events and detailed information also is provided on the IW website (www.inspectionworld.com) and inside the IW Program booklet. Use the link to register for IW and then connect with Bally's site to make your hotel reservations.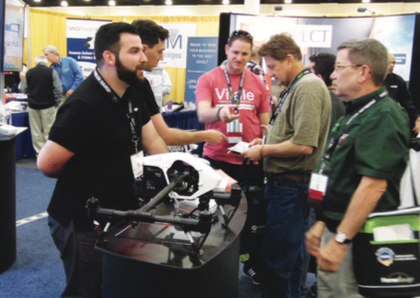 2. Arrive early...Come in on Saturday, January 21, to walk the famous Las Vegas Boulevard, take in a show or have a great meal. On Sunday, January 22, IW kicks off with the Annual Luncheon and Awards Presentation at 12:00 pm. The expo hall opens at 3:00 pm and the Opening Night Reception begins at 5:00 pm. Enjoy the entertainment and refreshments. Pre-Conference courses begin Friday, January 20. Take time to take in some valuable training.
...and Stay Later. The 3-Day Commercial Building Inspection Course will be held Thursday, January 26, through Saturday, January 28. Learn more at: www.theashischool.com.
3. Make Connections. Hand out your business cards and introduce yourself to other home inspectors. Swap stories and exchange ideas. Use the IW Event App to connect with vendors and other attendees. The vendors are ready to assist you with the latest in inspector tools and services. Be sure to stop at the ASHI booth to meet our staff. Meet with Jim Johnson, ASHI Verifier, who will verify your reports and answer questions.
4. Take Notes. Be ready to pick up nuggets of wisdom. ASHI will provide you with a padfolio and pen and it's possible to keep notes on the amazing IW Event App as well. Three full days of educational sessions include a wide variety of topics; choose from basics to advanced, specialties, diversification and business management. The 45 sessions will be taught by some of the industry's leading experts. Many topics and presenters are new this year.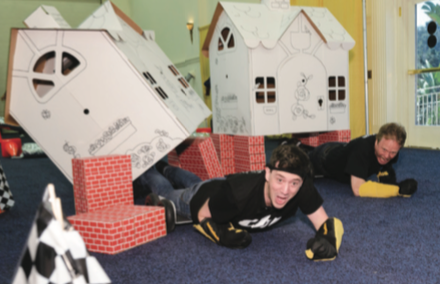 5. Plan Time for Fun. You will be in the center of the action! The Opening Night Reception, President's Gala Dinner and Dance, ASHI Annual Luncheon and InspectPAC Reception are scheduled events designed for you and your colleagues to gather and share good times. Step out and see the sights of exciting Las Vegas as well! Bally's is centrally located on the Las Vegas Boulevard, across the street from Bellagio's fountain and connected to the Paris Resort Casino. Hop aboard the monorail and see the town.
After the Conference. The treasures gained from IW are the connections you make and the people you meet. Follow up with new or familiar friends and instructors with emails or text messages. Continue your relationships and say, "See you next year at IW Orlando!"